A strong focus on the endgame and disciplined approach to breeding is critical when producing cattle that consistently rank in the top tiers of the Angus breed, a strategy at the center of every decision at Worthington Angus.
Josh Worthington, owner of Worthington Angus and former general manager of the Missouri Angus Association, has used this strategy to build the program from four Angus cows in 2004 to currently breeding approximately 250 cows annually and transferring about 250 embryos each year. Worthington Angus also hosts two sales every year: A spring sale on the fourth Saturday in March and a fall sale on the first Saturday in November.
"We're a total A.I. and E.T. program, and we're very disciplined in our approach to using progeny-proven sires that are high accuracy," Worthington said.
The Dadeville, Missouri, cattleman has a laser-sharp focus on improving the genetics of his cattle with each new generation of calves. He emphasized every animal is DNA tested and the program is built on making decisions from real information and data.
"We really think long term, and that's why we use the word 'discipline' a lot," Worthington said. "We try to stay very disciplined and very focused because you could get caught up in some little fad, and that doesn't help you when you're making a decision here that affects the beef industry five years from now."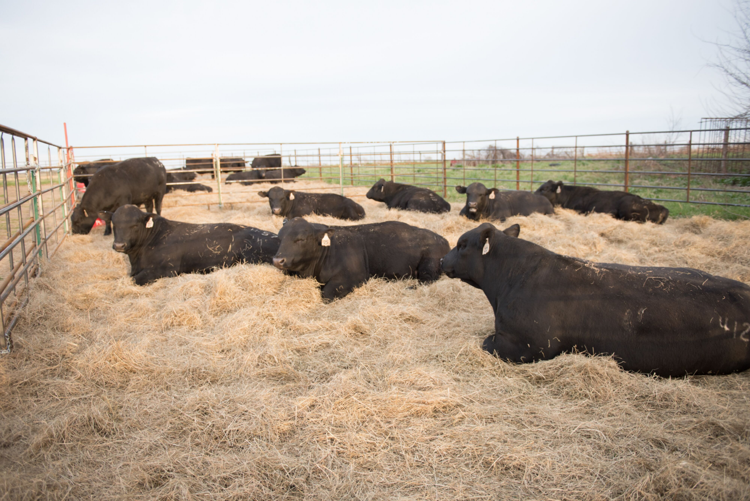 He explained it takes about five years to go through the process of selecting A.I. bulls, breeding cows, raising bull calves to sell at 18 months of age, getting calves out of those bulls and marketing calves. This is critical to consider when making genetic decisions because it all affects the beef industry down the line.
"Because we're exclusively A.I., I feel like I can make cattle that do it all," Worthington said. "I feel like I don't have to give up calving ease just to get growth."
His strategy appears to support that sentiment — the average bull in the Worthington fall sale ranked in the top 20 percent of the breed for calving ease, top 15 percent for growth traits, top third for docility, top 20 percent for milk, and top 10 percent for marbling.
With the large genetic database of the Angus breed, Worthington feels he can stack traits and build cattle that are easy calving with rapid growth but moderate in size with good carcass quality.
He and wife Corry made the decision when they started Worthington Angus that customer service would be vital to their success and ability to be competitive in the business in addition to a long-term focus on breeding decisions.
"We made a decision that if we wanted to be aggressive in the business that we had to put customer service ahead of everything else," Worthington said, explaining he dedicates a great deal of time to communicating with his customers and working with them to capture the value a Worthington Angus bull can add to their operations.
"I'm kind of the full-time customer service representative," he said.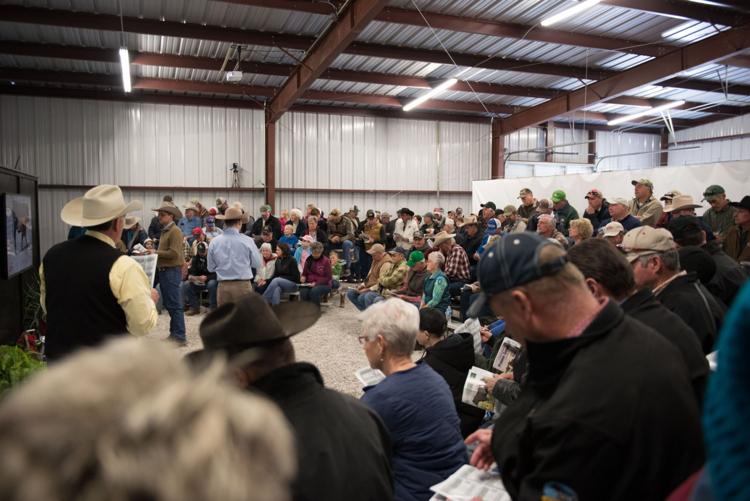 "I guess we're unique in some of the things we do," he continued. "We deliver all our cattle for free, and we guarantee them for a year for soundness and breeding quality.
"We don't expect people to come here and get a discount-rate bull, and we don't expect them to get discount-rate service here."
In addition to selling bulls, the fall sale included about 180 commercial females from customers using Worthington genetics.
"That's just one of the services we provide to them as an avenue to develop replacement females, and then we can market them for them," he explained.
They also partner with customers to feed cattle to collect carcass data and help producers put together calf management records with genetic, herd health and nutrition information for selling to buyers and at livestock markets, as well as represent those cattle at sales when possible.
The marketing support comes from the philosophy that customers put an investment into a bull and raising calves so it warrants an additional investment to reap the full fruits of their labor.
"We think that the program allows our customers to create value and then our customer service behind that allows them to capture value, and that's important to us," he explained.
This extra effort after sale day means Worthington makes an effort to build relationships with customers. From visiting customers' operations and defining their goals, Worthington wants to ensure he's producing genetics to satisfy the needs of commercial beef producers.
"I don't just want to sell them the first bull but every bull they need after that," Worthington said.
The Worthingtons also work to provide potential customers with every piece of information that could possibly be collected on an animal — the recent catalog had more than 40 pieces of data on every bull. Though it may sound like an overload of information, Worthington said some customers need different information so this gives them what they need and they can discard what they don't.
"Good, bad, ugly — we give it to them and they can make decisions," he said.
Another unique aspect to the Worthington Angus program is a focus on quality females and selling every 4-year-old registered cow.
"If I did my job right, and I better have, my 3-year-olds are better than my 4-year-olds, my 2-year-olds are better than my 3-year-olds, bred heifers are better than 2-year-olds, and so on," Worthington explained. "I'm trying to get to that next generation interval as fast as I can."
He feels this gives his program the opportunity to continually improve genetics while giving other beef producers the opportunity to purchase quality peak-producing females.
"If she's made it to be a 4-year-old here, she's pretty good and the reality is she's fixing to hit her best time," he continued.
Worthington acknowledged the future does hold challenges.
"I think one of the challenges any young producer or any young business has is creating avenues for growth and then funding that growth," he said. Another challenge is communicating to the public that the beef industry is producing a safe, nutritious product despite the claims from people supporting "fake meat."
"We use science and data to prove what we have here," he said. "Anybody can say it's good. We prove it, and I expect the same thing to compete in a fair market where people are trying to put out a fake product. They should have to play by the same science and the same truth that I do."
Overall, the Worthingtons are sticking to their mantra and keeping their goals in mind with every decision to improve the beef industry's future.
"What we're trying to do is be focused and disciplined in creating a product that adds value to the beef industry and our customers' bottomlines," he emphasized, "and not just help them create it but capture it.
"For us, it's understanding that everything we do here affects the beef industry and that we supply a protein to the beef industry," Worthington concluded, "so the decisions we make here ultimately end up on somebody's plate."