Alfalfa, also known as the "Queen of Forages," is an investment requiring the royal treatment to be successful, but it has the potential to repay by leaps and bounds.
Covering everything from proper establishment and maintenance to feeding, University of Missouri Extension specialists gave an "Alfalfa 101" workshop to area producers to help them get the most economic benefit from the forage.
 "Nothing ever touches alfalfa as a cash crop," said Wesley Tucker, MU Extension agricultural business specialist.
He emphasized 5-ton yield is attainable in southwest Missouri so producers should be able to calculate costs and return to determine profit. To help with this, MU Extension has a Forage Budget Generator available online.
"You've got to baby it," Tucker said, adding fertilizing and scouting for pests are not optional if you want to be profitable.
Although alfalfa can be great economically, he emphasized it's not for the weekend warrior — you have to be able and willing to go all in.
For those planning to sell alfalfa hay, he recommended producers put it in a "package with corners" — large or small square bales — because round bales result in a loss of a third of the potential selling price.
He also suggested producers have the option for baleage to prevent losing a cutting in the long run.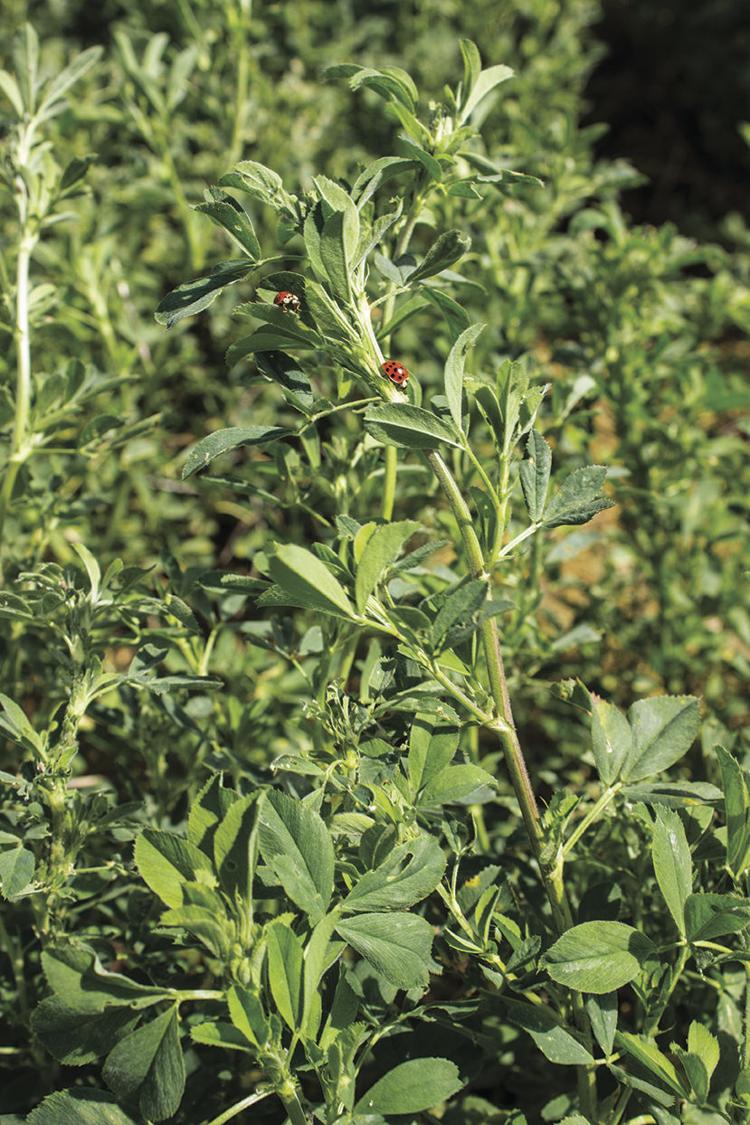 Pat Miller, University of Missouri agronomy specialist who previously worked with alfalfa in Oklahoma for several years, gave tips on establishing alfalfa and keeping it productive.
"Alfalfa was a cash crop and [the producers in Oklahoma] treated it like such, so I was kind of surprised when I came to Missouri and it was treated just like a fescue hay field," Miller said. "That's not going to be successful."
Alfalfa is not a crop that can be kept on the back burner, she emphasized. "If you think you're going to cut it a couple times a year whenever you get to it and you're not going to fertilize it and not going to spray it for the insects, it's probably better to not to try to grow alfalfa because it's expensive. You're going to put a lot of money into it and then it's not going to work for you economically if you don't really take care of it."
Keeping the mentality that alfalfa is a crop rather than a pasture should help producers prioritize spraying, fertilizing and maintaining the stand, Miller said.
"Alfalfa requires a well-drained soil, and if it is a wet soil, it's not going to last," the agronomist continued. "You want pretty good soil with some deep fertility and deep soil quality so the roots can go down."
Having soil with a good water-holding capacity is essential, she added.
"If you're going to put in a field, you want to control the perennial weeds first," Miller said, explaining weeds, especially dock, can be a serious problem.
"If you plant in the spring, you're going to have more weeds," she said.
Establishing alfalfa requires more forethought and planning than some producers might think.
"You want to make sure you don't have herbicide carryover because alfalfa is one of the most sensitive crops to the herbicides," Miller said.
 "It's not an 'Oh, I think I'll put some in this fall,'" she continued. "You've got to think ahead on it and what herbicides have been on it and how you've got your fertility and pH."
Miller recommended soil testing, especially to see if lime is needed. She also suggested getting both seeding and hay recommendations when testing the soil.
"Alfalfa needs the highest pH of about any other crops we grow," she said.
If the pH is acceptable, producers shouldn't need to apply any nitrogen as the legume will produce its own but they will need to look at their phosphorus and potassium levels to see if a fertilizer application is needed.
Miller stated producers should work with their seed dealers to select a good variety and to consider winter hardiness of varieties.
When planting, Miller recommended working the soil to avoid big clods but keeping the seedbed firm. A person's shoe shouldn't sink more than 3/8 of an inch into the soil in a properly prepared field. A soil that is too fluffy gets very heavy in winter, she said. Alfalfa should be planted a quarter to a half-inch deep, and she recommended inoculated seed.
"I think people tend to plant too much," Miller said, explaining poor planting conditions are not corrected by putting more seed in the ground.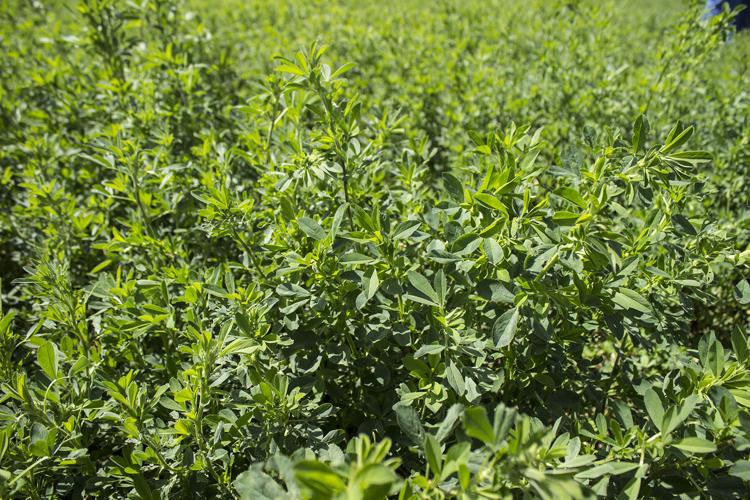 For producers with thinning stands of already established alfalfa, Miller recommended thickening it with clover or grass because trying to seed more alfalfa will not work because of its autotoxic quality. Alfalfa producers toxins to reduce germination and growth of new seedlings.
Another consideration in alfalfa production is disease management. Diseases, such as Phytophthora root rot and Aphanomyces root rot, can be detrimental to a stand.
"Phytophthora root rot — this is the big one," she said, adding most varieties do have resistance but it might still become an issue in wet conditions. Aphanomyces root rot has two races and can stunt and kill seedlings and cause root problems in established stands. Producers also should monitor stands for other diseases including common leaf spot, spring and summer black stem, and sclerotinia.
Insect management is another aspect of giving the "Queen of Forages" the royal treatment.
"Alfalfa weevils — these just plan on spraying for," Miller said. "There's really no reason not to spray them." Other insect pests include aphids, blister beetles, grasshoppers, potato leafhoppers, variegated cutworm and alfalfa stem nematodes. Blister beetles are especially important to those planning to feed alfalfa to horses or sell to horse owners.
"You are not going to see blister beetles from the baler," Miller said, explaining it's vital to scout fields and keep watch for the pests. Miller recommended using a sweep net to scout for insects. Walking through the field and doing 20 sweeps at a time should help producers get an idea of the insect population. In a 40-acre field, she recommended doing five sets of 20 sweeps.
If a stand falls below 50 stems per square foot, producers will see lower yields, Miller said. Producers can plow the alfalfa down to get nitrogen credit.
She discouraged producers from cutting between Sept. 1 and Oct. 15 so the plants can put some reserves down and the stubble can reduce damage from ice sheeting.
Patrick Davis, MU Extension livestock specialist, talked about the benefits of feeding the forage to livestock. Due to its high quality, alfalfa feeds the rumen microbes with more protein than some other forages.
"Putting just a little bit of alfalfa in there makes the rumen happier and healthier," he said, adding cattle can eat more alfalfa than fescue and it also provides calcium.
"Using alfalfa as a supplement is probably your best option and where you're going to see your benefit," Davis said.
He also said wasted hay should be reduced because it is a higher quality forage than fescue.
For those wanting to purchase or sell alfalfa hay, Davis recommended using the Relative Feed Quality measurement as it accounts for Total Digestible Nutrients and Dry Matter Intake. This makes it a better estimate of performance than the older Relative Feed Value, which measures Neutral Detergent Fiber and Acid Detergent Fiber.