When Oklahoma's highly ranked college football programs clash during the annual bedlam rivalry game, Adam Gribben has reason to cheer for both. As the owner of 1907 Meat Company, an artisan butcher shop in Stillwater, he owes a debt of gratitude to both institutions for getting him to where he is today.
An Oklahoma State University alum, Gribben was looking for a business venture that would allow him to return to Stillwater when he landed on the idea of a meat shop. He was living in Dallas at the time and working as a cell tower engineer but wanted to start something new that would offer fulfilling work and enrich the community.
Having grown up in Tulsa, with limited exposure to agriculture, he started by reading everything he could on the subject, ranging from popular authors like Joel Salatin and Michael Pollan to the writings of former OSU ag economist Jayson Lusk (who is now head of ag economics at Purdue University).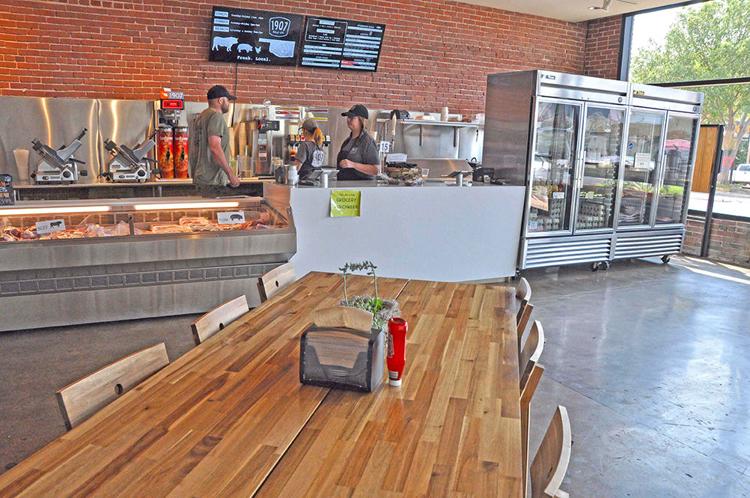 A set of goals took shape. He wanted to source livestock directly from Oklahoma ranchers, maintain rigorous transparency and re-educate consumers about how meat gets from pasture to plate.
It wasn't lost on him that OSU, a nationally recognized agricultural powerhouse, would be right around the corner.
In fact, one of his first calls was to the Robert M. Kerr Food and Ag Products Center, which assists food-related start-ups with everything from product formulation to labeling. At the time, he was still holding down a day job and working remotely. As it turned out, OSU's meat lab provided a place where Gribben could get animals slaughtered, a few head at a time, for an affordable facility rental fee, with hanging space to age the carcasses.
With those resources, he was able to set up a subscription-based buying club and started taking his first orders in 2015.
"That gave me enough traction to start my business," he said.
Oddly enough, it was the University of Oklahoma that gave him his next big break.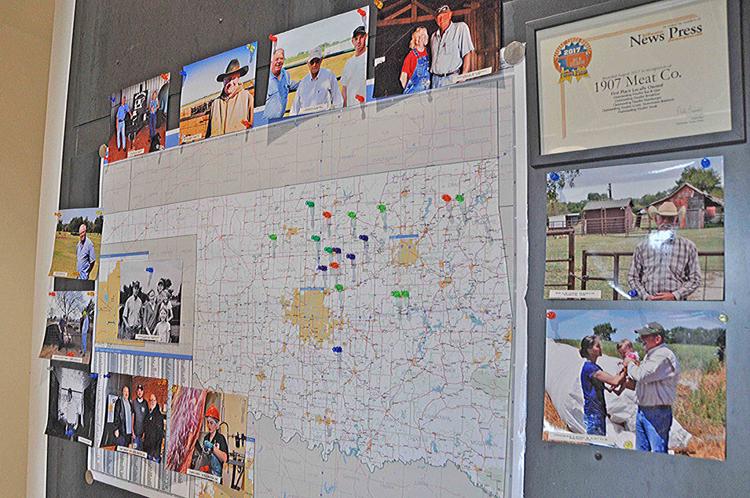 Somewhat by chance he attended an organizational meeting put on by a group of OU students involved in a national movement called Real Food Challenge.
Gribben wasn't sure what to expect but found the students well organized and serious about their intentions. They were pushing the university to meet a commitment to procure 20 percent of campus food from local growers and producers.
"It was very much in line with what we were looking to do here at our shop," he recalled. "We were a very young company then. We hadn't even secured the business note for our building yet."
He told the students their idea was great, but that farmers and small meat purveyors like him would need consistent orders, adequate prices and a long-term commitment for their efforts to make a difference.
"I think kind of laying it out there the way I did probably helped me get that account," he said.
OU's director of housing and food services was in the audience that day and approached Gribben after the meeting to talk about setting up a purchasing agreement.
"We would not be here today if OU had not signed that letter of intent," he said. "The university in Norman is my second largest account outside of my own shop, and so that's where Norman and Stillwater are powering this. I'm continually surprised it worked out that way."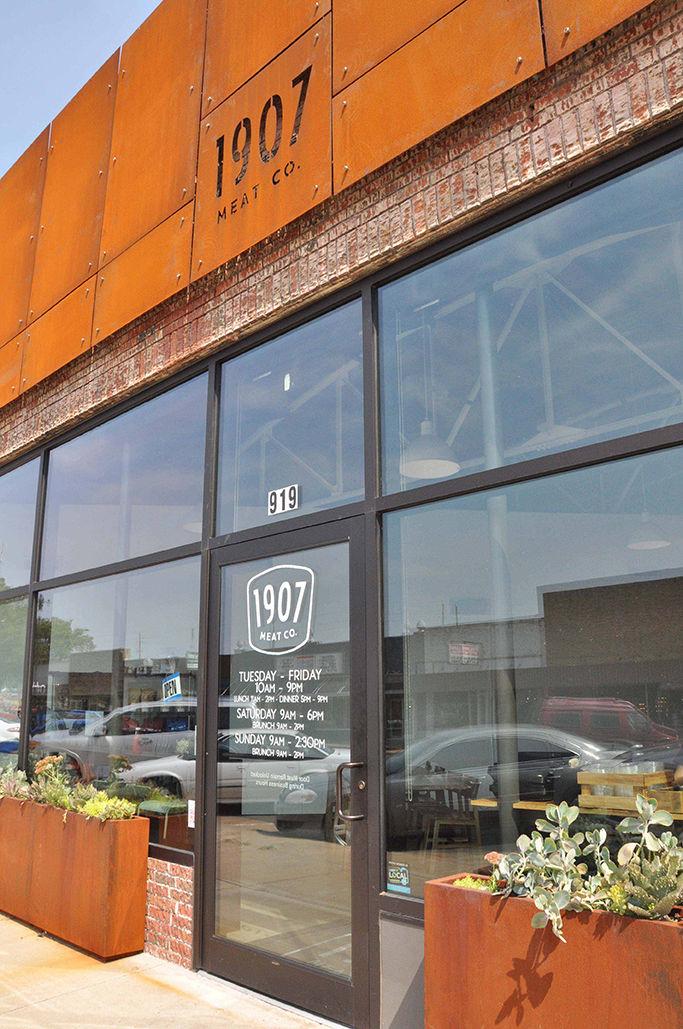 Gribben's inviting, contemporary-looking shop on South Main in Stillwater opened a year ago, serving lunch and dinner six days a week and brunch on weekends. Customers can watch professional butchers break down carcasses behind a large display window. On the back wall are photos of suppliers like Henry Cattle Co. of Ralston and Williford Ranch of Vinita. The staff includes 20 full and part-time employees.
Relying on college towns for business does have an obvious drawback. Gribben estimated his demand drops by a third during the summer.
The immediate area in general isn't particularly well healed either.
"Fully 33 percent of Payne County is below the poverty line," he noted. "I wouldn't go any smaller than Stillwater (for starting up a business like this)."
Another challenge is re-educating consumers who are conditioned to buy only the most common cuts.
"There's a generational gap of at least 20 years between how we used to do things and how we do them now," he said. "We don't know how to cook for ourselves or how to utilize those lesser cuts. It's on us to have the level of expertise in our shop to make that accessible to people again and take the intimidation factor out of it."
That might mean featuring a short rib hash for brunch or smoking and slicing a slab of brisket, while promoting hard-to-find items like liver, lard and bone-in roasts and chops.
Executive chef Matt Buechele worked at several esteemed farm-to-table restaurants in Kansas City and Tulsa, including most recently Tulsa's Tallgrass Prairie Table. He took a job with 1907 Meat to help showcase more obscure cuts.
"The whole animal thing is not an easy concept," he said. "Not a lot of places are willing to change their menu every day."
From the start, Gribben has made opening his books part of the educational process as he talks candidly with wholesale and retail customers about the costs associated with his throwback methods. His pricing generally is at a premium to Walmart but not necessarily higher than upscale grocery chains like Reasor's in Tulsa. He sets his prices by working back from what he pays farmers for their livestock.
"I can tell you that 57 percent of every dollar spent here goes directly back to the rancher," he said. "The goal is to see how much I can pay a rancher, not how little can I pay a rancher."
Today it's possible to produce pork for 75 cents a pound. Gribben said by comparison there's $3 a pound in his pastured pork by the time it hangs on the rail.
Explaining that is part of consumer education, he said.
"What I always tell people is that farmers will grow it any which way you want, but you have to be willing to pay for it," he noted. "People are starting to care more, and now they have more access to information."
He estimates his business has returned over half a million dollars back to area farmers. He currently buys five or six head of cattle and hogs every week and a couple of lambs a month. He rotates purchases among 15 to 20 different suppliers.
In addition, the store buys 120 dozen eggs weekly from fifth generation Fisher Farms at Bristow. The horticultural centerpieces on the tables, the Fresno peppers in the house-made hot sauce and the unique Italian-style baked goods next to the cash register are local, too.
"It's part of being a local economic engine," Gribben said. "Those dollars are saying here."
He does offer a few conventional items to round out his selection, including corn-finished steaks from Iowa Premium Beef, which was started by the late rancher John Stewart, the original founder of Creekstone Farms.
By bringing tradition back, Gribben has been able to attract a first-rate executive team.
"There's a lot of mission-based work to what we do here," he said.
Chad Smith, the head butcher, trained under a traditional Italian butcher and worked at Ralph's Packing Company in Perkins before joining 1907 Meat Co. He said while whole animal butchering is more labor intensive, it's also like "playing Iron Chef everyday."
"You're not on an assembly line. When you create something you can put your own little twist on it," he said. "When you have the challenge of merchandising every piece of the animal, you're constantly learning new things."
He recalled one customer who came in looking for a "steamship roast." That's a leg of round with a frenched femur bone, a request he'd never had before.
While the processing is old school, the technology is not. With the help of a specialist, Gribben set up a high-tech point-of-sale system that transmits an image of the menu from a computer in the back office to a large video monitor above the sales counter. The shop's website allows customers to order on-line for in-store pickup or campus delivery. A former newspaper editor handles Facebook postings and writes profiles on each of the store's partners and suppliers.
"It brings more value to that farmer if I'm not just paying him a premium, but I'm also representing him well," Gribben explained.
For now, Gribben is still fine-tuning every aspect of the business. On Thursdays, for example, he's chief delivery driver.
The shop's customers range from a humane society lawyer to conventional ranchers. Rather than taking sides on the political spectrum, Gribben said he is open to learning everything he can about the meat business, looking for ways to improve it and setting quality standards that make his offerings stand out.
"What I'm always asking myself is how can I raise the quality of life for everyone that comes in contact with this shop?" he said. "I'm trying to figure out what is good for the rancher, good for the animal and good for the consumer. If ranchers are in here buying meat, that's telling me I'm where I need to be." £