Risk management is not always an exciting topic for farmers and ranchers to consider but it can play an important part in the operation's survival if an accident occurs.
Ray Massey, University of Missouri Extension state agricultural economics specialist, recently spoke at the Lawrence County Soils and Crops Conference at the Southwest Research Center near Mount Vernon to advise producers on how to best protect their farms with liability insurance.
"I started really researching and looking into liability insurance… because we had dicamba and all the problems associated with that," Massey said.
According to Massey, there are four overarching strategies to risk management. The first is to avoid the risk. Another is to reduce risk by implementing some plan or action. The third strategy is to retain the risk. The fourth strategy, Massey said, is to transfer risk by asking someone else to take it over, such as through the purchase of insurance.
"What you're doing is you're paying somebody else to take the risk for you," he explained.
Massey encouraged producers to discuss coverage with their insurance agents and to familiarize themselves with what happens if they file a claim.
"This is where a lot of farmers seem to get irritated because they think that they're covered when they're not covered," Massey said, "but they never know that they're not covered until they file a claim."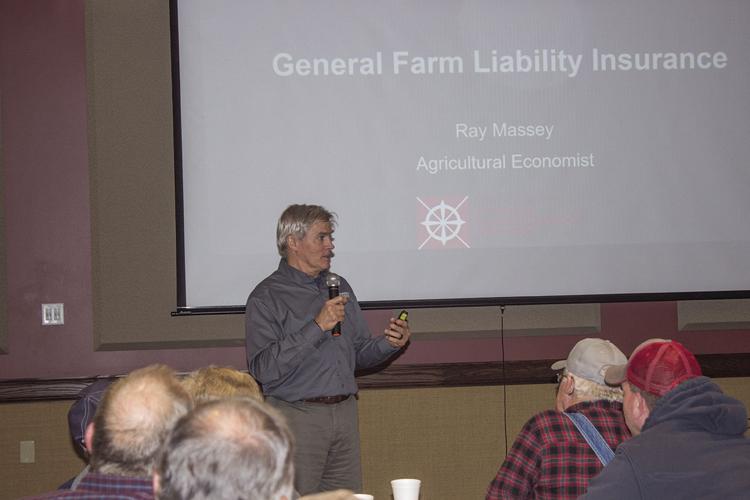 The extension specialist explained there are three different types of insurance: property insurance which pays the insured, workers compensation insurance which pays an employee, and liability insurance which pays an injured person if something goes wrong.
"Actually, one of the interesting things about workman's comp is farmers are not required to have workman's comp insurance — unless they're a certain size — but farming is one of the most dangerous occupations in the United States," Massey said.
He also explained liability insurance "covers the insured when you are legally responsible to damages caused by your negligence." In other words, it can pay for harm caused unintentionally and defend against lawsuits.
Another consideration Massey pointed out is some situations are considered to be ultra-hazardous and may require producers are held to a standard of strict liability such as when a bull injures someone, during aerial crop spraying, and horseback riding.
"A lot of people do think that putting up a little sign that says management's not responsible for injuries is the best risk management program, but it probably doesn't cover all your risk," he explained. Depending on the law and situation, a sign may help reduce liability but won't keep you from getting sued, so Massey encouraged producers to make sure posted signs are legible and clearly placed.
He also reminded producers that as the insured they have the responsibility to pay premiums, notify the insurance company of any accidents, and cooperate with the insurance company in the event of an accident.
They should also check the aggregate limits of their policies while considering the value of the assets that need protection, Massey said, explaining the aggregate limit is the maximum amount of coverage per accident and the maximum coverage during a term, usually $1 million per accident and $2 million per year.
Some farm activities are not usually covered by liability policies, including farmers market sales, non-farm activities like snow removal and landscaping, custom farm work and spraying activities, he added. Others have limited pollution liability which may include smoke from burning fields, spreading manure and spilled pesticides.
Above all, Massey said each farm should have liability insurance to protect it and producers should have a conversation with their agents to get a complete understanding of what is covered and if there is a need to purchase endorsements for additional coverage.