From the highway, Murphy Orchard combines a homey, inviting storefront with a long row of pristinely cultivated apple trees. But the drive-by experience fails to disclose the more than 100 carefully curated fruit varieties the orchard produces each year or the personalized approach the growers take to maximize eater experience.
For orchard owner Wes Murphy, there is no better opportunity for quality fruit production than Marionville, Missouri. For more than 30 years the area's location has provided a prime opportunity for the Murphy family to grow a wide variety of produce — from apples and peaches to concord grapes, berries and tomatoes.
"We're in a good spot where it stays cold enough for us to grow apples but it also gets warm enough for us to grow peaches," Murphy said. "We're in kind of a crossover area where both can be grown successfully."
For the orchard's more than 5,000 peach and apple trees, the area's soils play a prime role in production. Soil water retention and structure will be familiar concepts for traditional grain farmers, but Murphy said land quality plays a big role in fruit production as well. 
 "I know we have Newtonia soil here in Marionville — which is some of the nicest soil in the state of Missouri," Murphy said. "Newtonia soils allow for roots to grow unrestricted up to 60 inches before they meet much resistance."
With suitable soils as the orchard's foundation, Murphy has begun to incorporate new know-how with traditional area favorites for an experience that brings families and communities in contact with superior food.
Old Values, New Technology
What began as a small roadside stand has progressed into a sophisticated, high-producing operation — albeit one that continues to make time for its customers to pick their own fruit. The orchard maintains a packed schedule through the growing season, with strawberries ripening in May, blueberry and tomato production beginning in June, peaches in July and apples starting in September.
While Murphy's apples and apple cider are a fixture of the fall season in southwest Missouri, the orchard's more than 40 peach varieties create the real buzz.
"We have a lot of people who come in, buy apples and love apples but peaches are a whole different thing," Murphy said. "You just see absolutely long lines for those peaches when they come in."
Part of the magic of peach season at Murphy's Orchard is in the timing. Having a fresh new peach variety ready to pick every two weeks increases the season and keeps the orchard storing peaches past their two-week shelf life — another key to maintain their fruit quality.
"We like to store peaches higher than 50 degrees — if you get them below that, like many big orchards or grocery stores do, they don't ripen as well," Murphy said. "Sometimes they even begin to lose most of their flavor and the moisture is sucked out of them."
While peaches are best stored slightly below room temperature, apples at Murphy Orchard are kept below 40 degrees in large on-site coolers to increase their shelf life. Apples that don't meet Murphy's strict size and blemish standards through his hands-on grading system are pressed into apple cider on-site.
 "We process probably between 20,000 and 30,000 gallons of apple cider a year," Murphy said. "Half of that cider production will go to a hard apple cider brewery in Arkansas where they ferment anywhere between 12,000 and 16,000 gallons."
Cider is available nearly year-round at Murphy Orchard — as half-gallons, gallons and a local favorite cider slush. Murphy's cider doesn't taste remotely similar to most store-bought ciders and a unique processing approach is the key.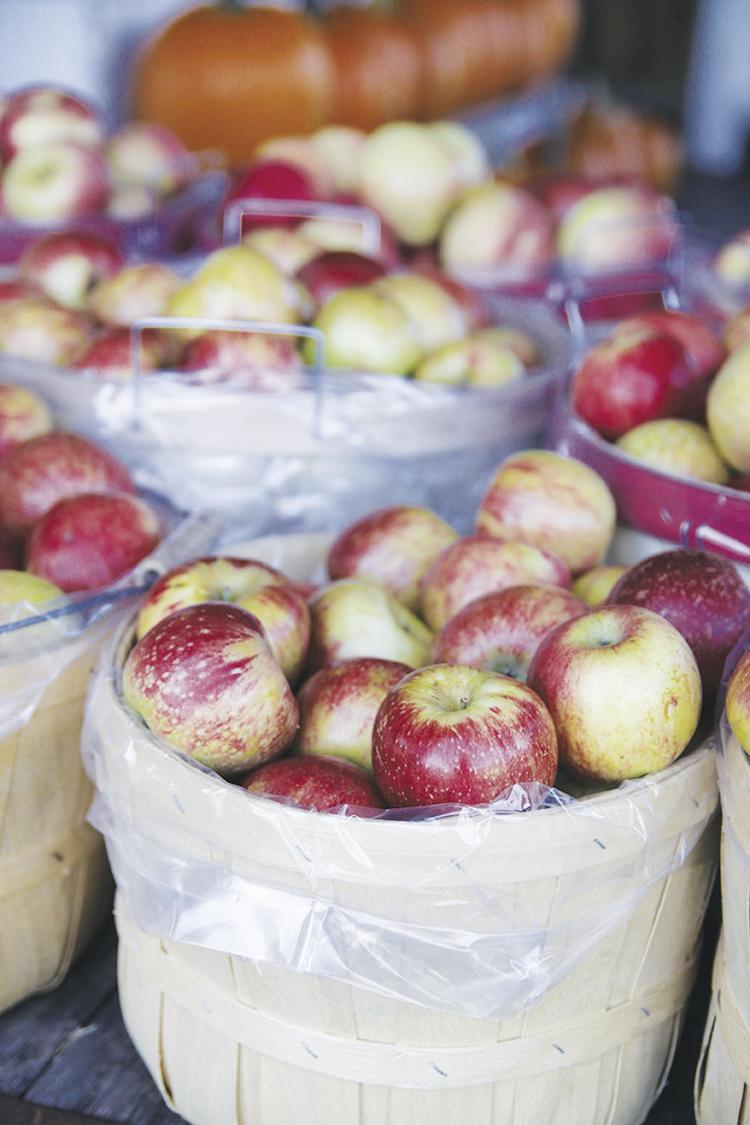 "We use ultraviolet light to sterilize our cider rather than putting it through a pasteurization process," Murphy said. "Pasteurization can alter the flavor of cider and UV light creates a safe product that tastes as good as fresh cider."
Thoughtful approaches to production are a key aspect of Murphy's production and the cider is no exception. When the apples are pressed for cider, the remaining pulp and pith are loaded up in a neighbor's truck and fed on a local cow-calf operation.
 Tunnel Vision
In the last five years, Murphy Orchard has implemented a strategy using high tunnels to increase their production and growing seasons — especially for their tomato and strawberry crops. High tunnels are similar to greenhouses with the plants growing in the ground rather than in pots.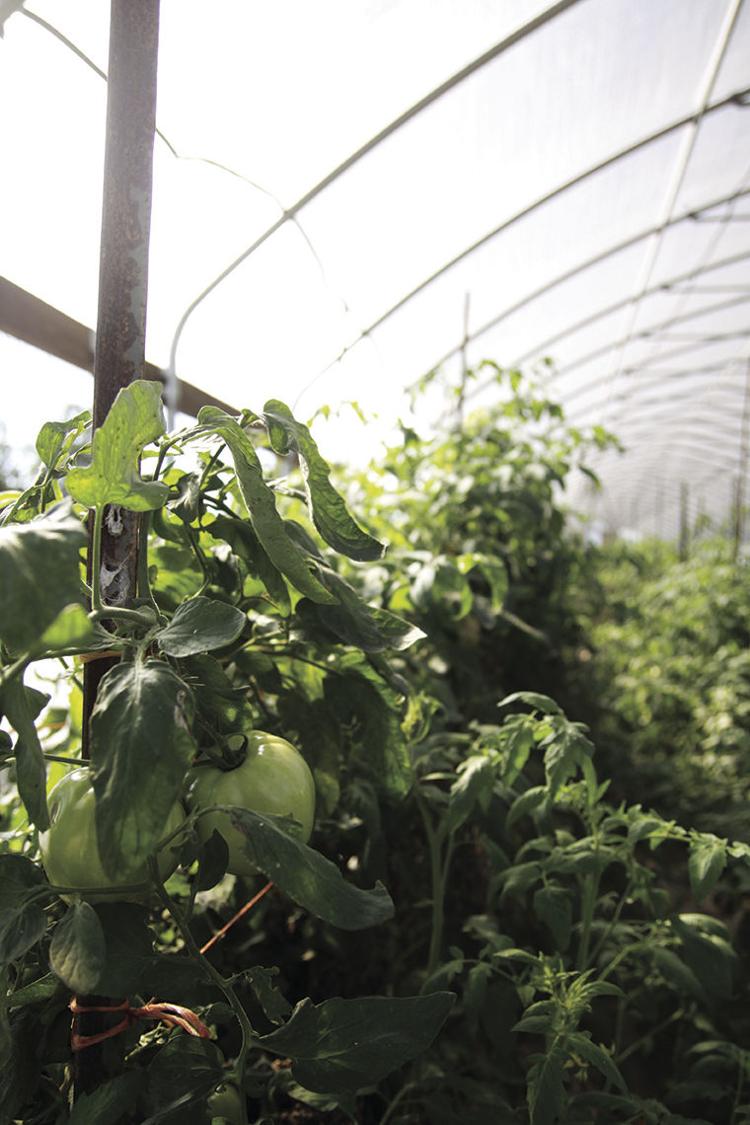 "The production you get out of high tunnels is just incredible," Murphy said. "With a field tomato you can get eight to 10 pounds per plant and with a high tunnel you can see 25 to 30 pounds per plant."
Climate control, irrigation and protection from natural elements were key benefits for Murphy Orchard when they considered them as an option for their farm. With just three high tunnels at the orchard, the structures can hold a surprising amount of produce — around 1,000 tomato plants or up to 2,000 strawberry plants.
Murphy used their tomato production as an example of the protection a high tunnel can provide.
"Rain can wash off aphids but rain also makes fungus develop on the leaves," Murphy said. "Water on the tomatoes themselves can also cause fungus and then you lose quality, the plant or the tomatoes altogether."
Insect Pressure and Provision
Insects have both positive and negative presences in fruit production and Murphy Orchard is no exception. Coddling moths and spotted wind drosophilas have created insect pressure and damaged crops in recent years.
"Once a coddling moth mates, it will lay up to about 40 eggs but won't put 40 eggs on an individual apple — it will find 40 different apples," Murphy said. "One female pregnant coddling moth can ruin up to 40 apples in your crop and if you have several of those they can create a bad situation."
While regular fruit flies target rotting fruit, spotted wing drosophilas can target ripening fruits and their short breeding cycles can create a large problem quickly. While the spotted wing drosophilas don't pose a threat for the orchard's apples, they can be devastating for their soft-skinned fruits — like their seedless grapes.
"With a spotted wing drosophila, the female has an appendage that she can actually scrape into ripening fruit," Murphy said. "A gnat can't get into a fruit that is ripening, but a spotted wing drosophila can actually dig a little hole and plant eggs inside a fruit that isn't even ripening yet — and in that way they can wipe out a crop pretty quickly if you aren't taking care of them."
On the flip side, bees play a vital role in the orchard's fruit production — so much so that the orchard employees over 250,000 bees for the apple bloom alone. At Murphy Orchard there's a bee for every job and the high tunnels aren't left out of the insect equation.
"Bumblebees go out whether it is cool or warm weather and are pretty active whereas honeybees will stay in their hive," Murphy said. "We use bumblebees rather than honeybees inside our high tunnels because the clear plastic disrupts the honeybees' internal compass and they can't find their way back to the hive once they've entered the tunnel."
Intentionality is at the core of Murphy's growing practices — from busy bees to variety selection and pick-it-yourself opportunities. The orchard gives consumers an opportunity to connect with great tasting food grown with their taste buds in mind.
"We try to be all about flavor and quality," Murphy said. "Someone selling thousands of pounds of produce to a grocery store might care more about what the fruit looks like more than the actual flavor and I would say that here we are the opposite."