Farmers afield in Lawrence County, Missouri, talking about fescue feeding, conception rates and a safe sustainable food supply might not make the nightly news. But, ranchers in cattle country taking the opportunity to come together respectfully and health-consciously outdoors in pursuit of education — well, that's something the rest of the world could take into consideration.
The annual Southwest Missouri Cattlemen's tour, an event sponsored by Missouri Extension, highlights the people behind the beef year after year in an effort to encourage idea sharing between producers and give anyone willing to listen a little more access to the point of production on their food supply. This year, the event looked a little different with masks in places, respectful distances between participants and lots of friendly arm-waves to neighbors instead of handshakes.
In this new normal, cattlemen still need to produce safe, profitable beef and communication between communities is key to spreading a wealth of new knowledge and practices between producers.
Young producers Nathan and Taylor Isakson had a lot to share at their small-scale intensive rotational grazing operation near Lawernceburg, Missouri. The couple grazes their primarily Show-Me-Select developed cowherd in small tracts with an emphasis on forage utilization and efficiency — two key elements they were able to take to the next level due to COVID-19.
"All of our grazing paddocks, we've cut down to 5-acres tracts during the government shutdown," Isakson said. "I'm an ag teacher by trade and when I no longer had to go to school, there was more time for me to be at home, rotating cattle."
The Isaksons operate at a high stocking rate, around 2.25 acres per cow-calf pair in order to maximize their allotted grazing land. They achieve balance on their operation through a combination of small-paddock rotations, stockpiling fall forages for winter grazing and strategic hay management.
"Right now, our whole place looks like it's resting and that's exactly what's going on," Isakson said. "We applied fertilizer in August and then moved our cows into one paddock and began feeding hay that will carry them through calving and in 30 days we will begin to move them into new growth areas again."
While the grass in the small paddock will be significantly grazed at the end of the September calving season, Isakson said supplementing hay allows the cows to maintain better nutrition during calving and allows for feeding hay during a much more pleasant time of the year.
"If we just let these girls run all over the place, it would look this way entirely because they will only utilize 35% of the available forage when they're in that type of continuous system," Isakson said. "So, we decided to step up their nutrition profile and keep them here until 30 days after calving."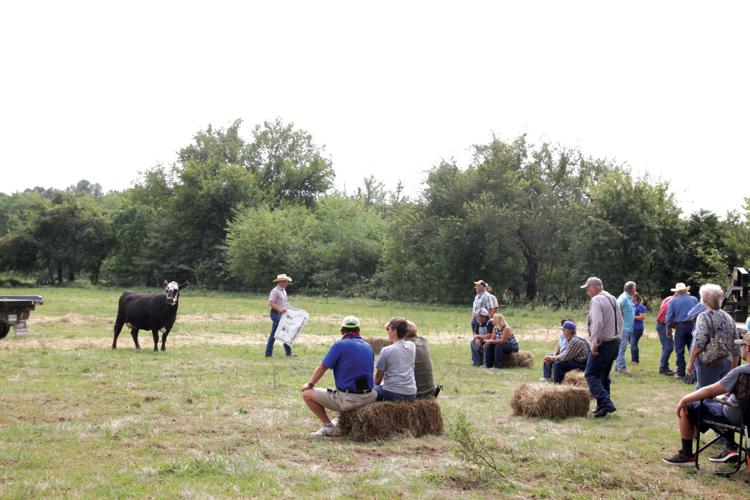 Often, the Isaksons will hold their bull out until the 45-day mark in order to allow the cows more time to reestablish body condition before heading in to a new breeding season. Because they adhere to a strict calving window, cows that do not rebreed in a timely manner rarely get second chances for performance.
"We calve in a 60-day time period, which is normal," Isakson said. "Once you hit that cap, you've got good uniformity for your marketing paths."
Marketing plays an important role in the Isakson's operation, particularly using any value-added opportunities they can gain through local stockyards.
"We utilize the value-added program with Joplin Regional Stockyards and we rely heavily on the International Genetic Solutions Feeder Profit Calculator," Isakson said.
The IGS Feeder Profit Calculator is a third party validation service for cattle that provides detailed information and assigns value to cattle for buyers based on genetics and management practices. The service is free and aims to help buyers find cattle at auction that are more likely to succeed in feedlot settings.
Although the youngest participants in the Southwest Missouri Cattlemen's tour lineup, educating comes naturally to Isakson, especially on-the-farm educating after the COVID-19 crisis.
"During the COVID-19 shutdown when I was locked out of my classroom, I realized that I had the best classroom possible for my agricultural science students right here on the farm," Isakson said. "We put videos together called the Maverick Minute that cover topics like I've spoken about today for both adults and high school students."
Isakson's grazing and cattle management videos are searchable on YouTube with the phrasing Maverick-Minute.
The Southwest Missouri Cattlemen's tour additionally visited Ian and Kassi Glassman at Blue Silo Beef near Halltown, as well as Jerry and Judy Crowner.