Farm-raised kids enjoy a close relationship to the production and processing of their food like few grocery store consumers can comprehend. At Show-Me Kansas Farms, Janet and Caleb Phillips hope to recreate the farmer-food connection for consumers removed from food production without sacrificing taste or quality.
"Janet has always had the dream of selling meat and it just wasn't the right time," Caleb said. "So after four kids and a much bigger farming operation, we decided doing one more thing didn't seem as daunting."
The Phillips family operates a diversified row crop and cow-calf operation near Cherryvale, Kansas, where Caleb represents the third generation of Phillips farmers.
"There's a rich farming history in my background," Caleb said. "My dad and grandpa have always farmed full time and I just always assumed that I would, too."
When commodity prices began to decline, Janet and Caleb started looking for profitable new opportunities for their operation. After exploring a wide variety of options, the Phillips family decided it was time to focus on Janet's original dream.
"With prices down, we wanted to find a way to diversify our operation more and capitalize on something new," Janet said. "We looked into producing a different crop and then we came back to the idea selling meat."
While the Phillips had been producing beef for their own family for some time, they had limited experience selling locally to friends and neighbors. With storage space as a limiting factor for most of their customers, Janet focused on offering a wide variety of cuts rather than selling beef in large quantities — all at the same quality she would expect for her own family.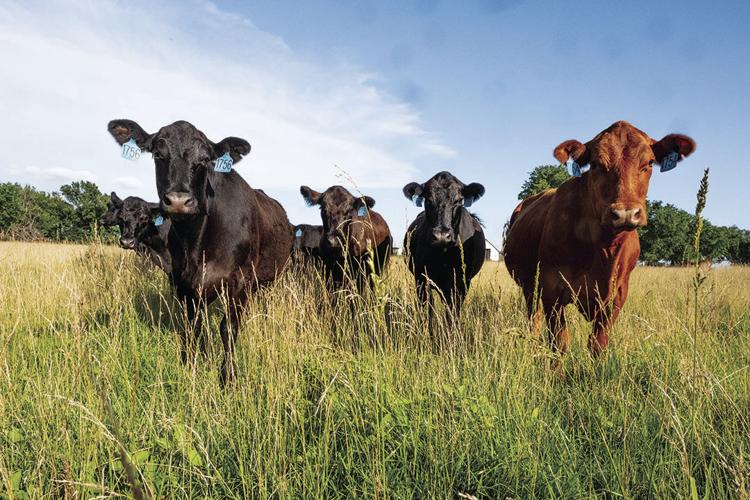 "We had been selling a quarter of beef here or a half there, and people were consistently saying that they'd like to purchase from us but didn't have the storage space," Janet said. "We started thinking about selling by the package or by the cut as a more affordable or space-saving option."
The solution was a combined packaging, shipping and storage facility on the farm where they could store large quantities of beef to be shipped or sold locally for their customers' convenience. Built in a brief break during one of the wettest springs in Kansas history, the facility has allowed Janet and Caleb to focus on meeting a need for flavorful beef that they realized soon after moving off their families' farms for the first time.
"Caleb and I were both raised with our own beef — our parents each had cattle and put beef in the freezer," Janet said. "When we went to college — at different places and we didn't know each other — we both remember the difference in taste and experience buying hamburger from the store."
While Janet said she was never concerned with the safety of store-bought beef, it just never tasted like home and it took years before she could pinpoint the source of the flavor difference.
"It wasn't until I had visited some packing plants that I realized how a different aging process affects the meat," Janet said. "Aging meat for at least 14 days — and in our case we like to go a step further and age 21 to 28 days — doing that gives you extra flavor and extra tenderness to the meat."
One of the key areas where Caleb and Janet noticed a difference was the flavor of their locally processed ground beef, which goes through a different aging process or no aging process at major processors.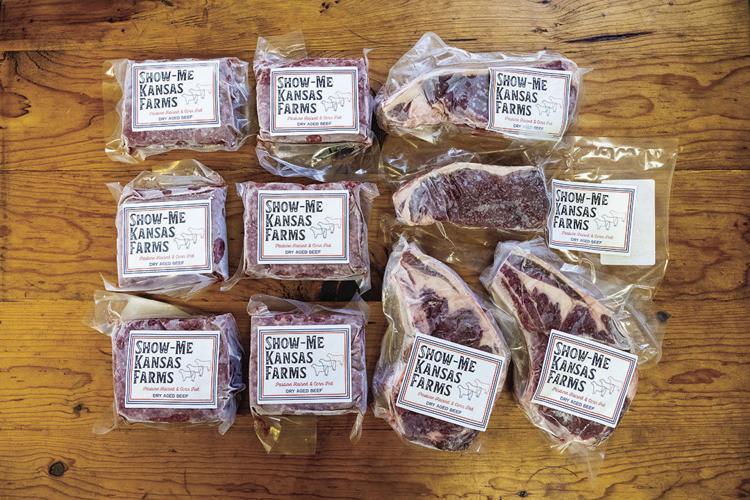 "Most primal cuts are either dry or wet aged but hamburger meat especially is not usually going to have that treatment," Janet said. "The taste of hamburger that has been aged is just completely different than what you would typically get in a store."
The Phillips' search for a processor who could replicate the home-raised taste they were used to led them to a variety of local options, with the ability to sell and ship across state lines as a key factor.
"Our goal in mind was to be able to ship our beef across state lines and to do that we have to have a USDA-inspected processor," Janet said. "We knew we wanted vacuum packing and to be able to choose our own cuts of beef."
When Janet and Caleb began planning to sell Show-Me Kansas Farms beef, they wanted to offer a top-quality product with the best packaging available. The vacuum-packaged beef ships out in specially insulated boxes filled with dry ice and typically travels from farm to the customer's doorstep in 24 to 48 hours.
"I wanted something that I know will last," Janet said. "If our customers don't get a chance to eat our beef for a month or two or want to save it for a special occasion then I want them to be able to not worry about freezer burn."
Along with kicking the packaging up a notch, Caleb and Janet knew aging wasn't the only difference to their childhood eating experiences, and they looked for ways to share not only their best beef but also the memories they associate with it.
"We are trying to sell a premium product," Caleb said. "It takes more time and it's not cheap to do what we're doing because our goal is to sell a product you can't get just anywhere."
Distinguishing their product in the marketplace is where Janet's skills with social media add a unique layer to the Phillips' branded beef sales. When she began blogging under the name Show-Me Kansas Farms — a tribute to her Missouri heritage and Caleb's Kansas origins — in 2009 shortly after their marriage, Janet's original goal was just to share her new farm life with family and friends.
"It's more about telling our story and educating our friends and family about how and why we do what we do," Janet said. "We're trying to produce the best product whether it's on the crop side or cattle side of our business and we're doing it in a safe way because what we do on our farm affects not just us but our kids as well."
Sharing her story and advocating for agriculture has translated naturally into helping Show-Me Kansas Farms' customers connect with their food on a similar level to what farm kids enjoy as children.
"This is our family, this is our farm, and we want to help our customers feel like they are apart of our farm through social media," Janet said. "We want people to be invested in their food from start to finish."
The Phillips family is looking forward to their Show-Me Kansas Farms business being a place where all aspects of their farming and family can come together to be a long-term asset.
"We're very hopeful that this business will be a great opportunity for not just us, but for our children as well," Caleb said. "We want this to be something they can participate in with us."