After traveling more than a thousand miles in livestock trailers over 28 hours, a herd of 31 bison from Grand Canyon National Park in Arizona have a new home with the Quapaw Nation of Oklahoma.
Hundreds of the massive animals live in the park, so many that park officials say they're spoiling water sources and harming the landscape. Two years ago, the park introduced a pilot program for corralling and relocating bison from the canyon's North Rim.
Plans to reduce the population of bison in the park were moved to this fall, after bad weather canceled the planned capture in late 2018.
The North Rim has about 600 bison, and the National Park Service is aiming to cut that number to fewer than 200 over the next three to five years to protect park resources.
The InterTribal Buffalo Council, created in 1992, works in partnership with the National Park Service to help distribute the animals among Native American tribes that request live bison to help build up their own herds.
Throughout history, bison have played a significant role in Native American culture, and were used for food, clothing, tools and more.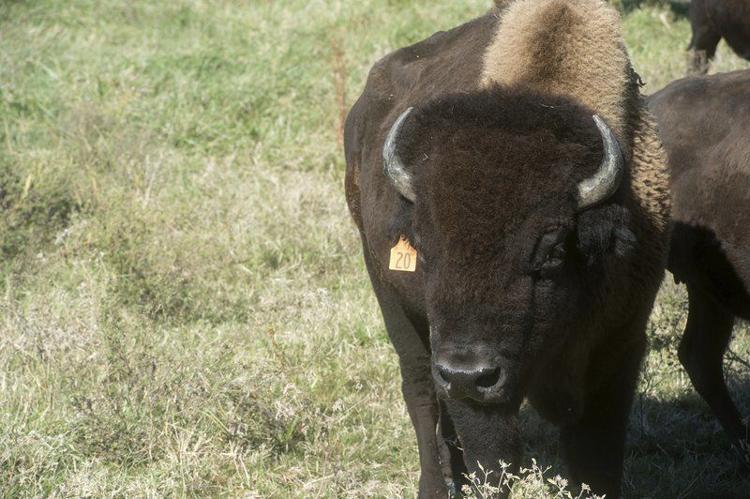 Mitch Albright, assistant director of agriculture for the Quapaw Nation, said the tribe first began raising bison in 2010. Dozens of adult bison and calves roam 200 acres near Downstream Casino Resort. With the recent addition of the 31 Grand Canyon bison, the Quapaw Nation now has about 160 head, Albright said.
"All of our bison come from national park grounds, every one of them," he said. "It's a federal law that they have a roundup every year to control population in the national parks. Under the law, 25% of the surplus bison from those roundups go to a federally recognized Indian tribe, if they can handle them. The mandate is you keep them for one year, take care of them and then you can do whatever you want with them.
"We've received bison from the Theodore Roosevelt and the Badlands national parks," he added. "Those were the only two parks where we received them until this year."
The new herd that arrived at the Quapaw Nation last month is still in its acclimation period. They are located about 30 minutes from Downstream Casino at the tribe's feeding site because the animals aren't yet ready to be introduced to the tribe's herd. A few more steps need to be taken before the new arrivals can co-exist with the others, including vaccinations and DNA testing.
Albright said bison are more difficult to herd than cows because they're not domesticated and they stress out easily.
Running bison can reach speeds of 35 mph and are great at keeping away predators, including coyotes. A mature bull can weigh more than a ton. The life expectancy of a bison is 10 to 25 years.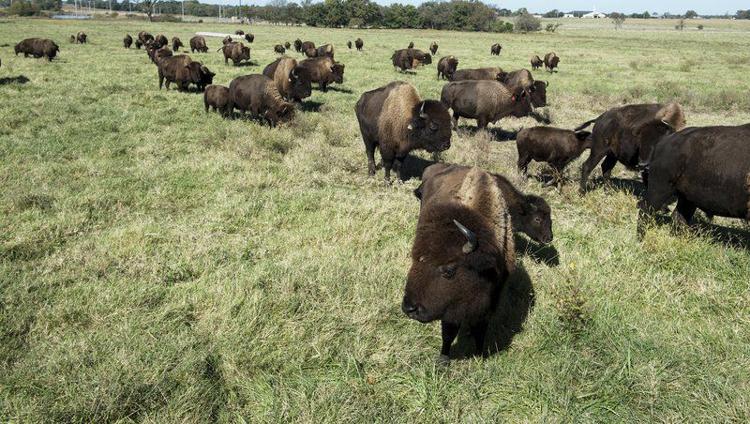 "They don't breed just like cattle do," Albright said. "It's really tough. Fifty-percent calving is actually a good year. A calf every other year out of a cow is typically what we get. You can't control it like you do beef cattle. They rut, kind of like a deer. They come into a breeding season."
The tribe launched its meat processing plant for its bison and cattle in 2017. Albright said they don't process bison much, only six to eight head per year.
"The majority of the bison that we process go to our general council and annual powwow as a donation," he said. "The customer basis at our processing facility has been overwhelming. We have people knocking down our door to get in, but we just can't handle all of the volume right now. We're looking to expand, especially on the smoked goods market."
Dave Patton, laborer with the tribe, said he's been feeding some yearlings to go to auction. The tribe also sells 40 to 50 head of bison annually in the fall and winter.
"We're giving them about 20 pounds per head because we want them to be as big as possible and to be able to show real well at auction, which we've had really good luck with," Patton said. "Last year, we did really well."
The Quapaw Nation is expecting to receive another round of park bison this fall. Albright said the tribe also plans to have bison at its new Saracen Casino Resort in Pine Bluff, Arkansas.
The Associated Press contributed to this report.