The beef industry in 2019 has given packers and producers alike a trying tutorial in tolerance, with cattlemen across the states asking themselves how much volatility and risk the market can stand.
During the 107th annual Kansas Livestock Association Convention in Wichita, CattleFax CEO Randy Blach shared his outlook for beef markets in 2020.
"If I look back at 2019, I haven't been very surprised by anything we saw in 2019," Blach said. "I thought the market was actually pretty darn predictable."
Blach said CattleFax predictions were accurate within 20,000 head for U.S. cattle slaughter numbers, but while the wide market swings were predictable for seasoned economists, livestock producers at the base of the industry witnessed the volatility with closer proximity.
With 2020 quickly approaching, Blach said a few key moments in this year's markets could help producers better predict their future market movements and risk management strategies.
"Markets are starting to move now and you really need to be on your game," Blach said. "You need to stay plugged in and watch daily updates so you are not surprised by any of these things.
"Hope is not a good strategy."
Fire & Fever
The fire at Tyson's processing plant in Holcomb, Kansas, rocked both local and national livestock producers and packers alike. At KLA's 2018 convention, Blach projected that the most disastrous hit U.S. beef markets could take would be losing a processor — and at the 2019 convention, he was happy to be wrong.
"We came through this plant fire situation, in our estimation, only under harvesting by about 75,000 head of cattle," Blach said. "When the fire hit, we were as current as we had been any time in 12 months and the market worked."
For Blach, the Holcomb fire not only proved the sustainability of the country's beef markets, it also opened up new opportunities for packer efficiency.
"We had to incentivize the rest of the packing industry to figure out a way to run these plants at unprecedented levels," Blach said. "I think the packing industry was shocked at what they learned going through this process — they learned how to run these plants at more efficient levels."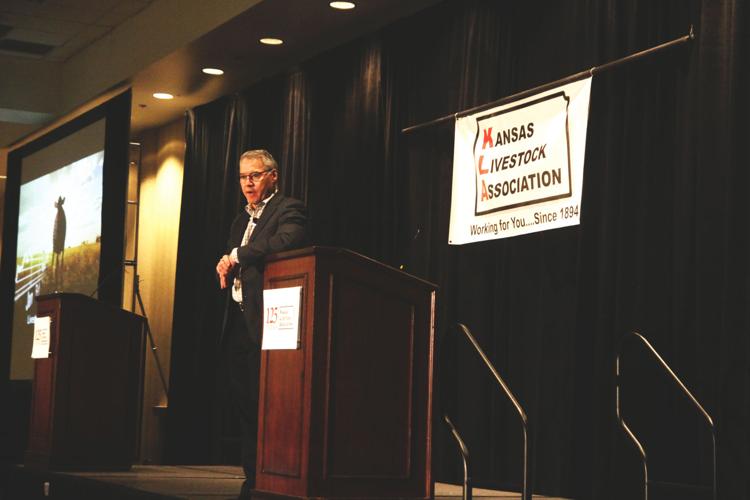 With just a few thousand head more cattle in the system at the time of the fire, Blach said the end result could have been much different. Significant beef demand played also played a role in the success of the market in 2019.
"Demand growth is critical in our industry," Blach said. "Over the last 20 years, we've done a much better job as producers of being able to respond to these economic signals."
In 2020, U.S. pork exports are projected to be up 15 percent, a nearly billion pound increase over 2019, with beef exports also seeing a significant increase.
"For this next year, we predict beef exports increasing by a percent and beef imports dropping another 5 percent," Blach said. "China is outbidding the U.S. for lean beef supplies from suppliers around the world."
The shortage generated in the Chinese market provides significant opportunities for U.S. beef producers, but the looming threat of swine fever in the U.S. is also cause for concern.
Currently nearly 25 percent of U.S. pork production is exported, if pork export markets are closed due to swine fever, it could leave a significant amount of pork in domestic markets.
Regardless of its foreign or domestic market implications, Swine Fever also presents some worrying world protein availability concerns.
"Half of the hogs in China are dead — that's 10 percent of the world's meat supply gone," Blach said. "Do y'all understand that there is not enough meat protein in the world to fill the void?"
Sustainability Stories
Economic and environmental sustainability are two topics every industry in the United States has at the forefront of their long-term planning discussions and the beef industry is no different. For Blach, both topics are receiving their due attention and showing great strides for growth in the beef industry.
"Our industry is becoming more sustainable from a profitability standpoint," Blach said. "We're making a transition from sharing a profit of $40 per head between four major industry players to regular profitability."
When beef demand was cut in half from 1979 to 1998, beef producers were pretty defenseless, Blach said. Increased demand and a better understanding of market dynamics have allowed the beef industry to make great strides toward long-term profitability.
The Holcomb fire recovery and market development from foreign beef demand are both examples of the U.S. market functioning correctly. Blach said keeping cow-calf producers profitable longterm is also a sign of a healthy industry trend.
As for environmental sustainability, beef producers continue to do more with less year after year.
"Our production numbers are record large even though we have 35 million fewer cattle," Blach said. "That's a pretty good sustainability story and it reflects each and every one of you getting better at what you do."
The key to the environmental sustainability side of the beef industry is making sure the facts facing consumers interested in producer practices reflect reality.
"We better get the sustainability story right," Blach said. "Sustainability could be the next big thing that really hurts us if we don't learn how to tell this story and have an influence on consumers."
Blach said the beef industry has made great strides toward a consumer-focused mindset, and many producers have profited from offering options to discerning grocery buyers.
"We have to continue to listen to consumers," Blach said. "It creates opportunities for niche markets and all of the differentiation that we have seen in our markets over the course of the last 20 years has been the best thing for our business."
Overall, Blach said if he was a young producer evaluating the industry for its potential to be a long-term, money-earning career field to support a family, he would definitely make the choice to raise beef.
"This is a business that you can make a living in," Blach said. "You can have some fun, make a living and make an impact feeding consumers in the U.S. the highest quality beef product of anywhere else they can source it on the planet."