Long ago longhorns built the foundations of the American beef industry in areas of the country most cattle just couldn't take. Today, the breed is adaptable to many environments and carries with it an enduring heritage as well as breeders passionate about protecting and preserving the breed.
Todd McKnight, a Pittsburg, Kansas resident is raising an elite herd of Texas Longhorns at CedarView Farms in an environment very different from the animals' glory days in the old west.
"We started raising and breeding longhorn in Abilene, Texas, which is where we are originally from," McKnight said. "We had a small piece of property and wanted cattle to go on it, so when I saw one of my employees with a screensaver on her phone of a longhorn, I asked about it and next thing you know I brought home a bull and two heifers."
The early start began an enduring 20-year career as a breeder of longhorn cattle as a member of the Texas Longhorn Breeders Association of America. McKnight and his family initially loved the way the cattle looked in their pastures and endured the Texas heat. Today, his operation is more focused on pristine pedigrees and animals that thrive in a sound grazing environment.
"We moved from shrub, mosquitos and cactus conditions here to all of this great grazing grass and it makes a world of difference for the animals," McKnight said. "Now, our whole place is set up so one person can move the animals from one pasture to the next to rotate with a series of alleyways and gates."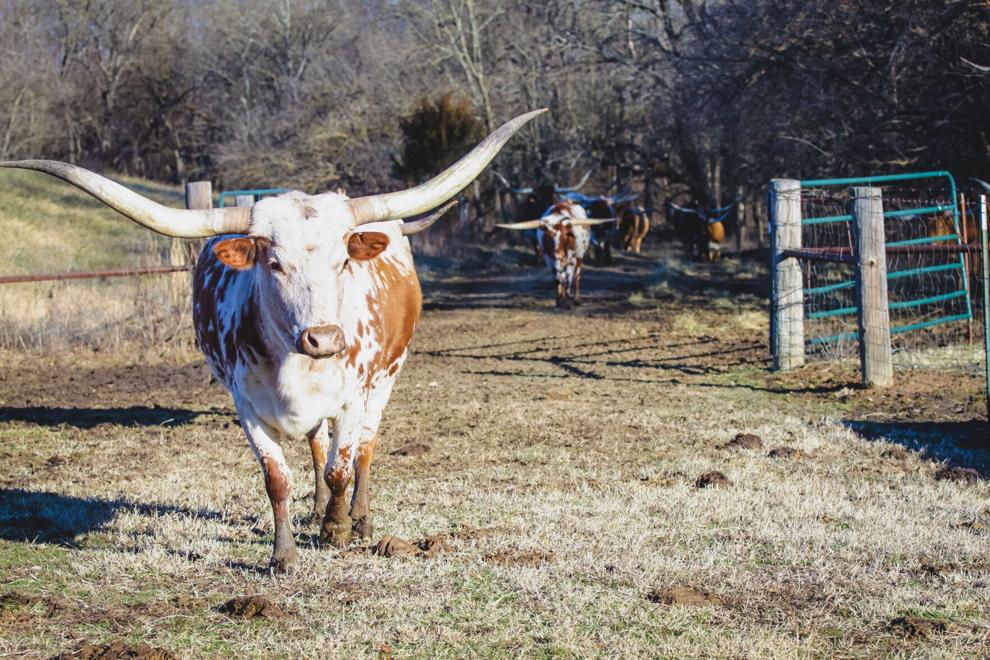 With his children grown and out of the house, McKnight had to make some difficult decisions about his herd numbers and facilities, despite the ease of operating.
"At the height of our operation, we had around 130 head," McKnight said. "That was the breaking point for us — my wife, Kelli, and I along with our kids at the time managed the ranch by ourselves and that was too much."
Slowly, McKnight downsized his herd using a buy one, sell five strategy that he believes has tightened his herd into a cream-of-the-crop collection of genetics. Additionally, McKnight hired a ranch manager, Chris Harrison, to help with day-to-day care, registration upkeep and weekend projects like working cows or fixing fence.
Breeding Business
McKnight's two heifer, one bull breeding situation didn't last long before he felt driven to aim for more cattle with better genetics. He did his research, talked to fellow breeders and eventually was pointed in the direction of Bob Loomis, a longhorn and reining horse breeder in Marietta, Oklahoma.
"I still have the little piece of paper where he scratched out what he wanted and what to breed," McKnight said. "He has a proven track record of being successful, so we followed his recommendations and honestly it just took off."
For McKnight, those breeding recommendations came down to a few key strategies, the first being to emphasize proven pedigrees. After looking for cattle with the right markings on paper, his next picks look at maternal traits like milking ability, quality composition and frame size, followed by color and horn size tip to tip.
"We've taken our longhorns to a horn showcase in Oklahoma every October where breeders can bring cattle to compete against each other based on their horn size for their age," McKnight said. "We've won over 22 of the divisions for bulls, cows or heifers over the last 16 years."
One bull in particular took the McKnight family's program to the next level.
"CV Cowboy Casanova is a bull that really catapulted our program forward," McKnight said. "He was the breeder's choice bull in 2012 and 2013, and we syndicated him with 24 partners."
Selling Cowboy Casanova gave McKnight the confidence in his breeding program to make new contacts in the industry and showed him the power of focusing his program on the traits he personally wants to perfect. The result is a small herd with some of the best genetics in the longhorn industry, where he can take pride in every single animal he produces.
"We've been fortunate in this business and we enjoy helping other families discover longhorn cattle and build their own herd," McKnight said. "Longhorns are a topic I could talk about all day, and I enjoy the opportunity to breed good cattle and talk shop with anyone interested in doing the same."