After 48 years, a member of the agricultural community in southeast Kansas has decided on his next chapter: Retirement. Phil O'Malley, owner of O'Malley Implement in Pittsburg, has sold his business to Heritage Tractor.
O'Malley grew up on a dairy farm east of Scammon, Kansas. He graduated from Weir High School and later Pittsburg State with a business degree. Before O'Malley Implement, he worked for an insurance adjustment company. Knowing if he stayed with the company that he would end up in New York, he began looking for a way to return home.
"This farm boy wanted nothing to do with the big city," O'Malley said.
Since he enjoyed woodworking, he began negotiations to purchase a furniture store in Pittsburg. He went to a bank to get a loan. However, Tom Coyle, a member of the bank's board of directors and owner of a local John Deere dealership, approached him with a life-changing offer.
"He asked if I was interested in buying the store," O'Malley said. "It shocked me.
"There's not a business in the entire world I'd rather have, but I never thought I'd have the opportunity to buy it."
O'Malley's father Harold had approached him in 1961about buying the John Deere dealership in Pittsburg. "I was still a senior in college," he said. "There's no way I was qualified to do that at the time."
However on July 1, 1970, O'Malley and his father purchased the John Deere dealership. At that time, O'Malley said there were ten implement dealers in Cherokee County, eight in Crawford County, and six John Deere dealers within 50 miles of Pittsburg.
As all of those original competitors went out of business in the past five decades, O'Malley was grateful for — and proud of — his business' survival.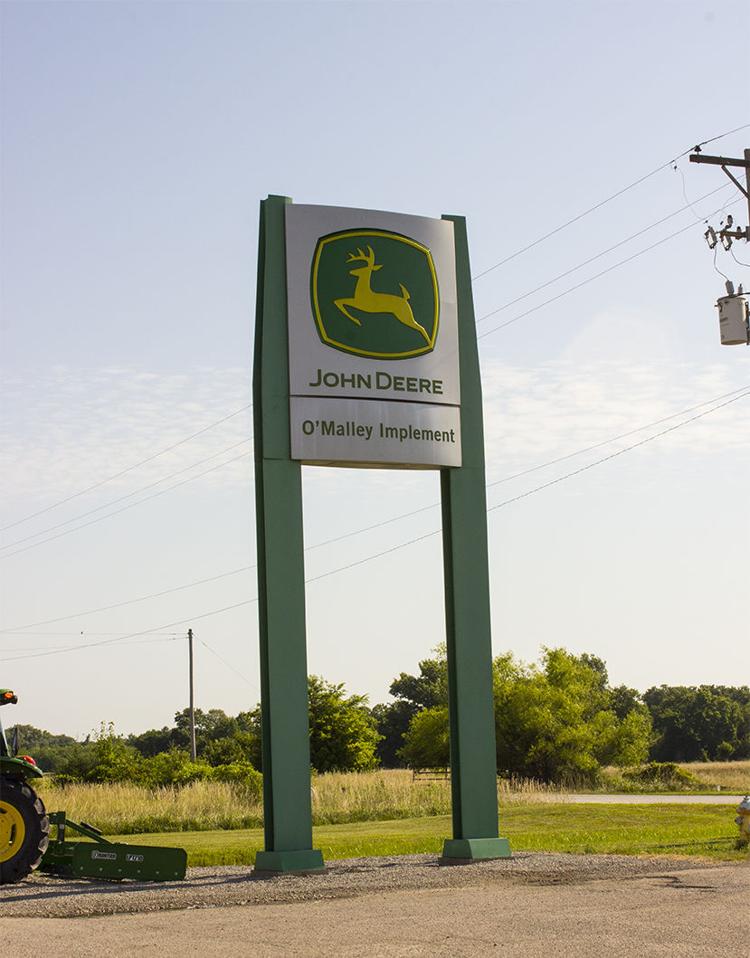 "It's been extremely difficult at times during these 48 years, especially during the '80s," O'Malley explained. "Fortunately, the '70s were very kind to us and we accumulated a considerable amount of money which sustained us through the difficult years of 1980 to 1986.
He attributed the success to his employees.
"I surrounded myself with some very talented employees," he added. "They're all like family to me." His employees were also a major consideration when he began exploring the option of selling his dealership.
He also took the words of a Weir farmer to heart from his first day of business.
"He said, 'Always tell the truth then you don't have to remember what you said.'"
Retirement wasn't originally part of O'Malley's plan.
"I thought I'd be here 'til I died," O'Malley said. However, with the trend of companies in the agricultural industry shifting toward owning multiple locations, it can make it difficult for single location dealerships to continue.
"In the past 48 years, I looked forward to coming to work every single day," he continued. "But with the current commodity prices and unpredictable weather, I felt it was time to retire. I wish the new owners best of luck. They are a well-organized establishment and will serve my local customers very well."
O'Malley will miss his interactions with area farmers.
"Farmers are the best of our society," O'Malley said. "They'll still come to the aid of the neighbor. You can believe the farmer when he tells you something. Their word is always good.
 "John Deere has provided me and my family with a nice livelihood," O'Malley concluded. "I have no regrets."