Oklahoma educators found inspiration outside the classroom in unlikely venues as cattle and sheep ranchers, dairymen, vintners, pecan and bison processors, and farmers opened up their northeast Oklahoma operations for a new kind of learning. During the Ag on Route 66 Tour, an initiative of Oklahoma Agriculture in the Classroom, more than 50 teachers from across the state experienced new approaches to teaching math, science, social studies and more through the lens of agriculture.
While many of the teachers on the tour had an agricultural background, more than half had no prior experience with the industry. For many, the fast-paced, three-day event through Oklahoma's many agricultural opportunities was a crash course in where food comes from.
"In the city, all we have to do is visit the store to buy our groceries," said Cathy Essley, a teacher from Carnegie Elementary School in Tulsa. "I had no idea about the effort it takes to grow the food we eat or the slim margins farmers make, and my students definitely don't either."
Scott Johnson, a farmer and cow-calf operator in Afton, took a break from his wheat harvest to talk about tillage practices, grain storage and marketing, and total mixed rations with the teachers. The teachers got an up close and personal look at grain bins and a seed cleaning facility while Johnson spoke about his ongoing wheat harvest.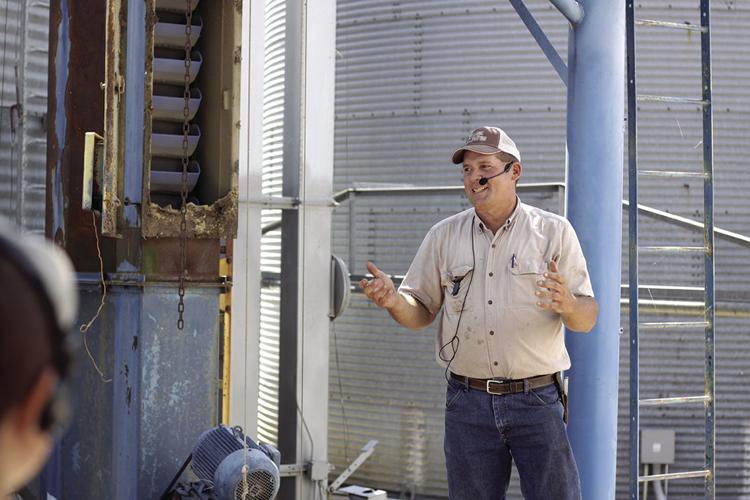 "We had the second coldest April on record and the second hottest May — the first time ever that they have happened back to back," Johnson said. "We thought at the first of May it would be way into late June before the wheat would be ready because normally it is six or seven weeks between when you first see a head and harvest."
Farming around 4,000 acres, Johnson and his family use no-till practices on their wheat, corn and soybean fields. The benefits available between no-till, minimum tillage and conventional tillage are a personal preference and different for different regions, Johnson explained as he pointed out the effects of tillage.
"Most of our ground hasn't been worked; or if it has been worked, it would be once in the last 20 years," Johnson said. "Organic matter build-up is a side benefit we've received from our no-till operation — it is not the primary reason we began no-tilling, but organic matter along with erosion control are some major benefits we have seen along the way."
Because the tour had recently visited the Port of Catoosa, Johnson also discussed the importance of grain storage and marketing for top profits. The tour also visited a field where wheat was being harvested and baled for straw hay, which the Johnsons sell to a mushroom farm the tour later visited.
Johnson fielded many questions about genetically modified plant varieties, herbicide use and crop varieties. Overall, the teachers left the site with a better understanding of a large-scale farming operation, as well as the family aspects of farm life.
For a change of pace, the tour visited the Miller Pecan Company, also located in Afton. The company is a family-owned operation that began in the 1980s as a partnership between Len Miller and his two sons, Justin and Jared.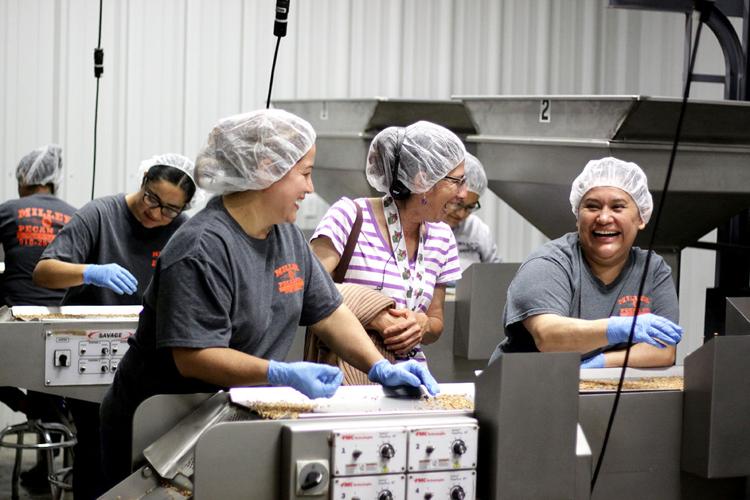 Today, Miller Pecan Company is one of only a few operations in control of their pecans from planting to marketing, with their own processing facility and retail store. In 2017, the Miller brothers were recognized as the Growers of the Year by the Oklahoma Pecan Grower's Association for their commitment to environmental stewardship and progressive production standards.
Justin Miller led the tour through the mechanics of the production facility, describing the pecan process from planting to processing and the technology the company uses to assist their production. Miller fielded questions about pecan oil content and quality, as well as machinery maintenance — a job he said often falls to him.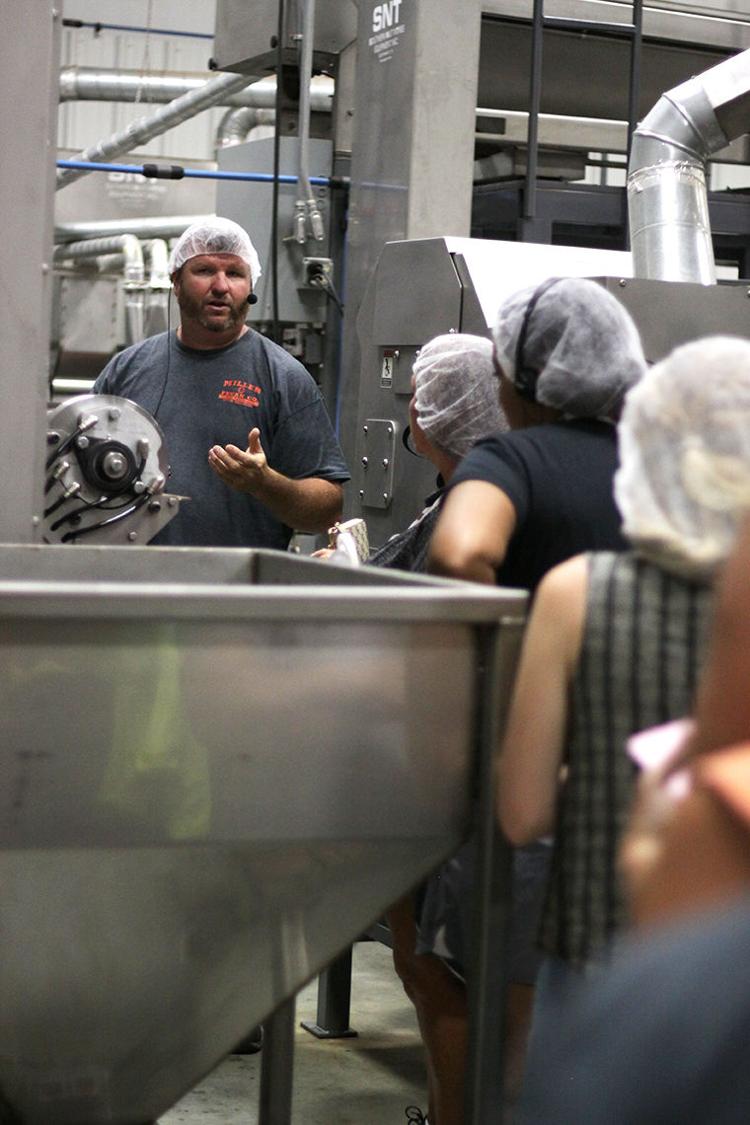 Finally, the tour had the opportunity to tour a Temple Grandin-designed working facility at Yazel Cattle Company in Vinita. The ranch covers around 4,500 acres at the Vinita location, with over 51,000 acres under Yazel Cattle Company owner Mark Yazel's management statewide.
"We're primarily a ranching operation," Yazel said. "We raise totally commercial cattle that will end up as beef in the grocery store."
The working facility, complete with a curved, solid walled tub in Grandin's signature style, is primarily used for working calves headed to Yazel's preconditioning lots or being loaded onto trucks headed to sale.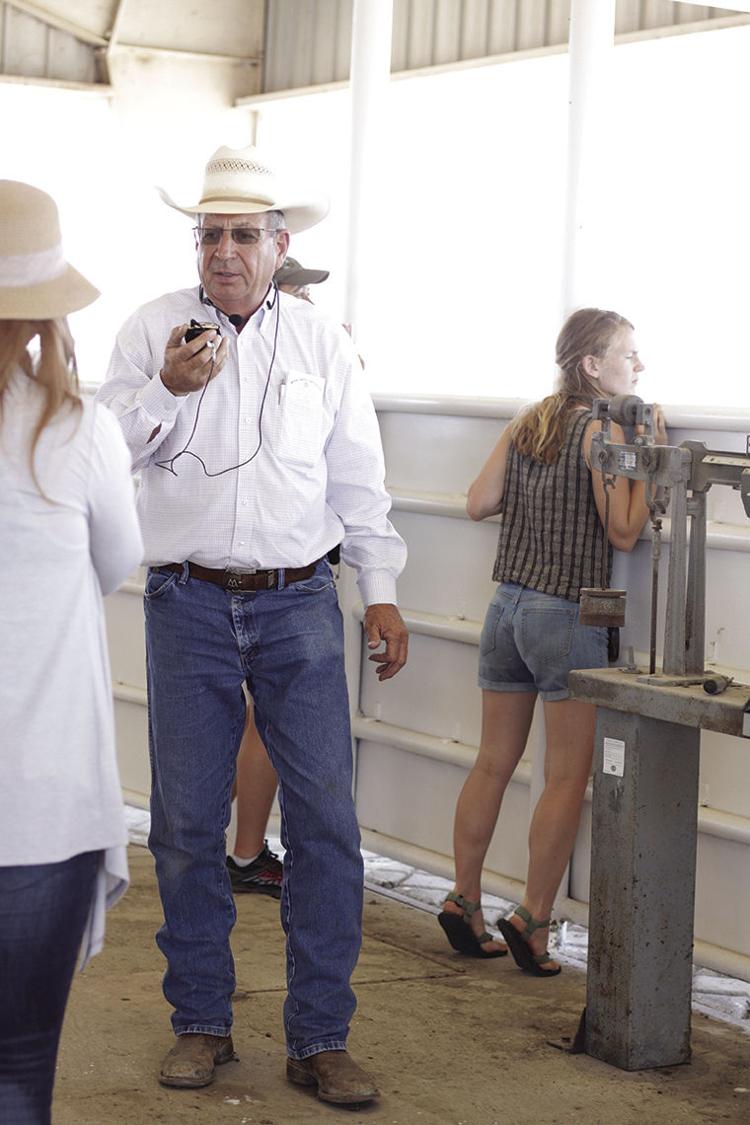 "As far as preconditioning goes — to put it in teachers' terms we take a kindergartener and turn him into a senior in 60 days," Yazel said.
In addition to touring the facility, the teachers also watched an educational video about Grandin's cattle handling philosophy and received some of her children's books to carry back to their classrooms.
Books aren't all the teachers will bring back with them. The experiences gained during their time in the field left an impact many will carry throughout their teaching careers.
"I was blown away by the amount of knowledge in engineering, mechanics and science it takes for farmers to be able to do their jobs every day," Essley said. "The work ethic involved here is something I never would have experienced in the city."
Essley was surprised the information she heard on the tour was sometimes incongruous with her view of farming in the past. The knowledge and speaking ability of the agriculturalists on the tour stops left a lasting impression both for her, and hopefully her future students.
"This really opened my eyes to teaching opportunities in science and social studies that I would not have considered before," Essley said. "The realization that one day the kids I teach as elementary students could become as competent speakers and workers as we have met along this tour has really renewed my hope in the future of education in our state."