On paper, the patterns performed by a competitive reining horse are a dizzying combination of stops, starts, circles and lines. In person, the patterns are a feat of athleticism few horses and riders ever completely master.
With considerable success in his lifelong career as a horse trainer, Jeromy Lipps and his wife Jaqueline of Lipps Horse Training in Miami, Oklahoma, have worked to establish a stable where the nation's elite horses come to learn patterns to perfection.
"These horses come to me as 2-year-olds in hopes that they're going to have enough between their ears to be successful," Lipps siad. "They have to have the ability, but they also have to have the want-to because competitions of this scale are a lot of pressure — it's almost like all the stars have to align."
For Lipps, the perfect protégé isn't completely wrapped up in breeding or athleticism, although both traits are key to long-term success in reining. For horses to succeed in his program, those that are trainable and have a will to work are the most successful.
"A lot of horse training is just about feel," Lipps said. "Horses that show a lot of natural ability right off the bat are almost like a potter working with clay — the more water you add, the more pliable the clay becomes — and ultimately you want to create permanent formative changes."
Horse sense, especially in the complex world of reining, takes time to develop. For Lipps, training has been a lifelong devotion that initially began alongside his father, who bought a handful of colts each year to train alongside his son that were then sold or shown as part of his 4-H and FFA projects.
When he decided to pursue training full time shortly after high school, most of his lessons on livestock and life were learned in the "School of Hard Knocks."
"I came into training the hard way, just learning by trial and error," Lipps said. "In an ideal world, you would go work for a trainer for an extended amount of time and learn from them directly."
Through training, competing and listening closely to advice from mentors in the sport, Lipps honed his skills the hard way until he felt he had the right methods to ensure his horses' and clients' success.
"I think today I've definitely figured out the formula to training good reining horses but every day is a new day here," Lipps said. "You never fully stop learning, and I think you've got to go at it with a fresh mind every day."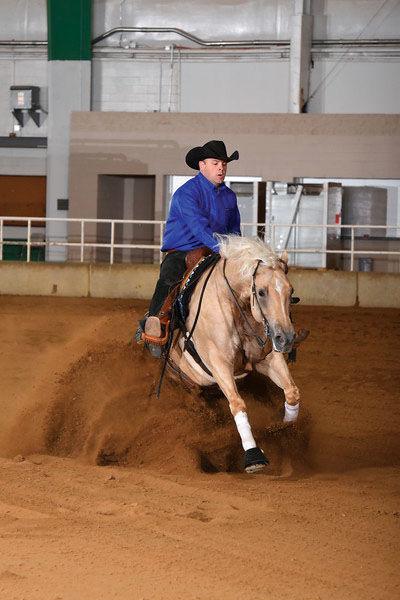 A leader and advocate for the world of reining, Lipps currently serves as the Southwest Missouri Reining Association president and was a top five candidate for the National Reining Horse Association's Horseman of the Year in 2019. The past year was an exceptional one in Lipps' career, not just in personal accolades, but in trainee performance as well.
"I've had two really special horses come through my program lately. One being Smart Little Dunnit, that Cade McCutcheon won a gold metal on at the FEI World Equestrian Games in Switzerland in 2019," Lipps said. "The other horse was Guaranteed a Magnum, who won the NRHA Derby twice."
Even if the horses he trains don't have the mental toughness to succeed on worldwide stages, Lipps said horses bred and trained in reining can have diverse purposes beyond the show ring from rodeo to ranch work.
"Foundational skills are so key for training good reining horses that even if the horse doesn't go on to compete, it can be successful in other jobs," Lipps said.
The state of Oklahoma as a whole has become a major destination for reining trainers and competitors, thanks to the wide variety of nationally sanctioned competitions held in the state.
"We've got three of the major reining events that happen here in Oklahoma and that's more than any other state," Lipps said. "We're in a good climate for training horses because we don't have the sub-zero temperatures that might drive up input costs the way trainers farther north would have."
Attending competitions is key for horses in training, not just for steadying pre-competition nerves, but also for understanding the ins and outs of judging.
"You've really got to understand the judging system first so that you can get the horse ready to provide what the judges are looking for," Lipps said. "That's a great thing about the reining horse industry… We have a great, well-defined judging system, and the association provides a lot of education on it throughout the year."
The reining horse industry has evolved over time with advances in training and breeding producing more athletic, more competitive horses than ever before.
"You know 20 years ago, if you went to the reining futurity, there might be one or two horses that had a shot at winning," Lipps said. "Now we go to the futurity, and there are 30 or 40 horses with a good shot at winning the whole deal because our training has gotten better, breeding has gotten better, and our horses overall have gotten better."
For Lipps, the competition only drives his desire to train and present the best horses possible. At the end of the day, his goal is to do justice to the animal's efforts and his own.
"Entering the ring for a reining horse is like the star athlete stepping up to make the winning basket — all the pressure is on their shoulders," Lipps said. "We basically ask these horses to give us their lives, to give 110 percent of their effort every day."