There is something incredibly satisfying about seemingly simple pursuits completed to perfection. Whether it's watching a master craftsman building furniture or a baker decorating a cake, there is a hypnotizing quality about a person dedicating themselves to achieving even mundane tasks with precision and passion.
That quiet but addictive phenomenon is the best example for that something-special factor surrounding the Monett area Arnaud family's multi-generational farm. Kent Arnaud might be "just another cowman" but his family's generations-long dedication to their cattle and the land is a quiet legacy that bears notice.
"The place we're on belonged to my great-uncle and I didn't move in here until my wife and I married," Arnaud said. "But our homeplace, which my father still farms, has been in the Arnaud family since they immigrated here from France in the late 1870s."
From the very beginning the Arnauds focused their farm on the two most productive Southwest Missouri farming pursuits — livestock and forage.
"We're mainly forage and livestock driven, although we do purchase some corn from my cousin to grind our own feed," Arnaud said. "We do also plant some small grains for grazing, harvest some small bale alfalfa and primarily bale hay and hayledge in large bales."
Initially, the Arnauds maintained a dairy in addition to breeding beef cattle and harvesting forage, for themselves and their neighbors.
Today, Kent, his father Victor and son Trent run a 270 crossbred cow-calf operations, where they direct market a pot load or two of steers to western Iowa each year, along with marketing replacement heifers and a handful of herd bulls to friends and neighbors.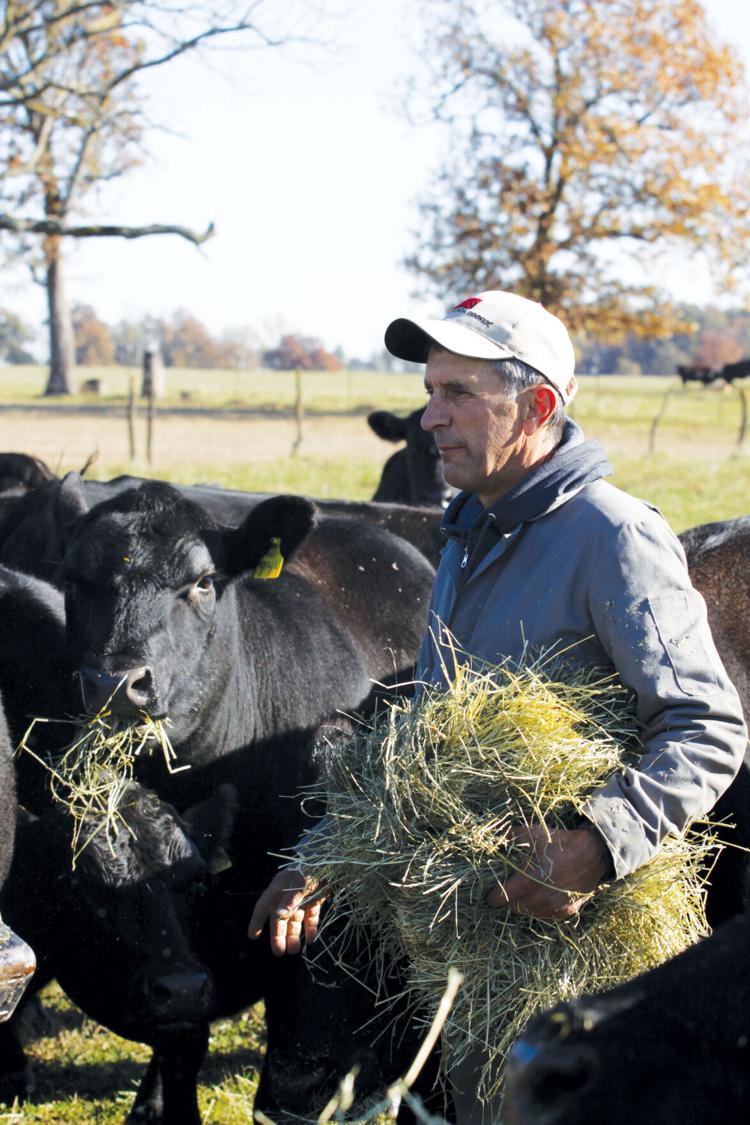 The majority of Arnaud's current herd has been born and raised from homegrown replacement heifers and herd bulls. Most of the family's new genetics on their primarily angus-influenced herd come in the form of performance AI sires.
"I went to AI school years ago, so we do a little bit of AI work primarily with our heifers and a few select cows for herd bulls," Arnaud said. "We have been producing our own herd bulls for almost the last 20 years."
While Arnaud has a few well-bred cows living and thriving on the farm over 12 years of age, he primarily focuses his herd on the top performing individuals based on fertility, weight and athleticism.
"I try to mark in my book whether a cow has bred back or had bad feet, and I make decisions based on those notes," Arnaud said. "When I'm breeding for bulls, I have a few select cows that perform year after year and I AI them for the best results."
Arnaud is a self-stated "conservative" cowman. In practice, that moderate decision-making translates itself to mid-size productive cows grazing evenly, efficiently maintain pastures with supplemental forage and grain.
"Everyone can probably do a better job of controlling their costs," Arnaud said. "And then, the cow and her fertility are the next important things."
While keeping costs low is a strategy all cow-calf producers try to implement, Arnaud focuses on it while refusing to sacrifice cattle health, quality or gains. In theory it sounds simple, keep costs low, cows fertile, bulls powerful and forage quality high. But, in practice seasoned cow-calf producers know maintain the balance of those pursuits — and one's sanity — to be about as likely as a bucking bull competing in the Kentucky Derby.
It just doesn't happen.
Arnaud's overall mentality is spurred forward by that proven fact that so many 1980s-era farmers and ranchers swear by. If the going get's tough the low cost producers can survive any other strikes against them.
"If I was going to say I have a philosophy, it's be that a man has to very careful about input costs," Arnaud said. "Even though we like to think we have a good reputation, and we do have people come out to buy our heifers especially, at the end of the day we're producing a commodity. And, we want to produce it well."