From selecting a heifer to bathing, grooming, training and eventually showing in front of family and friends, a 4-H dairy project can be transformational for both cattle and kids.
For over 23 years, the Missouri 4-H Cow Camp has allowed kids to learn about cattle and the dairy industry in a unique, hands-on environment. When 4-H members arrive at cow camp, they are assigned a partner and pick out a young show heifer prospect from a local dairy. Within three days, the partners will wash, groom, break and show their heifer, all while attending workshops focused on the dairy industry and having some fun along the way.
"We started this program because our 4-H volunteers felt like they couldn't teach the kids enough to help them have their show cattle fully ready," said Karla Deaver, Lawrence County 4-H Extension agent and camp coordinator. "They decided to give the camp a try for a few years and the rest is history."
For the first year in the camp's new location at the Lawrence County Fairgrounds in Freistatt, this year's cow camp saw around 30 campers with four teen camp counselors to help guide the way. The teen counselors and volunteers help guide the 4-H'ers through the process and help keep them involved in the learning aspects of the camp.
"We try to keep things incredibly hands-on while keeping the kids engaged, moving and experiencing things for themselves," Deaver said. "At this camp we really live by the 4-H philosophy of learning by doing."
Aside from skills in tasks like feeding and washing, campers learn more leadership-based skills alongside their hands-on techniques. From learning to give oral reasons in a dairy judging scenario to gaining confidence in working with peers, the camp produces well-rounded showmen each year.
"One of the main things is gaining confidence, both in working with animals and working with their partners," Deaver said. "It's really remarkable to watch because they may not know much about showing when the camp begins but they gain that knowledge and become more confident throughout their time at camp."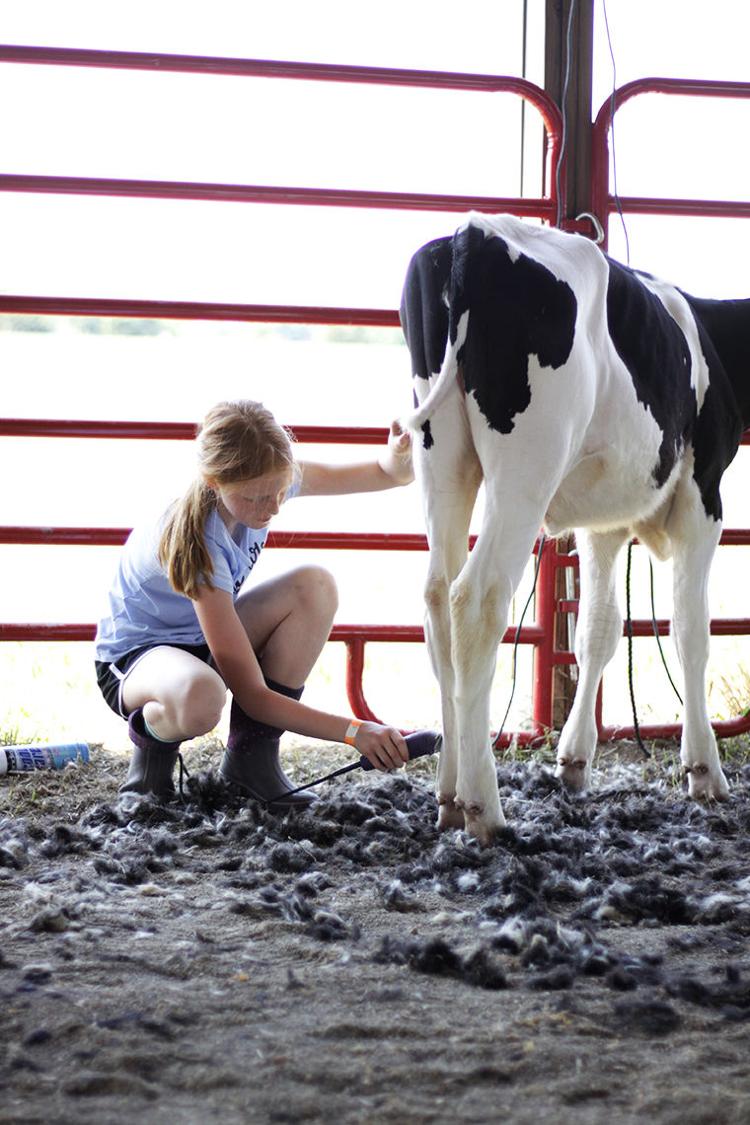 For camp counselors Ellie Wantland of Niangua and Lora Wright of Mount Vernon, Missouri, the camp has had a profound impact on their lives and interaction with the dairy industry, leading them to participate in the camp for nine and 10 years respectively.
"We began coming to camp here initially because my family wanted to start showing our cattle but had no idea where to start," Wantland said. "I was a little bit unsure my first year here, but so much of this camp is hands on learning that I caught on really quickly and fell in love with the industry."
The cow camp has found a unique combination of industry participants and 4-H members from diverse backgrounds. Many of the cow-camp participants will come from beef operations hoping to gain more experience showing livestock, or from out of state, interested in the uniquely hands-on experiences the camp offers.
Camp counselor Lora Wright, whose family dairy — Wrightsville Dairy — donated the use of the heifers this year, said the outside participation in cow camp is a testament to the dairy industry as a whole.
"For me the best part is the dairy kids can get introduced to more of the industry and the beef kids can be exposed to the dairy industry in a way they wouldn't have been before," Wright said. "This camp is really a testament to the dairy industry's tight knit community and willingness to invest in future generations."
Industry investment is part of the unique success and longevity the camp has had, Deaver said. From donating supplies for the campers to use in their future show career, to donating time and industry-based instruction, the success of the Missouri 4-H Dairy Cow camp has been due in part to the investment the industry has made in its youth.
"We have huge support for cow camp," Deaver said. "We get a lot of sponsors that donate prizes, supplies, time for the kids — all things that allow us to keep camp costs low and we definitely could not do this without that support."
2018 Missouri 4-H Dairy Cow Camp Awards
Showmanship
• Age 8-10: First – Cleo Neptune, Arkansas; Second – Ellie Samek, Missouri
•Age 11-13: First – Garrett Grimm, Missouri; Second – Molly Archer, Missouri
•Age 14 & over: First – Lila Wantland, Missouri; Second – Kylie Scrivner, Missouri
Dairy Judging
•Junior: First – Alexis Koopal, Missouri; Second – Zach Scrivner, Missouri
•Intermediate: First – Garrett Grimm, Missouri; Second – Molly Archer, Missouri
•Senior: First – Hala Edquist, Missouri; Second – Nathaniel Hudson, Missouri
Quiz Bowl – Logan Archer, Hala Edquist
Leadership – Logan Archer, Josie Toombs
Teamwork – Baylee Bowen, Texas, August Michels, Illinois
Rookie – Hala Edquist
Git 'r' Done – Roper Voskamp, Garrett Henke
Spirit award – Zeb Wilson
Group teamwork – Alexis and Madison Koopal, Cleo Neptune, Catie Henke, Ellie Samek and Emma Hancock.