For 18 years, Martin Manufacturing has been building truck beds and cattle equipment for farmers and ranchers. However, the company has expanded with Genesis Fire Equipment, a line-up of custom firefighting equipment built to provide quality products to fire departments at an affordable price.
As a firefighter for more than 30 years and fire chief of the Avilla Fire Department, Martin Manufacturing owner Alan Martin said it made sense to expand into firefighting equipment for economic reasons and with his expertise.
"I was needing something to diversify from the ag equipment I was building," Martin said. "What I'm building ag-wise follows the cattle market up and down. When it's good, I'm good and when it's not, I'm not so I was needing something to fill in the slack when it's not. It kind of just fell in place."
The fire skid units are designed to slide into the bed of a pickup truck to fight grass fires. Four years ago, Martin Manufacturing began selling the fire skid units commercially and have sold several to southwest Missouri fire departments and also sold units in Arkansas and Louisiana.
"It started out I had a couple departments wanting me to do some extra work and then that led into building a couple of these units," Martin said. "Departments were looking for units and couldn't afford what was on the market so I started building some that were a little more affordable."
As a volunteer firefighter for most of his adult life, Martin knows the struggles of rural fire departments.
"I'm trying to keep it as cost-effective as possible so they can afford better equipment," Martin said.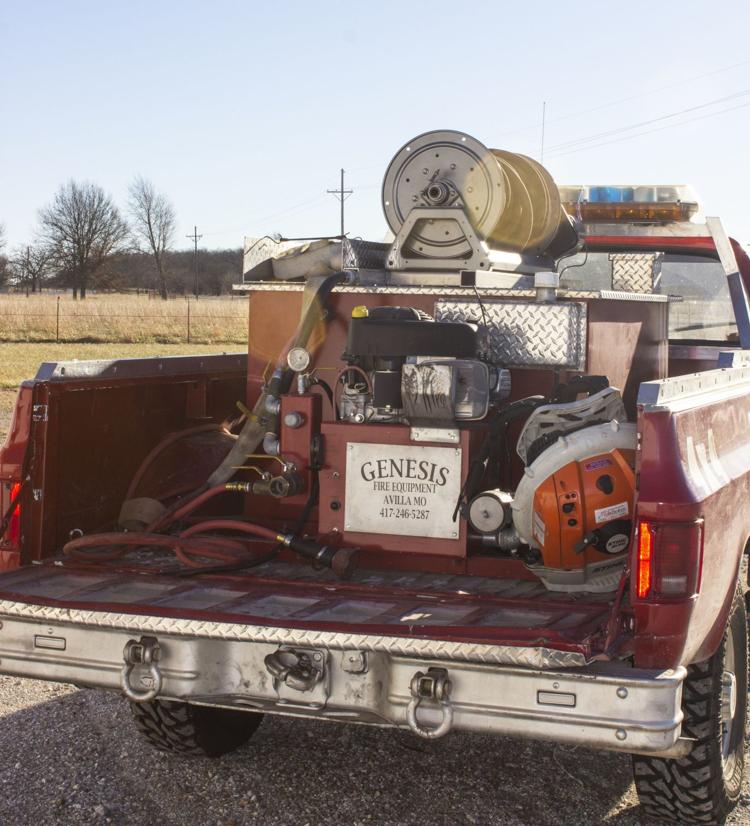 The fire skid units have an all-aluminum tank and framework to save on weight and to prevent rust. Martin Manufacturing's ability to custom build each unit gives departments an advantage over buying plastic tanks from other manufacturers.
"We build our own pump system," Martin said. "I found an agricultural pump that will produce the pressure and flow needed for firefighting." He explained this results in a quality pump at a better price than those marketing specifically for firefighting.
"We're trying to build a very good quality unit but at two-thirds the cost of a lot of the commercial units out there for sale," he continued.
Jackie Maggard with Martin Manufacturing added, "Being on a rural fire department, he knows what it's like for fire departments. Anything they can come up with and dream that they want, he can make it."
Martin continues to look for new technologies to incorporate into and improve the equipment. In the next few months, he plans to introduce a brand new system called Ultra High Pressure, which puts out 20 gallons per minute at 1,400 psi.
"The technology came from Europe," he said. "It's something that uses very little water and it'll be good for grass fires, structure fires and car fires."
With new things on the horizon with the Genesis Fire Equipment line, Martin intends to keep his focus on his community and fellow firefighters.
"They're all struggling, and they're all doing it because they enjoy it and they enjoy helping people," he said, and his goal is to help them.