Technology in a vacuum implements efficiently, flows seamlessly and always increases profitability while on-farm technology can come with more trials than triumphs. Kansas Water Technology Farms focus on demystifying cutting edge technology while researching and restoring the Ogallala Aquifer.
With 10 participating farms spread across the central and western regions of Kansas, Water Technology Farms are partnerships between producers, industry partners and the state and provide irrigation and management technology to participating farms at little to no cost. Jacob Farm in Sedgwick County joined the project in 2018 and owner Ryan Speer began applying soil moisture probes, plant-based sensors, irrigation management services and segmented watering to his operation.
Speer's farm is a diversified operation, dividing corn, soybeans, cotton and milo between irrigated and dryland fields. A no-till producer and advocate for cover-cropping for over 15 years, Speer said getting the most out of water-saving technology begins with well-managed soils.
"As far as conserving water, cover crops are a major component of us being able to save water and control evaporation," Speer said. "Evaporation on bare ground happens at a much higher rate so for us one major part of controlling water use is ground cover."
After experimenting with soil sampling and dabbling in soil moisture probes, Speer joined the Kansas Water Technology Farm program in hopes of being able to better identify what technologies would make his farm more profitable and to help his neighbors do the same.
"We're always looking at new technologies but there are so many available technologies it is hard to decipher through what's available and what it costs," Speer said. "Being a Water Technology Farm allows us to make evaluations without a lot of up-front costs or tying ourselves to just one company."
In 2018, Speer's technological advancements through the Water Technology Farm allowed him to use 30 percent less water than his traditionally irrigated properties. He quit watering for the season two to three weeks prior to his friends and neighbors and saw a slight yield increase on the Water Technology property versus his other irrigated fields.
"I think it helped us if you compare it to some of our others fields with standard methods, some with newer technology, too," Speer said. "We did save a significant amount of water and had good yields, so I would say the technology definitely has some merit."
Speer fully implemented all of the technology he tested, often spending each morning studying plant sensor algorithms and each afternoon checking the field to ensure the soil matched the soil moisture probe readings he was receiving. It was just as much, if not more work than managing his traditionally irrigated properties, but had the added benefit of saving money on pumping costs, conserving water and increasing efficiency.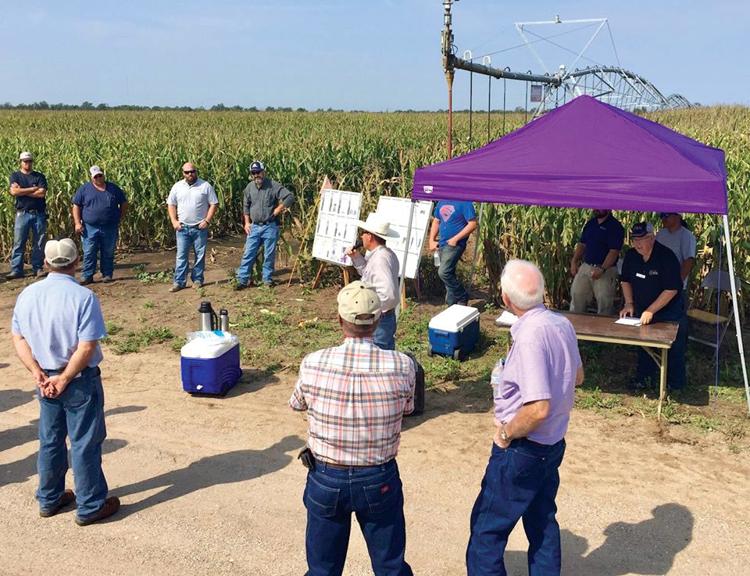 "It's a time commitment to learn how to use this technology," Speer said. "Sensors take time to learn how to use and you probably won't be able to dedicate just two minutes a day and figure them out — it's not overly taxing but using this technology is not a small commitment."
The plant-based soil sensor were some of the newest technologies Speer tested and combined with the ability to apply variable rates of water across the field, they allowed him to get his water usage down to a science.
"The plant-based sensors read shrink and swell on stalk throughout the day and give the stress level of the plant based on algorithms," Speer said. "They then identify when to turn on and off irrigation taking into account the weather forecast for next three days."
Speer said the sensors often suggested turning off or reducing irrigation sooner than he would have typically, but he followed the recommendations and was pleased with the state of the soil as a result. Monitoring the soil moisture probes alongside the plant sensors allowed Speer to get a full picture of the field and use the technologies as a system of checks and balance, against each other to avoid any inaccurate recommendations.
The Water Technology Farm also recorded data on a wide variety of soil moisture probes to compare the accuracy of different types of probes. While Speer said the probes performed accurately across the board, his personal preference came down to usability.
"The soil probes were very similar on what they were sensing," Speer said. "For me, it comes down to ease of use and user friendliness."
After just three years, the Kansas Water Technology Farm program has already seen significant impacts, both on-farm and on the Ogallala and Greater High Plains aquifers. The farms will continue to record data and test new technologies while hopefully spreading water conservation practices and eventually helping producers increase their efficiency and ultimately their bottom line.
"Our end goal, of course, is to try to be more efficient, cut our costs, grow good crops with less input, more bushels with less water, and we're looking at newer technologies to get us there," Speer said.