2018 was a year packed with volatility for soybean producers — from the highest highs of above-trend yields to the lowest lows of trade-bound price declines.
While Kansas soybean producers spent the year in flux, Kansas State University researchers spent their time applying methods to the madness and shared their results during the 2019 Kansas Soybean Expo.
Genetic Jumps
New varieties, herbicides, efficient cropping systems and planting rates have cumulatively caused multiple years of above-trend yields for soybean growers. And while those advances might have an impact on price, they also increase efficiency — something K-State soybean breeder Bill Schapaugh has spent the past year studying in cooperation with other land-grant universities.
Countrywide producers are increasing their yields at a rate of about half a bushel per acre per year, Schapaugh said. About one-third a bushel per acre of that yield increase is due to genetic advancements — a process he hopes to see increase in efficiency.
"The cost of a particular unit of genetic gain is going up and we would like to reverse that," Schapaugh said. "For every little bit that we go up, it's taking more resources, more money and more people."
For K-State soybean breeders, one cycle of selection for a soybean variety is typically between six and seven years — a time during which progress is hard to gauge.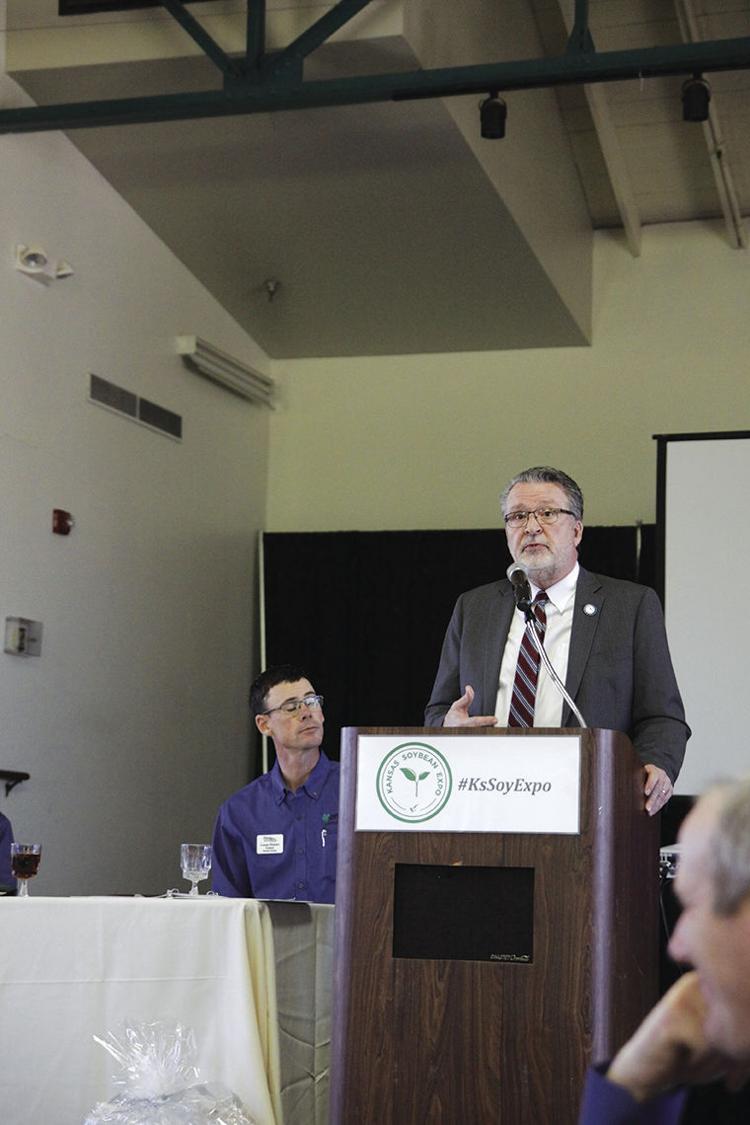 "Genetic gain is pretty hard to monitor," Schapaugh said. "You can put together a special experiment to measure it but it takes a lot of work and a lot of resources so the statistical geneticists are trying to figure out if they can use our data to try to figure out genetic gain and assess our progress."
Part of Schapaugh's work focused on increasing the efficiency of progeny rows for plant breeders. Plant breeders use progeny rows — rows of new plant genotypes — to assess traits during breeding. A breeding program typically has tens of thousands of progeny rows at any given time and narrowing down which trait selections are the most profitable is difficult and time consuming.
"We are doing a whole series of things to try to capture more data from progeny rows," Schapaugh said. "The biggest thing we are doing at K-State is using remote sensing to characterize the progeny rows."
Using drones to assess plants' growth and development as well as their response to the environment during the growing season could help plant breeders eliminate less desirable traits more quickly. For varieties further along in development, it could help predict performance and yield.
"We're trying to address our intensity of selection and how quickly we can select," Schapaugh said. "What we would like to do with genomic selection is to predict the performance of the best performing line earlier and then use them as parents."
Dealing with Dicamba
Dicamba is not a new herbicide but misuse in 2017 and 2018 led to more severe restrictions for its use, as well as reduced damage for non-dicamba tolerant soybean producers.
"Dicamba has a history or a reputation for causing injury to soybeans," said K-State weed specialist Dallas Peterson. "They are extremely susceptible at very low rates, so just a sniff of dicamba — whether it's from volatility vapors, physical drift or a little bit of tank contamination — will curl or cup those beans."
Because volatility has always been a concern with dicamba, companies have tried to reduce the volatility of the herbicide, with some success. But reduced volatility doesn't mean no volatility and in 2017 it seemed like almost all fields with susceptible bean varieties showed some cupping on their leaves, Peterson said.
In 2017 Arkansas reported nearly a million acres of soybeans injured by dicamba, while Kansas estimated around 100,000 acres injured, Peterson said. In order to avoid similar tolls in 2018, dicamba was reclassified as a restricted-use herbicide, could only purchased by certified applicators, came with application requirements, and all applicators were required to have training in handling the substance.
 "At least in Kansas from my perspective, I don't think the degree and spread of injury was nearly as great in 2018 as it was in 2017," Dallas said. "However, it was definitely still around and, if you look at the number of official complaints to Kansas Department of Agriculture, it was almost identical between the two years."
After the downward trend in dicamba damage in 2018, the Environmental Protection Agency extended the registration for dicamba through 2020, with additional restrictions in 2019. Peterson said while increased restrictions have eliminated some of the issues surrounding dicamba, unlawful applications remain a problem in some states.
"Numbers strongly suggest that there were still a lot of illegal applications going on in Arkansas," Peterson said. "It's not just following the guidelines and having problems; in many cases, it is people who are still not following the rules."
Market Position
Prices are just the number needed to balance supply and demand, K-State economist Joe Janzen reminded producers. But in 2018, soybean prices seemed infinitely more complicated and illusive than a simple supply and demand equation.
"The big picture was the decline that happened in May and June of 2018," Janzen said. "While there was a political story there — there obviously was the trade war with China — but that also was the period when we realized what sort of crop we would have this year."
Trade disputes with China combined with five consecutive years of above-trend yields caused a significant soybean price decline in 2018 — to the tune of $2 per bushel. While sales to China might pick up again in 2019, large soybean stocks are a problem that could plague producers for years to come.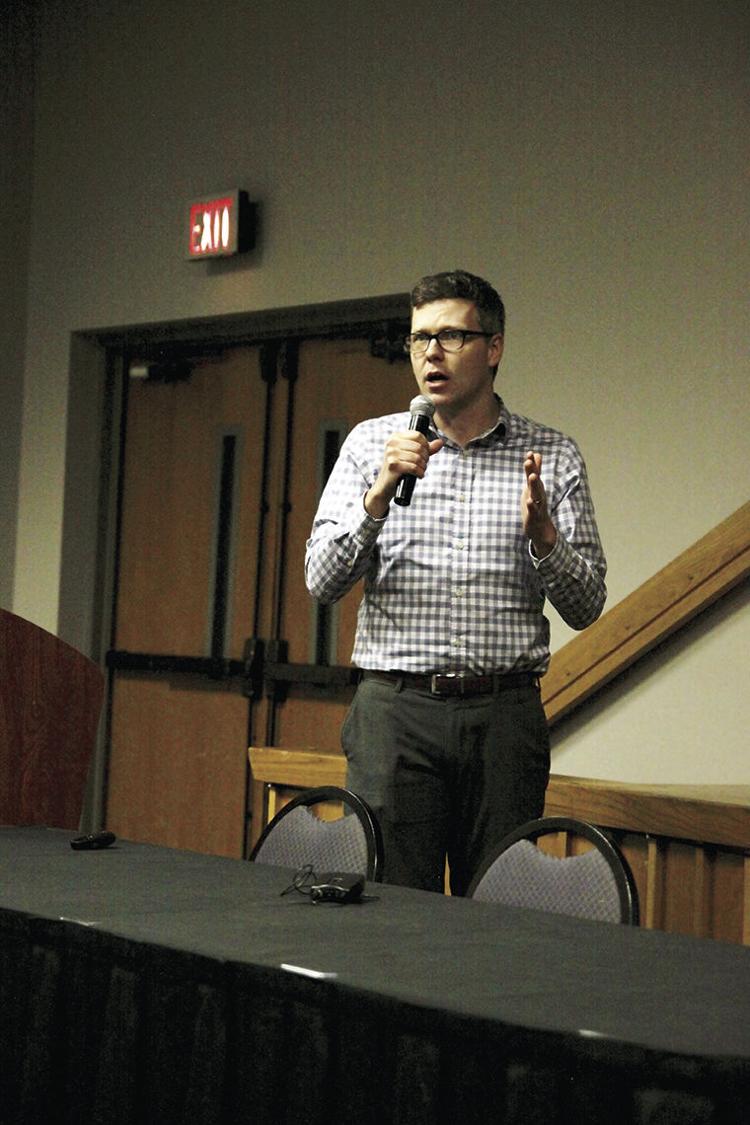 "U.S. soybeans will be plentiful going into the next marketing year," Janzen said. "There's no question about it — we have much higher carryout, much higher inventories, much higher grain in the system now than we have had in quite a long time."
Currently, Janzen said soybeans are at about 48 percent of the total crop year's projected exports, while exports were at about 65 percent at the same point in the previous year. With a "burdensome" number of soybeans in storage and market signals incentivizing producers to hold onto crops as long as possible, U.S. soybeans began looking for other markets — but they were not met without competition.
"The other factor hitting the market is South American production is expected to be bigger," Janzen said. "It's easy to get caught up in the noise of that and listen to news rather than market signals, but the truth is the South American crop probably will be bigger than last year."
In 2018 the entire South American crop totaled around 172 million metric tons, with a projected 20 million metric ton increase into 2019, Janzen said. While the South American outlook is intimidating, Kansas producers can't necessarily choose to limit their own production or move on to other crops.
"There's a limited amount of substitutability — we can't just say we're not growing soybeans anymore," Janzen said. "USDA came out with a forecast in November that said we would drop soybean acres from 89 million acres down to 82 million acres — about half of that would go back into corn and half into other crops."
Janzen said he believes it is too early to forecast reduced acres, especially given the eternal market factors like trade and producer optimism about rising prices. He suggested instead that soybean growers in 2019 need to focus instead on exit strategies for old crop beans and what to do with new crop beans  — being proactive rather than reactive on both fronts.
"There is lots of uncertainty about new crop prices and all that uncertainty means it's imperative to have a plan for beans in storage because returns for beans in storage could change very quickly if we get a big crop," Janzen said. "Have an exit strategy for 2018 beans and be opportunistic in pricing new crop beans."
Janzen encouraged producers to look for market signals — like a rally in basis — rather than looking for news to impact the market.
"Current prices are likely to persist across maturity — for this year and likely for next year— due to these large stocks," Janzen said. "The fact that we have this very burdensome overhang of supplies in storage is going to limit upside and also limit downside because prices are not as volatile in periods where we have large supplies."