It started with an almost-accident that was just a little too close for comfort.
"One night, the bearing went out of the baler," said Blake Chance, a Kansas State University agribusiness student. "The mechanic said we were pretty lucky we didn't burn up,"
Chance had seen other producers lose tractors and balers in fires and thought to himself "there has to be a better way to get it done faster."
He got to work, making designs on the backs of paper plates and working with his cousin to create prototypes.
His final product: the Quick-Pin Hitch Pin.
The hitch pin is simple to use. A snap pin and handle, easily removed from above, allows the main shaft to fall through using gravity once pressure is released.
"My hitch pin is just more convenient for unhooking," Chance said. "If you're baling hay, it's kind of a no brainer."
From project to public Chance used the hitch pin on his personal operation for a year before a class project inspired him to take the next steps.
"I had to write a business plan for entrepreneurship," Chance said. "That's kind of when I brought it to life."
Chance entered the completed business plan into K-State Launch, an entrepreneurial idea competition on campus, where he was awarded third place after a Shark Tank style presentation.
"I took the prize money and got a patent pending," Chance said. "That gave me a year to figure it out and test the waters on it."
It wasn't all smooth sailing. His first hurdle came when trying to find a manufacturer willing to make the small quantities he needed.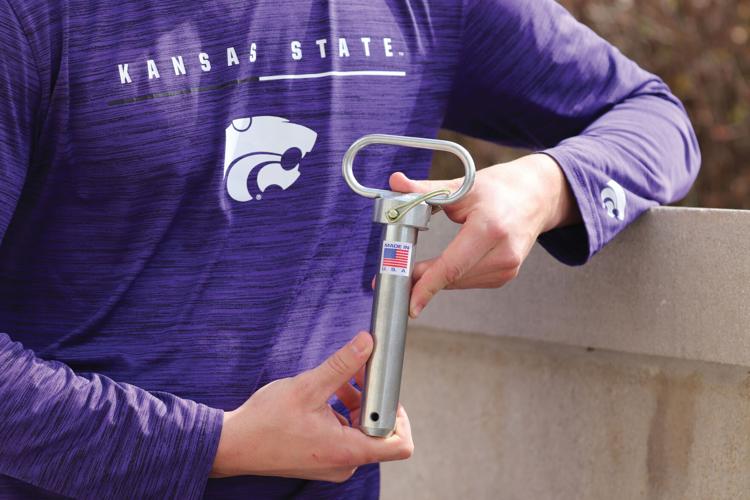 "In January or February, I finally found a manufacturer and we got the first batch in April," Chance said. "By June, I figured it was worth getting a patent for it."
Chance worked with local retailers to get the Quick-Pin Hitch Pin to the public.
"In my area, just about every local farm store has them. They're trying to help me out and get it out there for me," Chance said.
When the COVID-19 pandemic canceled the farm shows Chance had planned on showcasing his hitch pin at, he turned to social media.
"Online has been the biggest thing," Chance said. "I have an Instagram that has really helped me get it out there to people. Twitter, Facebook and even Tik Tok has sold 30 or 40 so far. I use all that to my advantage."
Small town success Since getting that first batch of the product, Chance has sold around 600 hitch pins and he has no plans of slowing down. He's currently working on a promo video, demonstrating how much trust he has in his product by lighting a baler, hooked to his personal tractor, on fire.
"It'll show that the Quick-Pin works and unhooks the way I say it does," Chance said.
While he knows it's not for everyone, Chance believes the convenience of the product, as well as his determination to keep the product American-made, are what set the Quick-Pin apart.
"You know, not all your hitch pins are made in America," Chance said. "You're going to pay a little extra for it, but you're getting a small-town, local product that's built to last."
For more information about the Quick-Pin Hitch Pin, visit www.quickpinhitchpin.com.