Candor and logic are atypical currency in an age of misinformation. However, Kansas State University professor emeritus Barry Flinchbaugh tackled tough topics facing farmers today with common sense and a little bit of humor. During the annual Kansas Commodity Classic in Manhattan, growers of all crops joined together to hear Flinchbaugh's take on bipartisan cooperation and the preservation of the "old American way" in Washington.
"Words like consistency, certainty, logic, stability, moderation— none of these words are in the lexicon," Flinchbaugh said. "It makes predicting ag policy extremely interesting but difficult."
Deregulation— Grade A
"Deregulation — that's the star of the Trump administration," Flinchbaugh said. "Deregulation will reduce our costs and, in a period of low prices, we need a decline in production costs."
Flinchbaugh marked President Trump's statements on the Grain Inspection, Packers and Stockyards Administration and Waters of the United States rulings as evidence to his low tolerance for excessive legislation and success at deregulating American agriculture. GIPSA, in particular, was an important point for the current administration to make.
"I would argue that the beef industry has done a marvelous job in putting into place value-based marketing," Flinchbaugh said. "It's at risk because of changes in GIPSA regulation, which the president has addressed."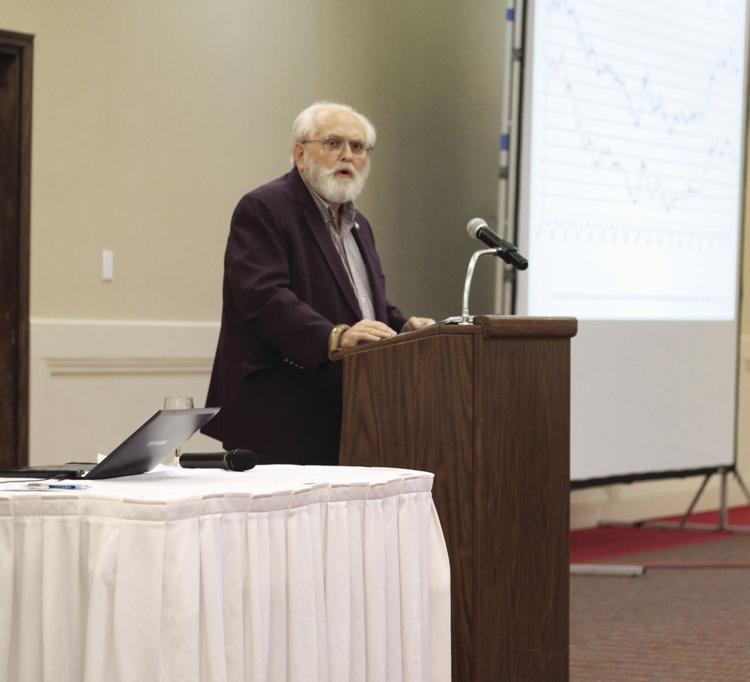 In addition to commenting on progress in policies, Flinchbaugh challenged producers to be the backbone of United States agriculture and to create a culture based on truth.
"How about creating the age of science, the age of moderation, the age of compromise — rather than the age of extremism," Flinchbaugh said.
Sonny Perdue— Grade A
Agriculture politics often come down to a battle of northern versus southern crops, or "cotton vs. corn," Flinchbaugh said. The selection of Sonny Perdue as Secretary of Agriculture receives an "A" grade for his ability to span all sectors and regions of agriculture.
"Mr. Perdue is in a unique position," Flinchbaugh said. "He comes from cotton country but he knows the grain business and the livestock business."
Flinchbaugh said he is off to a fast start in Washington, and he believes Perdue has the ability to bring all sectors of agriculture together for the greater good.
Farm Bill — Grade B+
Uncertainty still shrouds the 2018 farm bill, even for seasoned experts. Only one thing is certain — 2018 will bring a restructuring of policies already in place rather than a revolutionary overhaul, Flinchbaugh said.
"The president and Congress are facing a very fragile agriculture as we wrestle with the new farm bill and trade," Flinchbaugh said. "Now we all need to understand that Congress develops and funds the farm bill, not the White House and that the agriculture power cluster in the Congress is in very good hands."
The "fragile" nature of American agriculture heading into farm bill negotiations could be more positive than negative from a mediation standpoint, Flinchbaugh said.
"Farm bills always reflect the economic conditions under which the debate occurs," Flinchbaugh said. "Now I have said time and time again that I would much rather work on a farm bill during periods of low farm income than periods of high farm income."
Flinchbaugh spoke in favor of keeping or improving Price Loss Coverage and Revenue Loss Coverage, saying the policies allowed farmers the freedom to make their own decisions about their farm.
"Basically letting farmers choose between a price-based program and a revenue-based program seems, to me, to have worked," Flinchbaugh said. "It gives farmers the freedom to make the decision."
On the other hand, Flinchbaugh said potential farm bill policies like means testing work against the very nature of insurance by eliminating large farms from the insurance pool and raising the costs for small farmers.
He also reminded participants about the logic and importance of pairing farm and food program legislation.
"Most people don't put it this way, but I think what it really comes down to in the end is crop insurance and food stamps are in a trade-off position," Flinchbaugh said. "They go together, politically."
Food programs make up 80 percent of USDA's budget, Flinchbaugh said. With only 35 rural congressmen and 400 urban congressmen, food programs are of dire importance in moving the farm agenda forward.
"If food stamps are taken out of the farm bill, the current law will be the last farm bill," Flinchbaugh said. "Urban congressmen will not support crop insurance without food programs."  
Balancing the budget is a key concern for any economic legislation, and the farm bill is no different. Flinchbaugh held the Clinton administration as an example of a balanced budget, federal debt reduction and bipartisan cooperation.
"They did it the old American way — it's called bipartisanship, it's called country first," Flinchbaugh said. "They increased taxes, cut spending and balanced the budget and the economy grew 5 percent per year — that is the solution to get the economy growing."
Immigration— Grade F
It's not entirely surprising to see immigration as a low point for the current administration.  The southern migration of many immigrants in fear of retribution has left some areas with a labor shortage, Flinchbaugh said.
"Over 75 percent of fruits and vegetables are harvested by illegal immigrants," Flinchbaugh said. "Over 50 percent of cows are milked by illegal immigrants but that can't last forever."
Flinchbaugh once again stressed the importance of keeping costs low in the current farm economic climate and cited an immigrant work force as a vital part of managing labor expense.
"Agriculture needs a permanent, legal immigrant workforce," Flinchbaugh said. "The word, permanent, rather than seasonal is very important to beef production, pork production and the dairy industry."
Trade — Grade F
"Our No. 1 issue in agriculture first, last and always is trade," Flinchbaugh said.
With more than 25 percent of American agriculture exported to other countries, Flinchbaugh challenged producers to consider which 25 percent of agriculture they would like to give up, should trade agreements fall through. The North American Free Trade Agreement in particular presented cause for concern.
"NAFTA has created a net of jobs in this country," Flinchbaugh said. "If you take the number of jobs, multiply it by the wages and salaries of those jobs, then NAFTA has a net positive on job creation."
Uniquely, NAFTA is a trade agreement benefitting all parties involved, Flinchbaugh said. The prospect of losing markets to countries like Brazil and Argentina is a key reason for the Trump administration low grade for trade.
"The president is on record saying he supports NAFTA and we have to hold his feet to the fire," Flinchbaugh said. "We simply can not let him pull that plug."
The loss of the Trans-Pacific Partnership was another point of contention for Flinchbaugh, who said Trump canceled the agreement early in his presidency in order to make a move before agriculture entities were prepared to contest his decision.
"I've spent a lot of time looking at TPP and it is the most lucrative trade agreement for farmers in my lifetime," Flinchbaugh said. "It levels the playing field and adds $5 billion to our net income."
When asked on the difference between American agricultural policies 50 years ago — when Flinchbaugh first began studying and predicting— and today, he voiced his concern for the best interests agriculturalists in Washington.
"In 1968, politicians of both parties put farmers and ranchers first and partisan politics second," Flinchbaugh said. "Today, it's the opposite."