Cattle profitability is an illusive, multi-level construct that begins on a foundation of efficient forage, is enhanced through technology utilization, and ultimately fulfilled by decisive marketing. During the Eastern Research Station field day in Haskell, Oklahoma, researchers shared their beef and forage findings from throughout 2019.
Oklahoma State University forage systems specialist Alex Rocateli led field day participants through a tour of the station's Bermudagrass plots focusing on variety selection and forage production.
"If you are thinking about haying, I would say those fast-growing varieties would be very superior to a variety like Greenfield because what you want when you are haying is the highest amount of forage you can have at the moment you cut it," Rocateli said. "When you have an animal grazing, what you want is a forage that's steady growing with lush material for the animal to graze."
While developed forage varieties carry the ability to achieve top production, Rocateli warned producers that nothing comes for free in forage production. Fast-producing varieties often require more inputs or move into mature, stemmy stages too quickly for quality grazing.
"When we develop a variety that will be more for haying purpose, we're telling it that we want more leaves and stems and less runner," Rocateli said. "So, it will invest more energy in leaves and stems and less energy into the runners and rhizomes so those varieties will be more susceptible to overgrazing or trampling."
Producers debating changing Bermudagrass varieties should first consider a change in management, Rocateli said. Hay type varieties can perform more effectively grazed to a 3- to 4-inch stubble height versus grazing varieties that could be grazed to a lower 2-inch stubble height safely.
Intentional management and technology adoption were common threads during the presentations as OSU beef nutrition specialist Paul Beck shared research breakthroughs in Haskell's stocker trials.
"If we have the very best genetics but we don't give them the best nutrition, then we will not have the productivity that you would expect," Beck said.
The stockers — grazed on a tall fescue and Bermudagrass combination pasture for 150 days — presented good gains despite limited pasture space and forage availability.
"As we get into our higher rainfall areas, it just works that our grass is not as strong as it would be farther west," Beck said. "As far as nutrient quality, the Bermudagrass and tall fescue keep plenty of protein but as fiber levels get up, it's not as digestible and cattle just aren't as productive as they would be on grass grown in a dryer climate."
With just over 100 acres at the research station, the researchers chose to focus on technology utilization rather than supplementation. The steers and heifers were put into two groups — one with a worming and implant protocol and the other as a control group.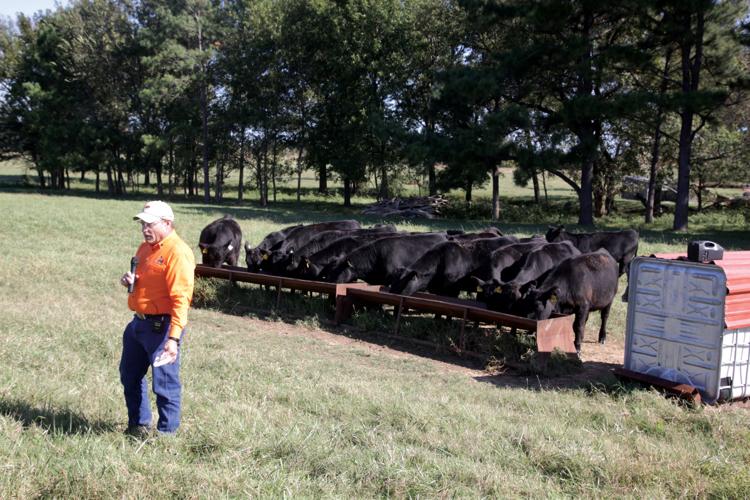 "Through the early part of the summer from May until the middle of July, both steers and heifers gained right at 1.6 pounds per day," Beck said. "In the second period from July until Oct. 3, we had a little bit of difference but they still gained right at 1.2 pounds per day."
The cattle were given gender-specific implants designed for steers and heifers respectively and both steers and heifers showed equal responses to their deworming and implant protocols.
"Unless we are capturing a large premium from an all-natural program, implants give us the best return on investment of almost any product that we can use," Beck said.
Beck said they saw an especially promising response to their deworming protocols in lesser forage growing conditions and rising temperatures.
"Later in the season when our fescue was pretty well not growing and our Bermudagrass was getting more mature, we did see a 0.3 of a pound benefit to deworming compared to not deworming," Beck said. "Overall, we did see a positive response to deworming when we look across the whole summer."
The treated group of steers and heifers showed better summer coats and a nearly 40-pound difference over the control group of cattle. With two simple technology adoptions, the treated group showed a price margin of $60 difference in revenue in the two different sets of cattle.
Northeast area ag economist Scott Clawson said the results show deworming and implants could be a no-brainer for increased profitability.
"What's it cost us to run the two rounds of injections for dewormers and then the implant?" Clawson said. "It's about $13 and that's even building in some time value for running cattle through the chute, so at the end of the day we're looking at a premium of about $43 for just using those practices."