Officials had the chance to explore several unique snapshots of agriculture on the Greene County Commission Agriculture Tour last Friday.
Greene County may not be commonly thought of as an agriculture county in the Four States but its agricultural, forestry and related industries had an economic contribution of $3.4 billion in sales, according to the Missouri Department of Agriculture's 2016 Economic Contributions of Agriculture and Forestry study.
On the first stop, Commissioner Lincoln Hough welcomed attendees to his farm and explained how he has worked with the Natural Resource Conservation Service and the Greene County Soil and Water Conservation District programs to fund improvements. One improvement was installing fencing around timber to keep cattle out.
"It's a win-win for the busy farmers and for the timber," Hough said, adding the cost-share programs through NRCS and Greene County SWCD also have helped him with the installation of watering systems on the farm.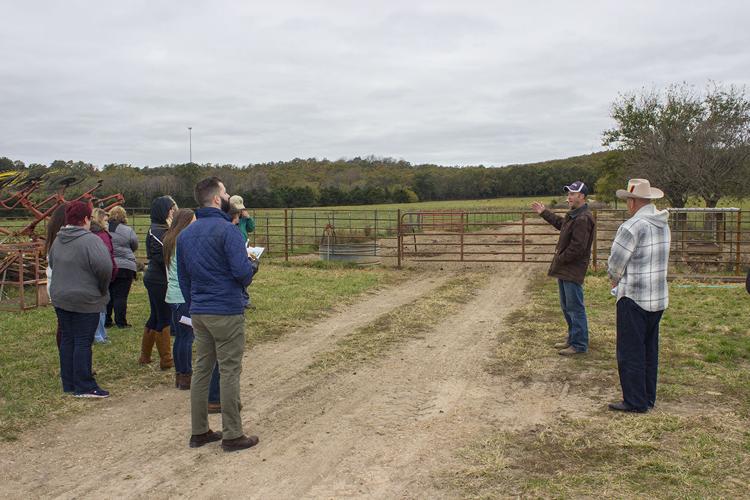 "We're in this for the long haul," the commissioner continued. These improvements are not only good for farmers and ranchers but also for taxpayers because they can help reduce runoff and erosion.
NRCS and Greene County SWCD conservationists also shared where funding for cost-share programs is derived and the types of programs available for landowners. Greene County Farm Bureau and Greene County Cattlemen's Association representatives gave updates on how the organizations are contributing to agriculture around the county.
Next on the tour was a briefing from Kelly McGowan, University of Missouri Extension horticulture educator, on new techniques for controlling weeds and pests on farms.
"A lot of our farmers are focusing on sustainable agriculture," McGowan said, adding that a portion of sustainable agriculture includes integrated pest management.
"We are learning there are ways to keep the soil healthy," McGowan added, explaining farmers keep developing practices to reduce tillage as well as finding ways to reduce the need for chemical applications.
At the Sunshine Valley Farm, owner Jan Wooten showed tour participants a hoop house which allows her to expand the growing season of her produce and also to grow red raspberries — a crop she had tried to grow outdoors but was not successful until the hoop house's installation.
"We have worked with about every agency you can think of," Wooten said, including NRCS, Greene County SWCD, MU Extension, health departments, and the Department of Natural Resources among others.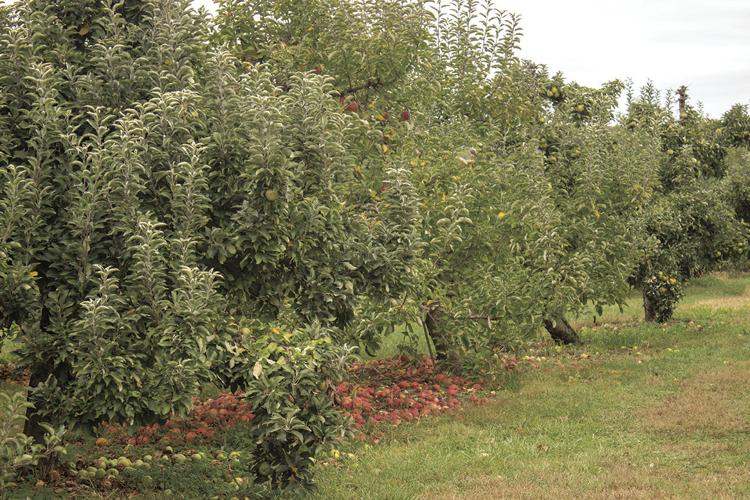 She emphasized the importance of these government organizations as resources to help with the success of Sunshine Valley Farm — from conservationists assisting with water issues to Extension specialists advising on variety selections.
"Some of the major problems with farming always have to do with water," Wooten said, explaining the Greene County SWCD helped with solutions to runoff affecting her berries and orchards.
"One benefit of being a farm close to an urban area is you can really do direct marketing," she said. Sunshine Valley Farm sells a variety of fruit as "pick your own" at the farm as well as selling at their farm stand.
Patrick Byers, MU Extension horticulture specialist who has assisted Wooten with variety selection and other decisions at Sunshine Valley, said "We're focused on profitability and sustainability for our farmers.
"We now have farmers interested in 12-month production," Byers continued, adding a hoop house can return $1.50 to $2 per square foot.
"Horticulture is an important part of agriculture in Greene County," Byers added.
Craig von Foerster and his wife Tamara, owners of Harvest, shared the struggles of a restaurant sourcing food locally.
One struggle is seasonality, Craig said. Harvest's menu changes depending on what is available, which leads to increased costs for printing menus. Another struggle, he said, is the lack of farms selling locally to restaurants.
Tour participants visited an Ozarks Food Harvest farm location near Rogersville where they use raised beds and hoop houses to grow produce for over 200 food pantries and organizations in 28 counties.
"When you're growing food to feed hungry bellies, it just needs to be edible — and it needs to be safe," said Alexa Poindexter, OFH garden coordinator, explaining the garden is focused on production levels rather than growing perfectly shaped produce.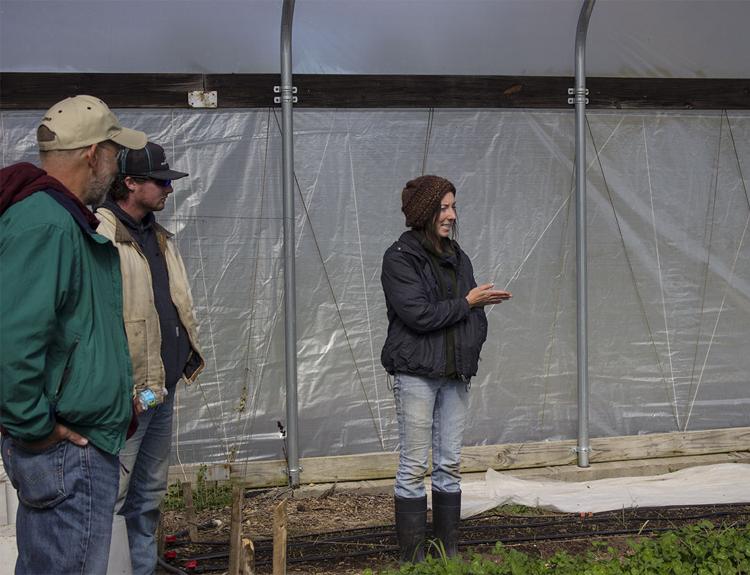 "We're growing. We're partnering. We're encouraging other people to grow," she said, adding the gardens wouldn't be possible without help from volunteers and she hopes volunteers learn something about growing produce so they are able to grow their own food and grow food for others.
The garden location visited Friday has 76 raised beds as well as two hoop houses. Last year, over 10,000 pounds of produce were grown there.
"I don't think the program is going anywhere," Poindexter said with a smile.
Tim Schnakenberg, MU Extension agronomy specialist, explained the dire dairy situation in southwest Missouri — there are fewer dairies each year.
"We've always felt like a dairy farm is an economic generator in the county," Schnakenberg said.
Jordan Feemster, a dairy farmer from Springfield, showed tour participants around his family dairy started by his dad in the 1940s.
"My dad hated ditches," Feemster said. "He was very, very hateful to erosion."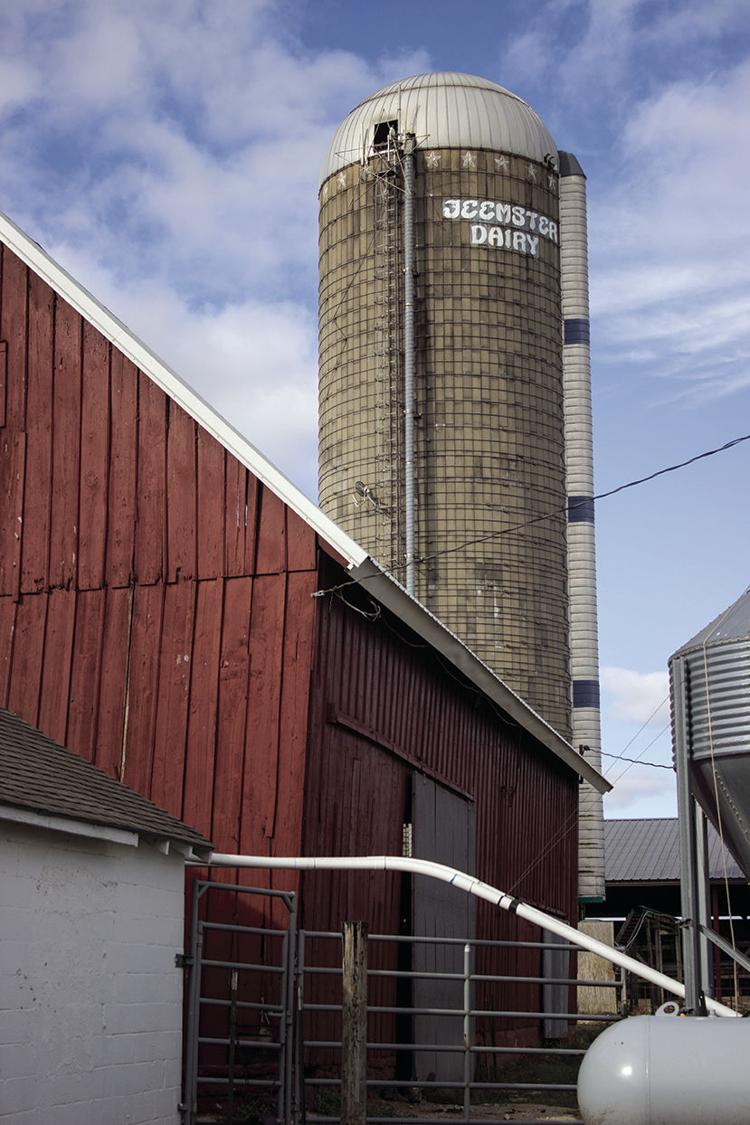 Because of this, the Feemster Dairy has been no-tilling alfalfa for almost 40 years and has also worked with the NRCS and Greene County SWCD on a system to catch manure and wastewater from milking — a system which has cut his fertilizer bill by $17,000 to $22,000 per year.
Feemster also explained he doesn't sell raw milk because the risk of lawsuits is too much. He also had to stop hosting local school kids because of the liability risk.
"Our kids have lost contact with their food source," he said, adding he would like to host kids again if his liability wasn't so high.
Feemster began rotationally grazing his cattle over a decade ago and has participated in cost-share programs to install watering systems on the farm.
"I believe milking is an inherited insanity," Feemster said with a laugh, explaining to the county employees on the tour that he regularly works over 70 hours per week.
At the dairy, they also mix all their own feed and grain as well as raising and baling hay.
"The dairy is our bread and butter," he concluded with a smile. "The hay is our dessert." £