In its 43rd year, the Four State Farm Show drew a crowd despite extreme heat and rain showers over the weekend.
"We were once again pleased to see thousands of Four State agriculture enthusiasts turn out to enjoy the three-day event," said Lance Markley, publisher of Farm Talk Newspaper, which sponsors the Four State Farm Show. "This show is great for the area economy and our full house of exhibitors offered a huge array of products in a one-stop shopping atmosphere."
Farm kid Lucas Cline of Fair Grove, Missouri, had a grand time with his family at the Four State Farm Show.
"I wanted to see cab tractors and balers," Lucas said.
His mom added, "We had never been to the Four State Farm Show before but Lucas saw a picture of it and said it's what he wanted to do for his birthday. He's a true farm boy so the show was the perfect fit for him."
At the Show, Lucas, his family and other visitors had the opportunity to see everything from hay equipment in action to the amphibious Argo XTV on the Showgrounds pond. Twice a day, Double J Energy hosted water well drilling demonstrations. Exhibitors also had all the latest and greatest in agricultural equipment and technology throughout the weekend.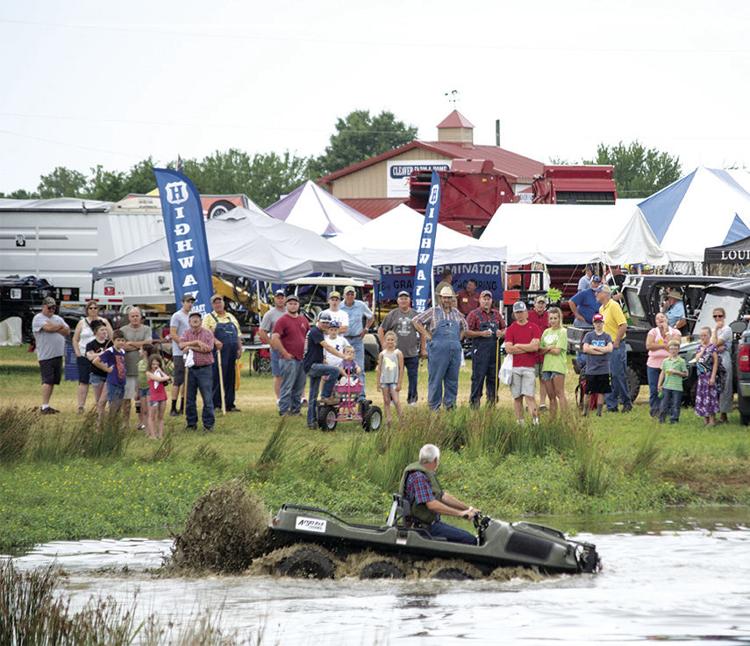 Each day, Show visitors had the opportunity to enter a drawing to be $1,000 richer at the Farm Talk Newspaper tent. On Friday, the drawing winner was Danny Nash of Parsons, Kansas. Saturday's lucky winner was Dennis Wallace of Preston, Missouri. On Sunday, Joseph Smith of Pittsburg, Kansas, won the drawing.
Kids 18 and under also had the chance to enter to win the Kids Drawing. Wyatt Mahurin of Jasper, Missouri, was this year's winner.
At the daily hay demonstrations, spectators could enter to win a $500 Shopping Spree for parts, service or goods with any hay demonstration exhibitor. On Friday, Gary Colbern of Ottawa, Kansas, was the lucky winner. Saturday's winner was Barry Blosser of Buffalo, Missouri. The winner at Sunday's hay demonstration was Jack Beaty of El Dorado Springs, Missouri.
The next show sponsored by Farm Talk Newspaper is the Ozark Fall Farmfest at the Ozark Empire Fairgrounds in Springfield, Missouri. The 2017 Ozark Fall Farmfest will be held Oct. 6, 7 and 8. £