A large crowd turned out last Saturday for the last field day to be hosted at the Kansas State University Pecan Experiment Field near Chetopa by Bill Reid, who plans to retire next month.
During the field day, the director of the experiment field shared some of what he's learned during his career and provided his insights on different pecan cultivars and production practices.
"We've learned there is just as much variation in a seed source as there is between seed sources," Reid said. His No. 1 recommendation for seedlings is to "viciously" select for vigor.
Because nut trees are a long-term crop, producers are almost guaranteed to second-guess decisions, particularly their cultivar selections.
"You've got to live with what you've got," he said, adding producers must learn to manage the problems that pop up during the life of the trees. Some of the trees at the experiment field, for example, are 90- to 100-year-old native trees. Another grove was planted in 1983, and each grove has had its challenges over the decades.
 "If you're thinning an orchard, you want to thin before a big crop year — because you won't feel the pain as much," Reid said with a laugh.
In a grove of Kanza pecan trees, Reid explained the benefits of progressive thinning. In this particular grove, seven to 12 trees were thinned per year for a period of years.
"Thinning the orchard out over time really helped maintain yields," he emphasized, adding yields were maintained at approximately 1,200 pounds per acre.
One advantage of thinning is scab control, he said, adding the preferred distance between tree canopies is at least 10 feet.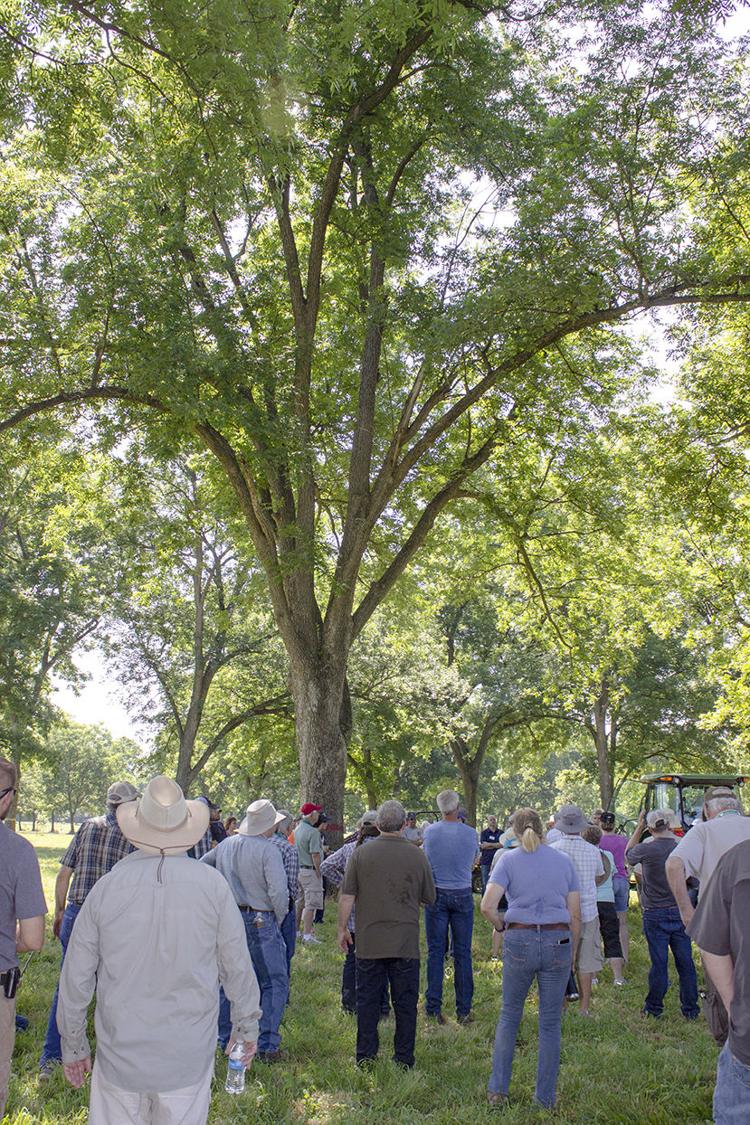 Reid's spray schedule for scab usually involves an application in early June followed by another 10 days later. Sometimes, he will do two additional sprays in July. He cautioned producers to remember to spray even if they have resistant varieties because those varieties are still susceptible to other diseases.
Reid recommended broadcasting split applications of fertilizer. At the experiment field, he fertilizes with nitrogen and potassium in the spring and an application of urea in October.
"It's about how you avoid risk," he said, explaining  the experiment field's location comes with a risk of flooding so he splits the application of nutrients so not all of the nutrients are lost if there is a flood.
For the spring application, he recommended watching bud development to identify the right time to apply, usually in March.
"Trees are pretty good at mining phosphorus from the ground," he added, so an application of phosphorus fertilizer is probably not necessary.
For those considering a silvopasture system, Reid suggested carefully weighing the pros and cons.
"Livestock is a double-edged sword," Reid said. Producers should never graze livestock amongst young trees and they need to account for a loss of nutrients available to the trees as the cows harvest forage. He estimated there is a loss of around 30 pounds of nitrogen if grazing one cow-calf pair on four acres. Another issue is harvest loss due to nuts falling into hoof prints where the harvester cannot pick them up. However, cattle do have the advantage of reducing mowing costs in the orchard and providing the opportunity to use the land for multiple purposes.
Reid said the experiment field hasn't been grazed in over 50 years and the soil organic matter is about 2.5 percent due to the green manure from mowing for those five decades.
He also pointed out damage still visible from the ice storm of December 2007. Yields after the ice storm didn't recover until three years later in 2010 and still have not reached their pre-storm highest level. The average now is about 1,200 pounds per acres on native trees.