Fighting weeds has been a battle between farmers and nature since the beginning of history, and the war has only intensified with the spread of herbicide-resistant weeds and invasive species.
To help farmers, ranchers and landowners with this struggle, the Missouri Department of Conservation and Quail Forever held a workshop last Friday in Nevada to promote strategies for the management and control of invasive species.
"Invasive species are considered the second greatest threat to nature after habitat loss," said Pat Miller, University of Missouri Extension agronomy specialist.
Although Missouri does have 11 noxious weeds — Canada thistle, common teasel, Scotch thistle, musk thistle, cutleaf teasel, field bindweed, kudzu, Johnsongrass, spotted knapweed, multiflora rose, purple loosestrife, and marijuana — not all invasive species are listed as noxious weeds, she explained. Invasive species include sericea lespedeza, Bradford and Callery pears, bush honeysuckle, waterhemp, winter creeper and many others.
She also reminded workshop attendees that what looks good in a yard may be very bad for farms and nature, and the choices made for yards and landscaping can advance the threat of invasive species.
"We need to be responsible for these choices," Miller said, and encouraged people to look into native plants as alternatives.
She also cautioned birdseed and wildflower seed purchases as University of Missouri research found a pound of birdseed contained 8,000 pigweed seeds as well as ragweed, velvetleaf, morning glory and other weed seeds.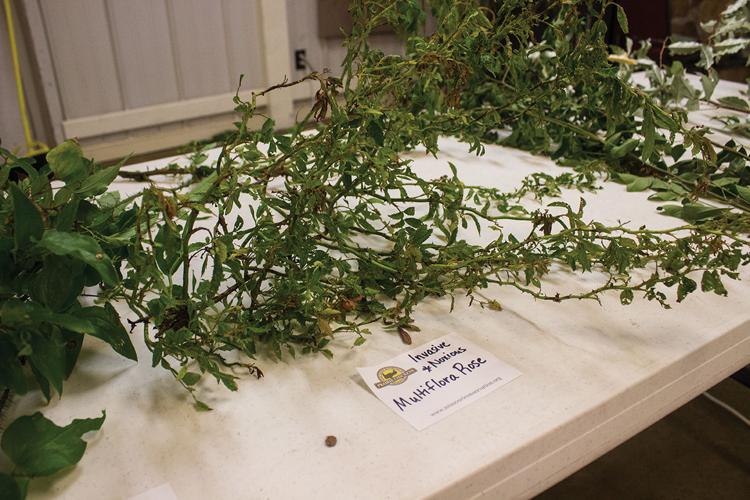 "The birdseed industry is not regulated," she said, explaining the label doesn't have to list the percentage of noxious weed seed it contains. Wildflower seeds pose a similar problem.
Roger Benson, owner of Professional Weed Management Services and retired Dow AgroSciences representative and consultant, shared his take on winning the weed war.
"If you don't have some of these things on your property, you probably have it headed your way," Benson said. "That's the take-home message about invasive species.
"These plants are moving in, and it's costing us money from the ag side in livestock production and in losses in wildlife management.
From knapweed and teasel to Callery pear, Benson pointed out invasive species have taken root all over the state. His rule is to stop invasive species at the first plants you find.
"Teasel — what can you say about teasel other than it's on about every roadside in the state at this point and it's spreading fast," he said. In pastures, teasel will grow as a rosette, similar to a musk thistle, but the rosettes grow close together.
"It basically smothers the fescue," he explained. "When it's gone, the fescue's not there so what do we have? Some place for another invasive species to come into."
He pointed out Callery pear outbreaks can be seen in abundance around Kansas City and are expensive to control with cost at about $40 per acre for herbicide plus the cost of application, all for about 85 percent control at best.
Benson recommended following the 4 Rs: apply the Right product at the Right time on the Right weed at the Right rate.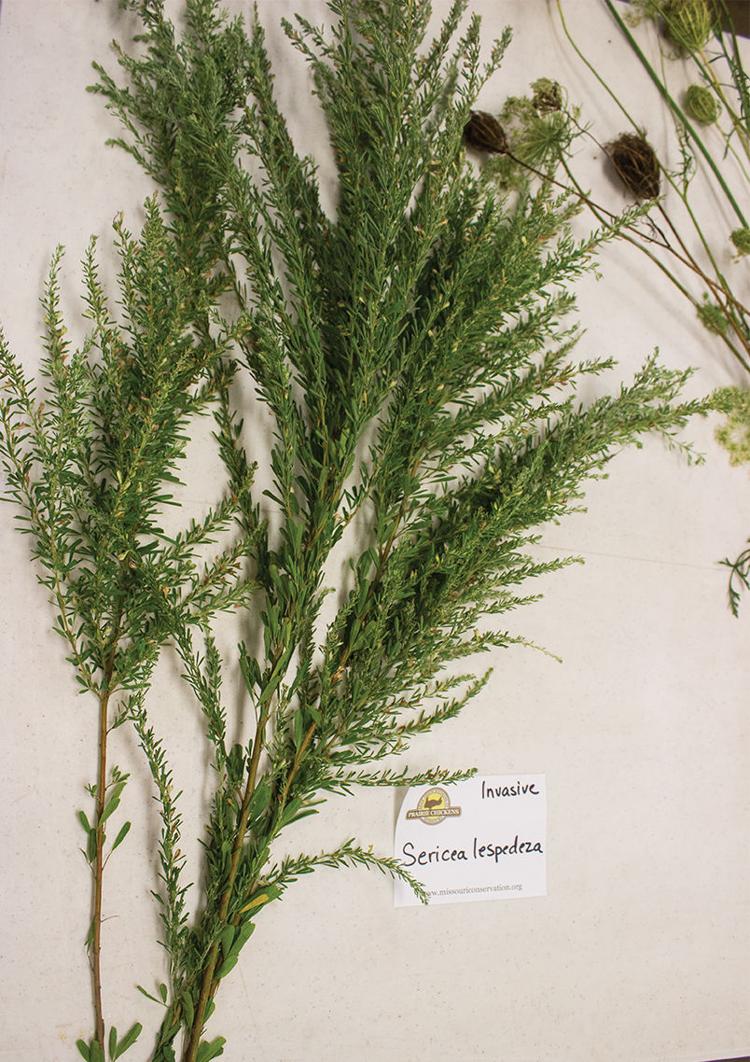 For sericea lespedeza, he said to wait until the plant is at least 10 inches tall, usually around June, and to spray until the time it blooms. He recommended spraying an application of Remedy or Pasturegard. The best management practice, he said, it to spray the first year, skip the second year, and re-treat on the third year with spot treatments thereafter. Even better, spray when you first see it from the get-go, he said.
When it comes to hedge or locust, Benson said not to spray before July 1. Prior to July 1, locust will have a red tip on the leaf and is still putting on new growth. His recommended treatment is 1 percent Grazon P+D, 0.5 percent Remedy, and 0.25 percent surfactant.
For basal applications, Benson recommended a mixture of 1 quart Remedy to 3 quarts diesel anytime of year there is no snow on the base on stumps up to 6 inches in diameter. He instructed workshop attendees to spray 15 inches up from the ground.
"Get the stem moist and stop," he said, explaining drenching the stump and letting it run onto the ground is a waste of money.
"If you have multiple stems, you have to treat each stem," he explained. For a diameter bigger than 6 inches, spray higher.
When it comes to spot and small area spraying, Benson said to buy equipment that will last. He recommended a tank made of medium density poly because it's less brittle and has thicker walls than a high density poly tank. Quality pumps with Viton and Sanoprene seals won't break down from the solvents in many herbicides. He also recommended purchasing metal wands with brass nozzles and quality valves.
Benson also gave tips for sprayer maintenance including washing the sprayer with a tank cleaner at the end of the season to deactivate the chemicals and clean the equipment. For winterizing, old-fashioned antifreeze — not the RV antifreeze, he specified — contains fish oil to lubricate the inside of the pump and to keep parts soft and flexible as well as to prevent any leftover water from freezing.
Adam Jones, conservation specialist for MFA Inc., discussed options for pasture weed management and control.
"If we have a weed problem, we need to know what it is," Jones said, adding identifying if the weed is an annual, biennial or perennial may affect how it can be controlled.
Almost 50 percent of Missouri pasture weeds are annuals, he said.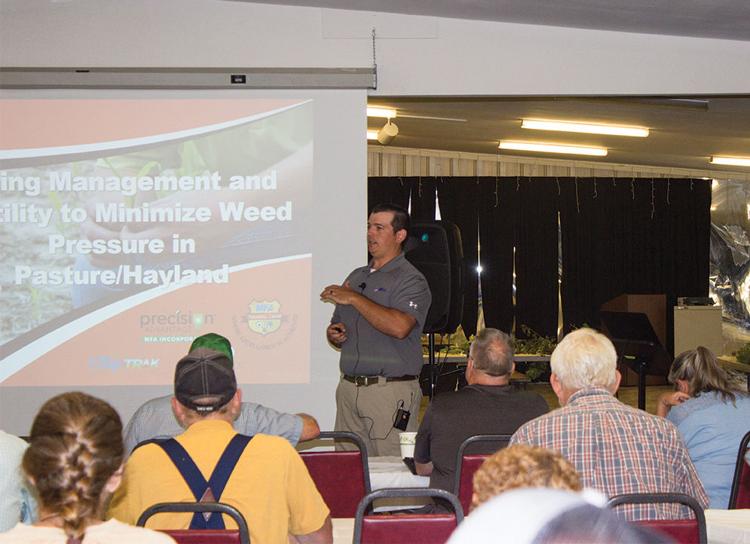 Jones recommended producers make a plan for control but also consider why and how the weed outbreak happened and formulate prevention and management strategies. For example, the land management history and seedbank may contribute to high weed populations. Current management, including stocking density and duration, bale grazing, haying intensity, equipment contamination and other factors, also contribute to weed growth.
"Weed management pretty well lines up with pasture soil health management," Jones said. He recommended producers cover the soil, keep desirable forages growing, minimize soil disturbance, and look into forage diversity. He suggested incorporating a grazing system into pasture management and considering manure distribution as fertility distribution. Inter-seeding with another seed species to fill gaps in pasture growth timing was also recommended.
"Think about when your forage is growing and not growing and what we can add in there," he said.
Jones also recommended producers take soil samples to correct pH and fertility. Eighty percent of Missouri pastures are low or very low in soil phosphorus, 37 percent are low or very low in potassium, and the average soil pH is 5.8. Weeds like broomsedge and sericea lespedeza are adapted to these poor fertility conditions.
To be cost effective, Jones recommended spraying when the weed threshold is reducing forage.
"Don't just spray to spray," Jones said, adding producers can mow or spot spray smaller weed populations.
"Remember, we need something to replace the dead weeds," Jones said. He recommended seeding desirable forage to compete for that space against weeds. Basal spray and burning warm season grass fields are also control options.
Zach Whitaker, sales agronomist for Mid-West Fertilizer, suggested producers and landowners control biennials in the rosette stage because waiting until the weed has flowered means you're fighting seed production.
"We all want the easy button," Whitaker said, adding the Roundup Ready system seemed like an easy button for awhile but now it's clear it wasn't a long-term fix.
Whitaker explained herbicides are classified into families based on mode of action, or how it kills the plant, and site of action, or where it works. Using the same site of action repeatedly leads to selecting for herbicide-resistant weeds, he explained.
"There are basically 11 weeds that have known resistance," Whitaker said. Waterhemp, for example, is resistant to about a half-dozen herbicide classifications — a huge issue when you consider one female waterhemp plant can produce over 250,000 seeds.
"Waterhemp is the primary one we fight in Vernon County," Whitaker said, but he added Palmer amaranth is going to become a bigger problem in the area.
"You'll wish you had waterhemp if you get Palmer," he warned.
In the Vernon County area, there is a widespread waterhemp population with resistance to Group 9 and 14 sites of action herbicides, including glyphosate and PPO herbicides like Cobra, Blazer and Prefix. Dicamba and Liberty are the only post control options, he said, but it will only take three to four years for resistance to develop if they are not used wisely.
"As far as I know, there's no new miracle herbicide coming to save the day," Whitaker said. He predicted stacking traits will be the next big move to combat weed resistance and suggested producers use multiple effective modes of action and other weed control methods such as deep tillage.
"Waterhemp can't take deep tillage," Whitaker said, adding if producers manage the seedbank for four years, 90 percent of the germination will be gone.