Facing the late-summer heat for an opportunity to meet and greet with producers, Kansas Corn kicked off their statewide District Listening Tour in the Southeast District with a meeting in Columbus. The organization's efforts in ethanol and increasing global trade were featured topics at the event, alongside opportunities for area farmers to express their opinions on policy.
Josh Roe, vice president of policy and market development for Kansas Corn, spoke about the longstanding effects of ethanol on the corn industry, as well as new opportunities for market growth in both domestic and foreign markets.
"We can say without a doubt that ethanol would not be near where it is today without corn checkoff dollars," Roe said. "It was really what started the evidence for the original research when this newer ethanol was just a theoretical idea."
Renew Kansas, a partnership between Kansas Corn and the Kansas Department of Agriculture, helped spread ethanol blending pumps to gas stations with few or no ethanol pumps.
"That allowed us to provide cost-share to fuel stations to put in blender pumps and sell our higher ethanol blends," Roe said. "We're over 40 pumps that we have directly cost-shared."
Cost-sharing funds for the project came through a Biofuels Infrastructure Grant from the United States Department of Agriculture. Roe said the new pumps had a profound impact particularly in urban areas like Wichita, where many of the sponsored gas stations that originally sold no ethanol now average around E27.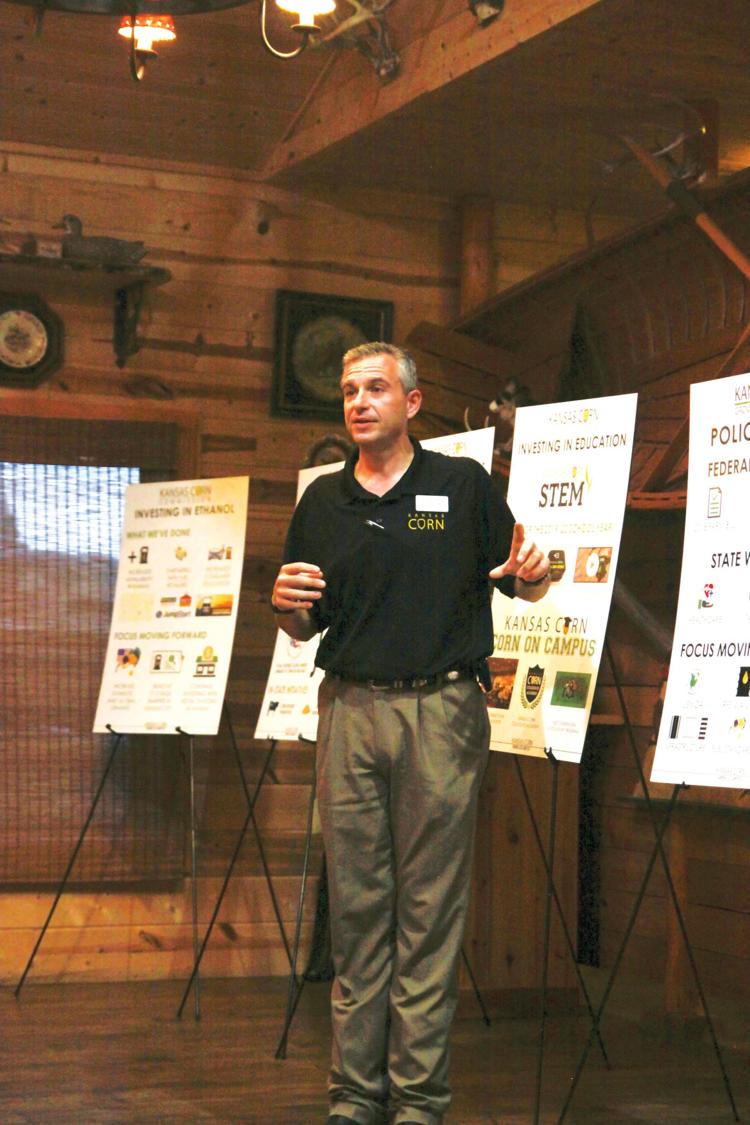 In addition to cost-sharing on independent gas stations, Kansas Corn entered into an agreement to upgrade pumps with Casey's stores.
"Casey's is doing a major expansion of their higher ethanol blends within the state," Roe said. "We're partnering with them on over a dozen stations between now and the end of this calendar year."
The Casey's expansion could have a profound impact on corn demand in the state, should demand for the ethanol fuel persist, Roe said.
"At some of the newer gas stations going in with eight pumps and 16 dispensers, their fuel goals are 50,000 gallons of fuel per dispenser per month," Roe said. "These are high volume areas, and if we can continue to work to make ethanol available in stores of that type, one of those stations would consume 770,000 bushels of corn in a year."
Increased ethanol-friendly infrastructure is only one component of developing a stable market. Stacy Mayo-Martinez, Kansas Corn's director of industry relations, shared some ethanol insight from a market research perspective.
"Bringing in new fuel is very market disruptive," Mayo-Martinez said. "We wanted to help people know if they can put it in their car and help them feel comfortable with how it will work."
Researching consumers' fuel buying habits was an eye-opening experience for Mayo-Martinez and her counterparts. Research showed that consumers care less about understanding their fuel source and more about their comfort level with the price and reliability of the fuel. Additionally, market research revealed some surprising trends about hometown fueling habits.
"If you look at statistics about this, it shows that you fuel at the same station and at the same pump if you are in your own community," Mayo-Martinez said. "It's a very creature-of-habit impulse."
A branding and educational website at fueledbykansas.com was Kansas Corn's answer to their accumulated market research and a way to help educate consumers in the Wichita area about Kansas ethanol.
"The idea was to explain that ethanol is a fuel that's good for consumers and helps produce cleaner air, comes at a cheaper price, and helps the Kansas economy," Mayo-Martinez said. "It helps you save money and you're supporting Kansas jobs."
Just as ethanol demand is important in-state, ethanol is becoming an important factor in global trade economies, Mayo-Martinez said. In a turn-around from the beginning of the ethanol industry in the United States, Brazil is now the top importer of American ethanol, with more countries soon to follow.
"Just like our corn farmers are really good at producing and doing it efficiently, our ethanol plants have done the same thing," Mayo-Martinez said. "Brazil can actually get a better deal buying U.S. ethanol and that has opened up a lot of opportunities for us."
Trade opportunity for corn often comes in the form of ethanol, especially in nations struggling to find new solutions for air quality.
"These countries are very interested in cleaning up their air, and ethanol is a good option for clean-burning fuel," Roe said. "The other reason ethanol is a good option is because it's cost effective and readily available."
Kansas Corn is actively involved in global efforts to establish markets for ethanol in a variety of locations across the globe. It's an effort that will be able to apply the organization's state-level market research to new opportunities.
"The important thing when we're building these markets is to try to also build domestic demand," Mayo-Martinez said. "No country wants to be 100 percent dependable on something they need for their own success and so we look at market development."
In the future, Kansas Corn will continue to search out new outlets for producers' efficiently produced commodities and value-added products.
"When we look at the future of adding additional value to our corn as well as sustainability — there's just nothing better in the short term that we can do to improve that bottom line for grain farmers than to make ethanol successful," Roe said.
District Listening Tours will continue throughout the state through Aug. 28. For more information on tour stops, visit https://kscorn.com/tour/.