Due to the Electronic Logging Device mandate, mass confusion in the agricultural industry has been prevalent — not just in social media, but in daily conversations as well.  There have been a lot of abbreviations and misinformation tossed about.  Joe Q Public has had a hard time separating fact from fiction. How do those abbreviations, mandates and laws affect the ag industry, or are we back to life as it had been the previous three decades?  Read on, and I'll help you learn the difference between regulations and licensing, laws and mandates.
Terms and Abbreviations to know:
•CDL — Commercial Driver's License
•CMV — Commercial Motor Vehicle
•GVWR — Gross Vehicle Weight Rating
•GCVWR — Gross Combined Vehicle Weight Rating
•FMCSA — Federal Motor Carrier Safety Administration
•FMCSR — Federal Motor Carrier Safety Rules
•DOT — Department of Transportation
•RODS — Records of Duty Status
What seems to have individuals the most perplexed is the ELD mandate. A mandate is "an official order" to do something. The Affordable Care Act mandated that everyone purchase health insurance or pay a penalty; the ELD mandate does the same thing. Certain individuals or  companies must use e-logs in their trucks, or maybe even in a personal pickup if they travel enough "commercially".
For many in the horse industry, an ELD is meaningless, since we have always been considered hobbyists.  As such, we were never regulated by the FMCSA or the DOT. But if you're a farmer, rancher, horse trainer or farrier, you should be concerned. As a farmer or rancher, taking your stock to a sale or a show, and not hiring it done, brings about a slew of regulations you likely didn't know even existed.
How did we get here?
The Commercial Motor Vehicle Act, passed by congress in 1986 set the weight thresholds defining all CMVs and laid the groundwork for a centralized database/clearinghouse for CDLs. Until that point, commercial drivers were getting licensed in multiple states, or losing a license in New York, and going to Pennsylvania to get another one, etc. The act defined a CMV as any vehicle with a GVWR of 10,001 pounds.  It defined which drivers would need to get a CDL as well.  That weight was set at GCVWR of 26,001 pounds. It also established testing and training standards for drivers that needed to obtain a CDL.
This law was intended to target the drivers of class 7 (26,001 GVWR)  and class 8 (33,000+ GVWR) trucks. A 1984 study, commissioned by Congress, showed that there was an extremely high number of preventable accidents involving the drivers of class 7 and class 8 trucks.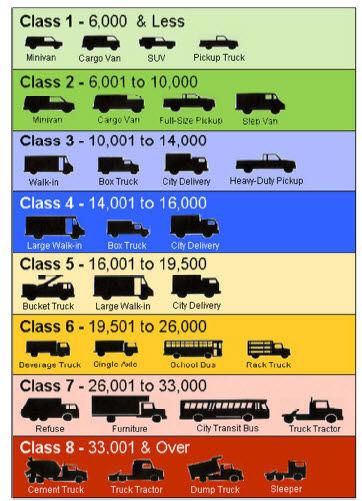 Obviously, there were thoughtful exemptions put in place with the original intent of this law. People using pickups to pull trailers were not required have a CDL or regulated by the DOT, the same as a driver of a class 6 truck or larger. But like things do — light duty pickups got stouter and safer, and the trailers they could pull got bigger, yet the weight threshold that triggered the "need" for a CDL stayed the same. The weight threshold defining a CMV also stayed the same. So your dually has the potential to be considered commercial, simply based on its GVWR.
Some argue CDL laws have never been enforced. That's not really true — they have been enforced — on the people for whom they were written. They didn't catch very many horse rigs in 1986.  They didn't very catch many in 1996, and maybe a few more in 1999. In 1990, a dually had a GVWR of 8,500 -9k. Today that same dually has a GVWR of 14K. That is an increase of over 60 percent and makes up 54 percent of the total GCVWR.  You can't hook a very big trailer to the back of it before that weight threshold requiring a CDL kicks in.
Where are we now?
Fast-forward to 2012. MAP-21 (Moving Ahead for Progress in the 21st Century) was passed. In MAP-21 it was mandated ELDs would be placed in every CMV where relevant by Dec. 18, 2017 — that is assuming that the driver of said vehicle is required to keep RODS (or a logbook). Drivers who travel less than eight days in a rolling 30, are allowed to keep paper logs, and drivers of "Covered Farm Vehicles" weighing over 26,001 GCVWR are exempt from a CDL as well as all regulations, including logbooks under the MAP-21 provisions — as long as they stay intrastate or within 150 miles of their home.  If they leave the state or their air miles — the regulations that currently govern the trucking industry then also govern the farmer, rancher or horse trainer.  You're turned into an interstate truck driver outside the granted exemptions.  However, if you're under 26,000 pounds GCVWR, and you're a covered farm vehicle, you're exempt  nationwide — for everything but a DOT number.
Interstate truck drivers have to pay fuel taxes, have a DOT number, get DOT vehicle inspections, carry a medical card even if a CDL is NOT needed, track their hours of service via RODS (you can only drive 11 hours in a 14-hour day, then must be off duty for 10 hours), and now, use an ELD — in place of a paper logbook, or RODS. Currently, haulers of ag commodities are on an exemption from the ELD — because the hours of service are NOT currently flexible enough to allow for them to do their job.
In response to overwhelming outcry for clarity from the agriculture sector, the FMCSA released new guidelines regarding the "non-business" use of horse transportation on Feb. 21, 2018.
While helpful to the hobbyists (assuming your state doesn't require a CDL), the guidance and clarification did nothing to address the FMCSA rules that effectively turn any farmer, rancher, other livestock producer or anyone deemed to be "commercial" into an over-the-road trucker once their exemptions have run out.  People who train horses for a living are no different than a commuter — when they take the horses they're training to a show, or an event —they're still not being paid to drive. They're driving to where they can get paid. But the FMCSA says they are now commercial truck drivers — subject to all of the above regulations (save for IFTA taxes as those are based on axles) — and CDL may or may not be required based on the combined weight of their rig.
Same old, Same old?
What many people in the horse industry don't understand is that there's nothing new in the FMCSA regulations. According to every DOT officer, the country over, if you've been running a farm, ranch or training facility or go interstate as a horseshoer (as an example), you've been running illegal since the dawn of time. If you claim your horse expenses as a hobby or as personal income and deduct the expenses that way, you're NOT considered commercial; but if you claim them as Betty Barrel Racer LLC, or Betty's Performance Horses, LLC, you are then deemed "commercial" and subject to all of the regulations that control truckers.
A farmer, rancher, horse trainer, farrier or anyone else that is NOT PAID to sit behind the wheel for a living should not be governed or regulated by an agency tasked with the safety and administration of Commercial Motor Vehicles.  For 32 years, farmers, ranchers and the ag industry in general have been running about the country, doing business as they fit, free from FMCSA regulation (even though the regulations have been there). Unlike most commercial motor carrier operations (or companies), the ag sector should not have to hire DOT compliance firms to keep them legal. That is how complex this issue is: the professionals need a translator.
The roads haven't suddenly become unsafe since the ELD mandate was brought to light.  The question we should be asking ourselves is: Why now? What's changed? Why should an individual who does not get paid to haul freight now have to abide by laws and regulations that were meant to exclude them in the first place?
If you'd like to get involved, you can join the ELD, CDL and CMV Facebook Group. Make calls to your lawmakers, both state and federal, and tell them none of this works in the real world. For more resources, visit http://thesouthdakotacowgirl.com.