Farmers, agronomists and marketing specialists who gathered for the annual wheat tour at the North Central Oklahoma Research Station at Lahoma on May 11 experienced the kind of hot, windy weather that is likely to take a heavy toll on the maturing crop.
"The sky isn't falling but there sure is a low-hanging cloud out there," said agronomist Mark Hodges, who serves as executive director of Oklahoma Genetics Inc. and Plains Grains Inc. of Stillwater.
During grain-fill, wheat is especially vulnerable to adverse weather, he said.
"Any temperatures above the mid-80s will be detrimental to grain-fill at this point," he said. "To compound the issue, if the plant doesn't have a well-developed secondary root system, there may not be enough there to keep up with high evapotranspiration rates."
Prolonged drought has caused the crop to deteriorate from east to west across the northern half of the state.
Don Schieber, who lives at Blackwell, has wheat near Bixby that could make 60 bushels to the acre, but he estimates his wheat at home will be in the mid-30s, which is about half of normal.
James Wuerflein, who farms near Kremlin, said the sudden arrival of hot, dry weather was having an impact.
"A week or two ago it looked pretty decent," he said of his wheat. "But it's going backward pretty quick without any rain."
He also noted numerous white heads showing up in fields, due primarily to drought coupled with freeze injury.
"I think the plants are just shutting off," he said.
Even if rain arrives, with a more active weather pattern forecast this week, demand for hay and forage has already led to high abandonment rates. USDA's latest crop report predicts Oklahoma farmers will harvest 2 million acres this year, a number so low it took Wuerflein by surprise. It indicates more than 50 percent of the crop has already been abandoned after the initial planting came in at historically low levels to start.
Field day research stops set up by Oklahoma State University zeroed in on the considerable challenges of producing grain in a low-price, low-yield environment.
"It's a challenging year to be a wheat producer, but it's also an opportunity to learn how to adapt to the market and the environment," summarized OSU's dean and director of agriculture Tom Coon.
Producers have been forced to make tough decisions on crop inputs. With that in mind, entomologist Tom Royer talked about work he's conducting on "sneaky, quiet, under-the-radar pests" like wheat mites, and whether it pays to apply an early insecticide along with top-dress fertilizer to control them.
He also discussed seed treatments, which have lost some of their appeal due to tight margins. Royer said one area they seem to work well is for combating barley yellow dwarf, which is spread by an aphid that attacks very early in the season.
By contrast, Hessian fly, which has become more prevalent as a result of wider adoption of residue-heavy no-till cropping systems, is best addressed by planting resistant varieties rather than using a pesticide, he said.
Joining him at the same stop was wheat pathologist Bob Hunger, who reported on disease levels. He said foliar disease pressure has been low, which is not surprising given the dry winter.
"Even at our trial at Afton, we've seen no rust of any kind," he said.
Wheat streak mosaic, which caused huge problems across western Oklahoma and central and western Kansas in recent years, has been held in check as well, with farmers practicing better control of volunteer regrowth, he added.
Some powdery mildew is showing up, which the scientists said should give them valuable information from a fungicide control trial they are conducting on the Stillwater campus this summer.
At the soil fertility stop, nutrient management specialist Brian Arnall showed off multiple plots comparing streaming, dry or flat fan spray nozzle nitrogen fertilization using various application intervals.
Arnall's recent work has focused on spreading out applications during the growing season rather than making a single pre-season application, the traditional method used in Oklahoma. Spoon-feeding the crop can chip away at the common rule of thumb that farmers need 2 pounds of nitrogen for every additional bushel of yield, he said.
He has seen that reduced to 1.8 pounds, and even as low as 1.5, he said.
Late-applied nitrogen can also boost the grain's protein content, an attribute that has become more valuable in the marketplace as elevators adopt rapid tests for protein. If the crop is lost prior to harvest, much of that nitrogen should remain in the soil for use by a future crop, he added.
Growers also had a chance to peruse varieties and hear from OSU's chief wheat breeder Brett Carver, who introduced them to six new experimental lines set for release later this year.
If current hot dry conditions continue, they could put a crimp in next season's seed supplies, according to Jeff Wright, coordinator of production and operations for Oklahoma Foundation Seed Stocks.
He suggested farmers line-up their seed needs early if they want to get the best selection. "When we increase seed, we make projections for what we want and match that up with what a normal year's production would be. In a dry year, we can end up with half of what we hoped, so some of this seed could be allocated in very limited supplies this year," he said. 
With farmers clamoring to plant alternatives like winter canola, cotton and sesame, the day wasn't devoted to wheat alone. At another stop, farmers had a chance to meet OSU's new cotton specialist, Seth Byrd, who is based in Stillwater. Previously he was a cotton specialist for Texas A&M at Lubbock.
Cotton acreage in Oklahoma is expected to jump by 16 percent this year, according to USDA.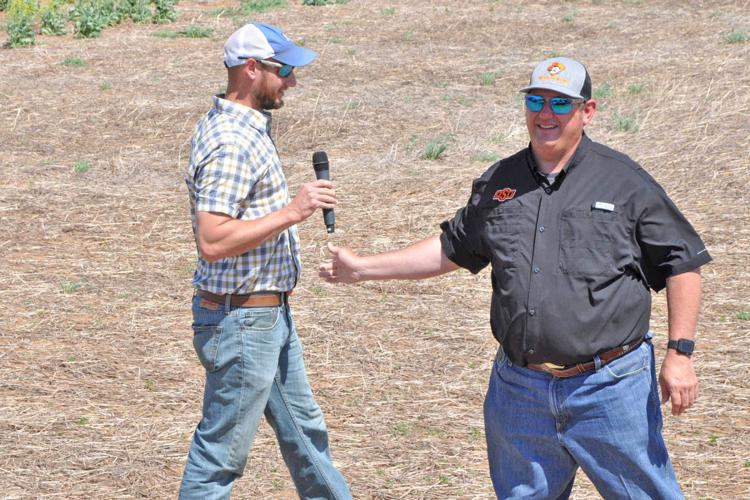 Byrd and weed scientist Todd Baughman gave an overview of cotton production in a short season, primarily dryland environment. They both stressed starting with a clean seedbed and staying ahead of weeds, scouting for pests and harvesting on a timely schedule rather than waiting for every last boll to open on its own.
They also touched on new herbicide technologies available for cotton. Baughman reminded growers that while soybeans are more sensitive to dicamba, cotton is more sensitive to 2,4 D.
"Know what you're planting and know what your neighbors are planting," he said.
While Oklahoma has not seen the same problems with herbicide drift that have been reported in neighboring states like Arkansas and Missouri, anyone who plans to apply dicamba on herbicide-tolerant cotton needs to contact their local extension office for information on how to get the mandatory training, Baughman said.
"It's very important to use the advised and proper nozzles with these new products," he stressed. "I can tell you it makes a big difference. Nozzle technology has really advanced the last few years."