Combines were out in force this week as corn harvest continued after late season rains created adverse ground conditions. The U.S. Department of Agriculture estimated 9 percent harvest completion in Kansas, with 12 percent completion in Missouri and 15 percent completion in Oklahoma.
Producers across the Four State area were pleasantly surprised to find corn yields near average after expecting a somewhat dismal result — due in part to drought conditions early in the growing season. This unexpected upside to the season was also true for Elk County, Kansas, farmer Mike Bellar.
"Our crop this year has been a little bit better than we expected," Bellar said. "The corn we're harvesting today is 107-day corn and then we'll get into some fuller season corn — 109- and 113-day corn — which I'm hoping will be even better."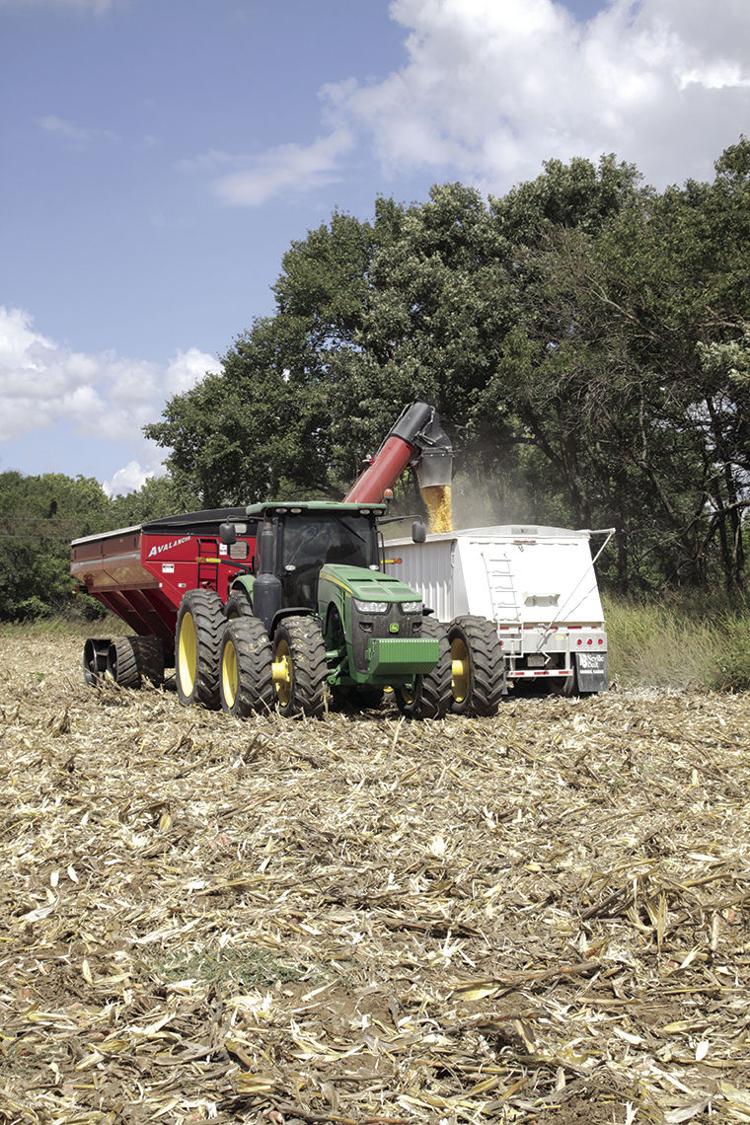 With yields averaging around 130 bushels per acre — almost exactly the state average — Bellar said rains in late July and early August might have been the saving grace for his fields.
"When we finally got a rain — I think it was after the Four State Farm Show — some of the corn had already died," Bellar said. "For the corn that held on, those rains definitely helped it."
With around 600 acres of corn left to cut, harvest season has just begun for the Bellar family, like many farm families in the state. Harvesting and transporting the corn will be an all-encompassing team effort for the Bellars, with Mike on the combine, his wife, Peggy, driving the grain cart and two of his sons manning the trucks.
In the last five years, Bellar has implemented grid sampling and variable rate applications in his farming practices. Combined with minimum tillage practices, pre-emergence and post-emergence treatments, Bellar said he is seeing better results each year.
 "It's helping yields — I have no doubt about that," Bellar said. "We've seen the results from our grid sampling and variable rate sampling and they show improvement."
On the Missouri-Kansas border, farmer Steve Chorum's harvest is nearly two-thirds complete and, like the Bellars, his corn was planted the first week of April and harvested a few days later than planned due to rain.
"Even with the rain, we are probably about six days ahead of schedule on harvest compared to last year," Chorum said.
Chorum's harvest began around Aug. 27, with yields ranging from 130 to 175 bushels per acre. With University of Missouri Extension agronomy specialist Jill Scheidt reporting yields from 75 to 120 bushels per acre, Chorum's yields are a little above average — due in part to small, timely rains in their favor.
"We were fortunate," Chorum said. "We had a rain about the time it pollinated — about half an inch — and that kept it going through pollination." 
Scheidt also reported at least one instance of aflatoxin in her corn scouting across the state — a concern for many corn producers this year. 
"We were a little afraid that we might have issues with aflatoxin but the only problem we had was the corn didn't dry down as quickly as normal," Chorum said. "We typically begin harvesting at 15 to 15.5 percent moisture and then it dries to around 13 percent fairly quickly but this year the moisture didn't move for a week and a half or so."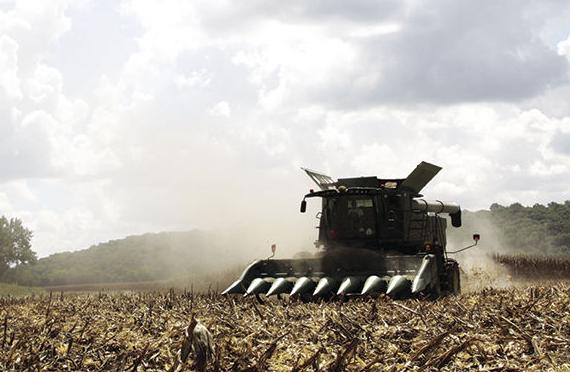 A cool spell at the beginning of harvest was likely responsible for high moisture where hot, windy weather would be more typical during harvest season. Weather will continue to be a deciding factor for the corn crop, as most producers will try to finish up harvest in the next few weeks given clear weather.
While most producers will continue to hope for a rise in prices, overall corn harvest has been positive for these Four State area producers.
"We're having a good corn harvest this year," Chorum said. "We really are satisfied with how it has turned out."