These days it seems like our entire world revolves around electronic devices — smartphones, computers and tablets. From Facebook and Instagram to emails and text messages, we're constantly checking and updating information.
So, why not manage your farm and livestock while you're at it? HerdOne — a livestock and farm management application developed in northwest Arkansas — allows you to do just that.
When Kyle Britton, HerdOne product owner and developer, bought a farm two years ago, he quickly noticed the lack of modern options for keeping farm records.
Matt Marney, founder of Engineering with IT and HerdOne developer, explained most farmers are still using notebooks or outdated Microsoft Excel programs — if they're keeping records at all.
"We're trying to provide tools," Marney said. "We want to shift the way this is done." So Britton, Marney and fellow developer Jonathan Newton began to build HerdOne with the farmer in mind.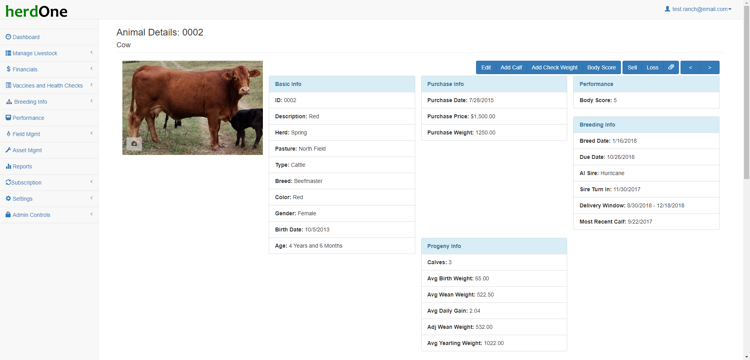 "We wanted to incorporate features we thought would be helpful," Britton said. Before launching HerdOne, they met with local farmers to get information on the challenges and obstacles the software could help overcome.
When HerdOne was launched in the fall of 2017, they encouraged users to provide feedback and offer their suggestions. Many features have since been added based on user suggestions.
 "We're frequently adding new things," Marney said.
Britton added they've made it a point to be community driven and quickly get those updates made to the software so every user benefits.
HerdOne user and cattleman, Taylor Wynn of Berryville, Arkansas, has appreciated the software's farmer focus.
The Wynn family runs about 70 cows in a rotational grazing system and retains ownership of calves until they are yearlings. They make a conscious effort to keep breeding windows short by separating cows into groups of 15 and keeping bulls with the group for 60 days.
Prior to using HerdOne, Wynn kept records in Excel — a method, he said, which made moving data cumbersome and inefficient.
"It seemed we were working on the spreadsheet as much as we were working on the cows," Wynn explained.
With HerdOne, Wynn is able to quickly and easily update records from his laptop or smartphone so no information is missed. He always has breeding dates, herd groupings, vaccination information and all other farm records at his fingertips.
In his now-retired Excel program, he had several different tabs and had to jump between them when updating and reviewing data, making it difficult to get a grasp on important information. Now, he can get a quick glimpse by looking at his Activity Dashboard.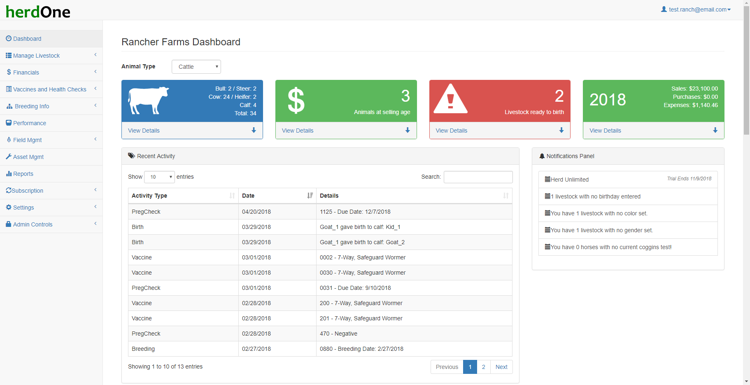 With HerdOne's customizable Activity Dashboard, you can quickly and easily see what information is important to you, from the number of animals at selling age to alerts on the number of cows due to calve.
Wynn said he was surprised by how much he has used HerdOne's reports.
"We can take all this data and put it in a form we can use," Wynn said, adding the reports have helped him quickly and easily access information for potential cattle buyers interested in vaccination records, breeding dates and other production information.
"We can simply run a report, print it off, and have it in minutes," Wynn said. "It took a lot of time before HerdOne."
Another feature of the software is the ability to keep financial records. Expense categories, for example, line up with the IRS Schedule F — making tax time a little simpler.
"Some are using this as an alternative to QuickBooks," Marney said.
Producers can track sales, purchases and expenses as well as keep records of receipts and invoices through HerdOne.
And HerdOne is not just for cattle producers. Whether you're raising horses, rabbits, sheep or goats, the software is customizable to whatever species you're managing.
"It's constantly adapting and evolving," Marney said. "Agriculture is going to continue to grow, and consumers are going to have expectations. Having this data gives an advantage to producers."
HerdOne offers a free 30-day trial, no credit card required. For more information, visit www.HerdOne.com.