Cattle pedicures, or more properly called hoof trimming, are not something the general public, and even some cattle producers, think of as an essential part of a health care program for dairy and beef operations.
Ben Sorrell of Galena, Missouri, the owner of Sorrell Hoof Trimming, is a 28-year veteran of restoring cattle to perfect balance and hoof health in the Four States. He recently made a visit to our family beef cattle operation where he demonstrated his skill as he guided his grinder to trim flakes of hoof and improved each animal's balance and mobility.
"I was raised in the dairy business, and we had a guy who used to come and trim our cows," Sorrell said. "I always thought it was interesting. When he got older, he taught me how to trim."
While trimming our cattle, Sorrell skillfully used a grinder to remove just enough hoof to correct the animal's balance and improve its mobility. Each animal was held in his hydraulic Tuffy Tilt Table hoof-trimming chute, an essential piece of equipment that made the experience easier for both trimmer and animal.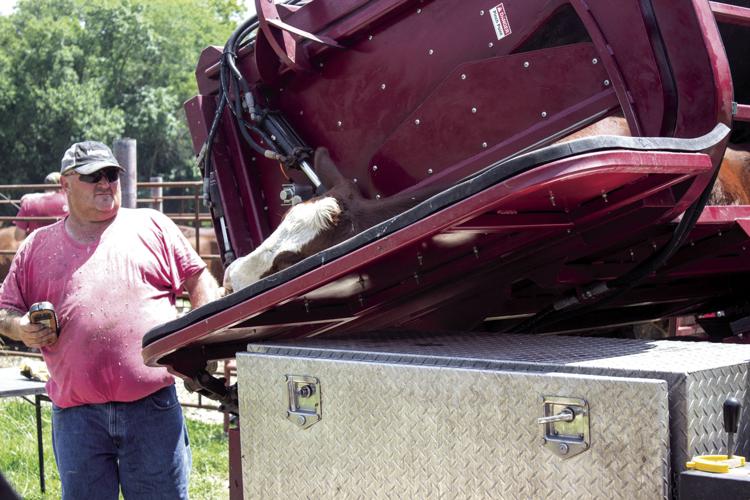 "My first goal when I start trimming is to focus on the cow first, to balance her weight and distribute her weight equally on all feet," Sorrell said. "I then look for abnormal growth and try to see why there's growth or if there is any disease."
The goal, he explained, is to get the cow balanced and back to normal.
According to the University of Kentucky, cattle hooves grow approximately 2 inches per year. Lameness can result when this growth shifts weight bearing from the outer horny portion of the hoof. When a hoof trimmer restores the flat surface and natural shape of the hoof, the weight is carried on the sole and is distributed evenly on the horny surface.
Sorrell attributed hoof problems to three things: environment, nutrition and genetics.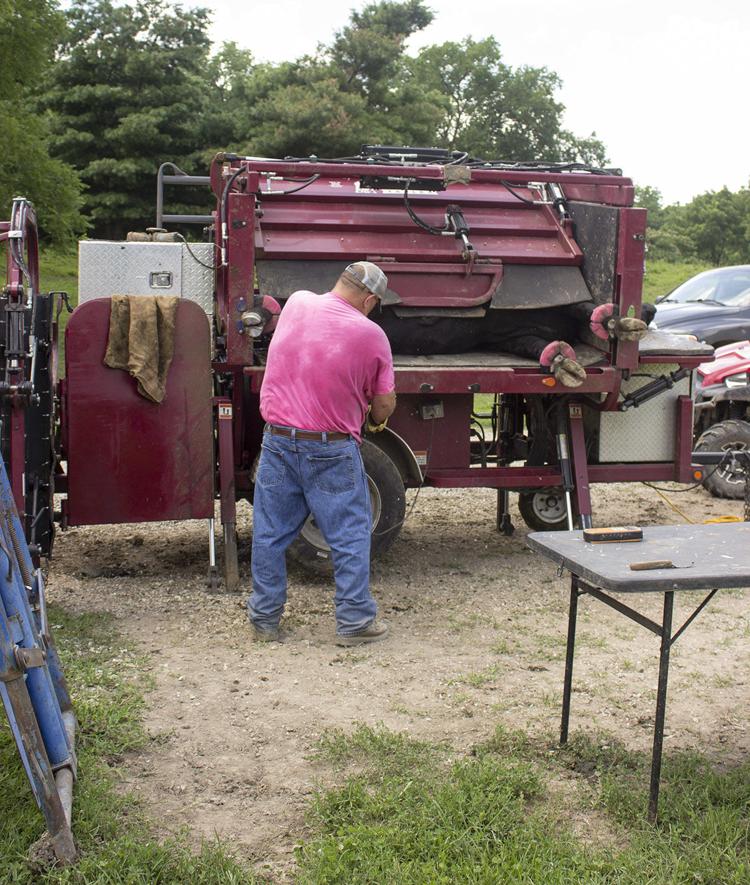 "With the mud, we've seen softer hooves which lead to more hoof diseases, like abscesses, digital dermatitis and some foot rot," he explained. "The wet weather has affected them more than normal."
Digital dermatitis, or hairy heel warts, is an incurable but manageable disease caused by treponemes, a spiral-shaped bacteria, which penetrate the skin when cattle stand in mud or manure for prolonged time periods. If the disease is not treated, it can lead to lameness and can reduce gains, fertility and milk production.
"In the dairy industry, we have too much digital dermatitis and need to be more proactive treating that," Sorrell said.
Another disease often seen in wet and muddy conditions is foot rot, caused by the bacteria Fusobacterium necrophorum. Purdue University Cooperative Extension recommended keeping the animal's environment clean, regular hoof trimming and footbaths as part of a treatment and prevention protocol for the disease.
Laminitis is another hoof problem that is generally attributed to rumen acidosis. Acidosis is the result of too much starch or not enough fiber in the diet. It is thought the lactic acid that is produced causes toxins to be released, which affect the feet and hooves, according to Purdue University Cooperative Extension's "Hoof Anatomy, Care and Management in Livestock."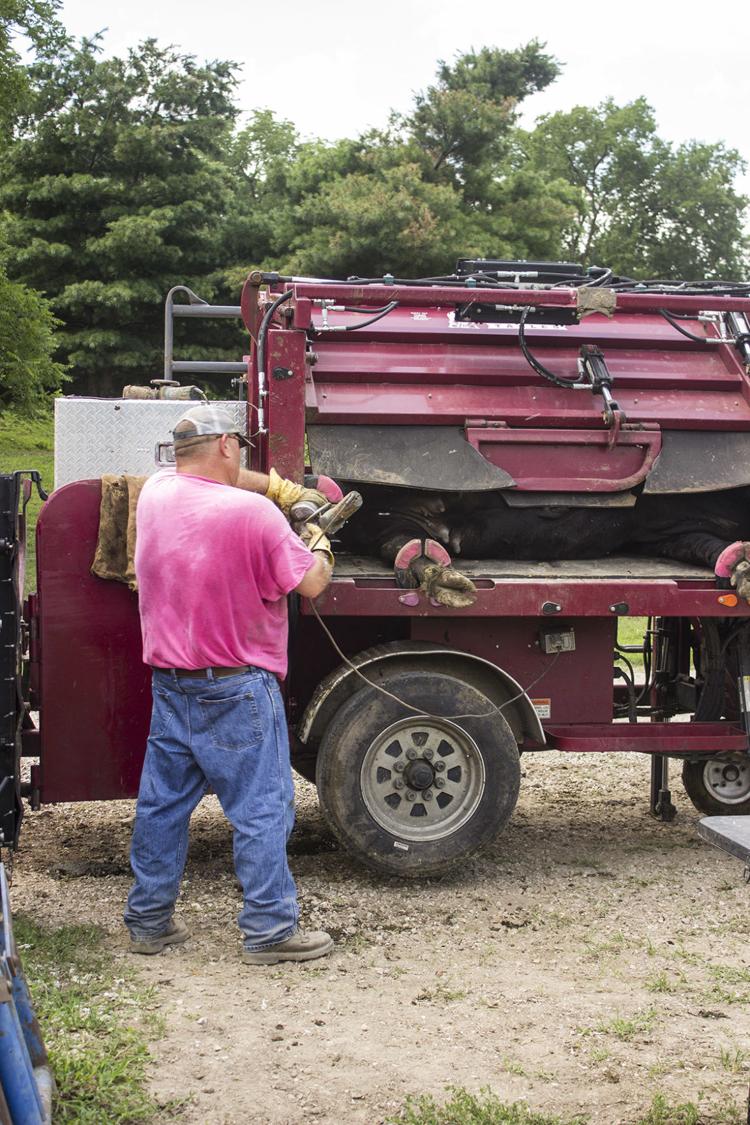 "After an episode of laminitis, the hoof will not grow normally at the toe again, and must be kept well-trimmed in order to ensure that it retains its shape, as well as provide proper weight-bearing surfaces," the document said.
Sorrell recommended hoof trimming for beef cattle on an as-needed basis and to remember some cattle will need trimmed more often. He pointed out many beef producers do not trim hooves.
 "We probably need to have more routine trims," Sorrell said. "We push the beef side more than we used to.
"Our bulls need to be trimmed more than they are because of how big they are," he continued. "Lame bulls don't get cows pregnant. We as producers need to pay more attention to the feet on the bulls we're using and try to improve hooves."
In the dairy industry, both Sorrell and the University of Kentucky recommended trimming hooves twice per year: once at dry off and again at 100 days in milk. However, proper recordkeeping is key to ensuring proper trimming procedures are done for each animal.
"For dairy producers, their cattle need to be trimmed routinely and more often than beef because they're confined and pushed nutritionally," Sorrell said. "I recommend, due to their confinement and nutrition, they are trimmed once to twice a year.
He continued, "On the beef side, I recommend trimming in the spring and fall. Dairy is basically year-round and toward the latter part of lactation. For beef, it's spring and fall so they're ready by the time they calve."
More importantly, he said, is to get in the habit of having hooves trimmed as some problems need to be corrected over time with successive trims.
"There are too many lame cows anymore," he said. "We as producers, dairy and beef both, let our cows go too far before we will trim their hooves. I recommend everyone be more observant to hoof health so we don't get these severely lame cows.
"We need to be more proactive," he emphasized. "Don't wait until it's too late. This goes for both industries. We all need to be more observant on hoof health."