Bryan Jones' "The Farming Game" anecdotally paints sheep producers as people drawing sympathy from their neighbors while secretly raking in profits from some of the smelliest, stupidest critters around. And yet — Porter, Oklahoma, sheep producer Joe Hopping farms by its philosophies and keeps a fresh copy on hand for like-minded friends.
For more than 20 years, brothers Joe and Hoss Hopping have integrated management intensive grazing strategies with a unique hybrid hair sheep flock to maximize and improve their formerly mined land.  While cattle accompany the flock in the growing season, the sheep make up the bulk of the brothers' yearly production.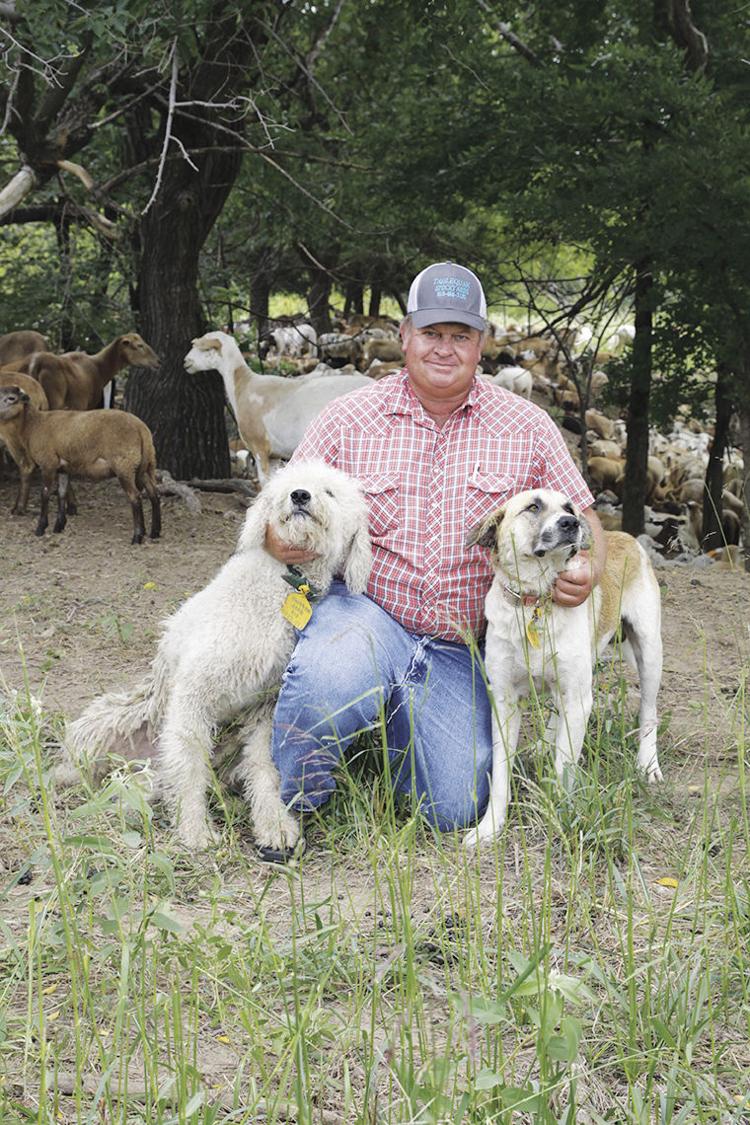 "Our ewes are just so productive," Joe said. "You just don't see a cow that will raise her own body weight in calves and breed back in such a timely manner."
No doubt Joe said something similar to a skeptical Hoss when the two became near-instant sheep farmers after buying their foundational herd from a drought-stricken west Texas rancher. With lambing percentages and eventually profits increasing year-after-year, Hoss quickly came around to their ovine operation and became the principal flock manager, while Joe auctioneers at area stockyards and handles the buying and selling of the stocker cattle and grazing cows.
"Sheep — with any luck at all — you can pay for them the first year you have them with that year's lamb crop," Joe said. "We were already interested in sheep but then after a neighbor got his and had great luck with them, we decided to do the same."
A composite breeding of half Katahdin, a quarter Dorper and a quarter Florida Native, the Hopping brothers have selected prolific sheep that require little maintenance and are uniquely adapted to the environment in which they live. The addition of a unique, old-world breed traceable to the discovery of America itself has been the true difference-maker for the flock, Joe said.
"What really helped our flock — as far as liveability and survivability — was when we bred the Florida Native into them," Joe said. "It really helped with parasite resistance and it's where the tan coloring and wooly fiber you see in our flock comes from."
A closed flock, the sheep are culled heavily with an emphasis on liveability and parasite resistance with the best of each lamb crop kept on farm to grow the flock.
"We keep a certain number of the ewe lambs for replacements for ourselves and a certain number of the ram lambs for our own use," Joe said. "A big part of the ewe lambs will be sold for replacements just off the farm here."
The Hopping brothers maintain a 35-day lambing season starting May 1. Ewe lambs that aren't needed for replacements will typically be contracted as replacements to be delivered to other herds by Sept. 1 while the remaining ram lambs will be weaned by 4 months of age and marketed as breeding rams.
The majority of the wether lambs will be loaded onto trucks in January and sent to a variety of Texas sale barns to be sold. According to Hopping, the seasonality and locality of sheep markets was one of the toughest mindset-changes the brothers had to overcome.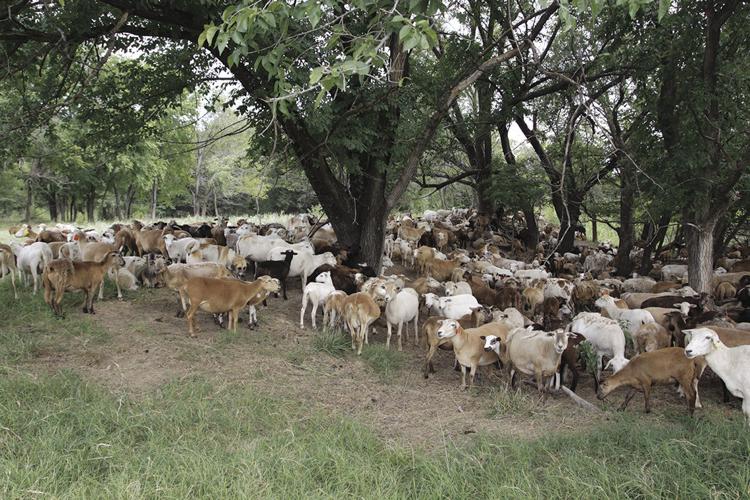 "If you have a potload of cattle and they're fairly uniform, you can get on the phone any hour of the day or night, sell them to someone and get very close to what they are worth," Joe said. "With sheep, there are fewer buyers and sellers — it's hard to sell them directly at home and get what they are worth."
Without a wool incentive, the Hoppings' sheep demand a solid price at most sales and a growing alternative marketplace has increased the number of sheep they have been able to sell on-farm in recent years.
"The majority of the time we will sell the wether lambs during the winter months — usually around ethnic holidays," Joe said. "Sheep don't typically demand a good price — at least from what we've seen — unless there's cold weather."
Due to Hopping's proximity to Tulsa, he has been able to better grasp customers' preferences for particular holidays — including the late August Eid al-Adha.
"For the Eid al-Adha holiday they wanted an intact male with no blemishes, no earmarks —just an all natural animal," Joe said. "If you don't have it, they will normally buy something else but that's what they prefer."
Grazing Systems
Rotationally grazing small 20-acre paddocks, the brothers' sheep and cattle move in a cyclical pattern through the ranch. No paddock is grazed overly short and each paddock receives a long period of rest and regrowth between species.
Sheep naturally prefer a different range of forages compared to cattle and in this scenario those preferences help manage the plant communities on the land and are bringing back stands of native plants. In drought situations, the cattle and sheep are commingled to fully utilize the land.
"We've had very few injuries when the cattle and sheep are grazing together," Joe said. "Occasionally, a cow will unintentionally step on a lamb but the ability to fully use our forage in abnormal conditions is worth that risk."
At the end of breeding season, the Hoppings' flock will number around 750 ewes and over 1,000 lambs — quite the sight to see grazing a small paddock alongside a group of cattle. However, the unsung heroes of the operation are the seven to 10 livestock guardian dogs kept on hand to guard the flock.
"We have two different breeds of dogs because each breed has a different guarding style and the combination of the two helps cover every situation," Joe said.
The Komondor dogs — an old Hungarian breed — are almost invisible within the sheep herd due to their wool-like corded coats while the Anatolians are quick to skirt the perimeter and sidle up to passersby for head rubs.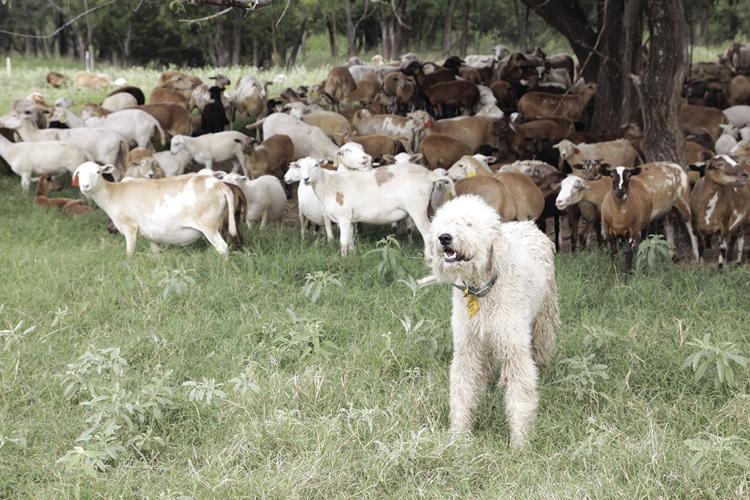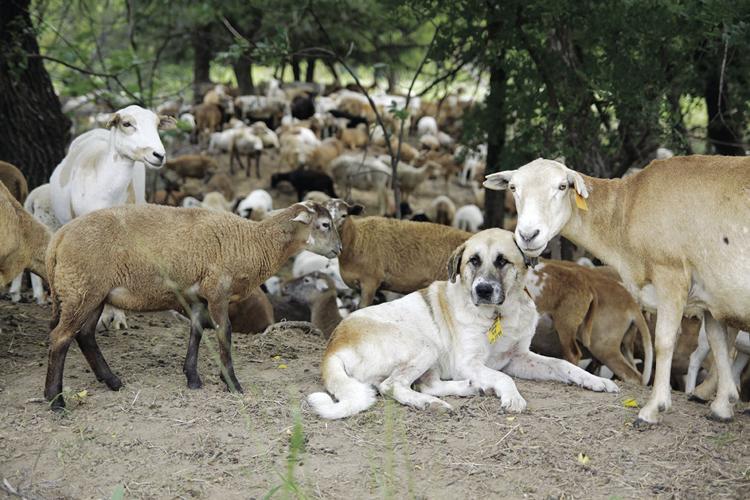 "The difference will be that the Komondors will stay right with that group of animals more so than the Anatolians," Joe said. "If there was a coyote at night up here barking and trying to lure the dogs away, a lot of dogs would go out to them, but the Komondors will stay right here within the group."
Komondors are fairly rare in the United States and after purchasing a few from a neighbor nearly 20 years ago, the Hopping brothers now breed their own.
While the guardian dogs are essential to the survival of the flock, Joe said other factors initially let him know sheep were the fit for his family.
"Year after year we were expanding our working facilities to accommodate the sheer number of sheep we were producing and that's when I knew for sure this was for us," Joe said. "The production and breeding potential of these sheep is just unmatched in cattle."